Parlez-vous francais? Sprechen Sie Deutsch?
Capital City residents find that language learning widens their world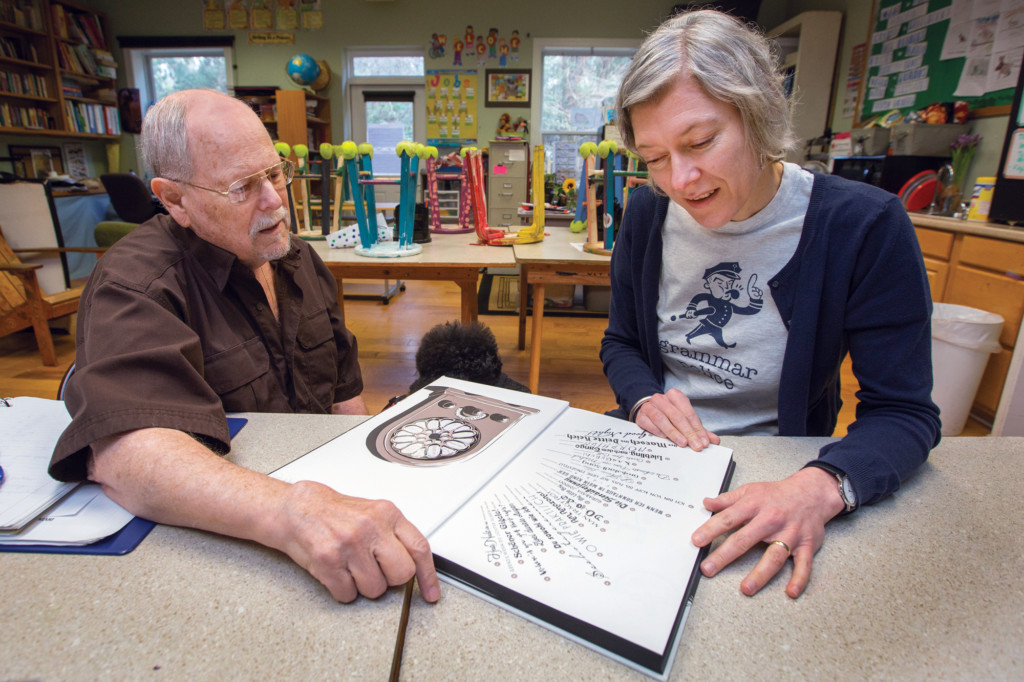 You're just darned hungry. The hasenpfeffer is calling you. But you don't know what to call it. If only you'd learned a little German before your trip.
Maybe, on a trip abroad, you'd like to order your meals in the native tongue of your server. Maybe you'd like to know how to ask for directions. Or maybe you'd merely enjoy learning a second or third language.
Regardless of the motivation, you'll find it a thrilling, occasionally daunting and rewarding pursuit.
Just ask students at the Tallahassee Senior Center, where Consuelo Rushing teaches Spanish to one of the small groups that meets for weekly conversation. Students there say their pasts propel them as they aim for positive linguistic futures.
Take Jim Nelson, 71, who says Spanish was essential to him in Miami, where he worked as an attorney.
"Now I want to get better for traveling," he said.
Sitting beside him, Royal Logan, 83, says he's thinking of moving to South Florida. Having spent three years in Puerto Rico, he said, "I was never really fluent, but I enjoy the studying just the same."
Youngest of the group at age 60, Anne Giles studies flamenco.
"Because so many of my dance instructors are from Spain, I want to understand the nuances of what they're saying and to better interpret the lyrics of the songs and their emotional qualities," she said.
These seniors find it perturbing when someone suggests that learning a language is more difficult when you're older. Though each of them had studied language in the past, they say they do it with more "purpose" now. With specific goals to work for, study is no longer drudgery.
Crystal Curvey, 24, a student at German School Tallahassee, which meets at Cornerstone Learning Community, says she began classes eight years ago when she was heading to Germany for a year as an exchange student.
German is not an "angry language," she says with a laugh, referencing certain guttural-sounding words. Curvey says she continued speaking her now-fluent second language and has been back three times to Oldenburg, where speaking German has permitted friendships to grow.
Michelle Frank, who studies with Alliance Francaise, the international body promoting French culture and language, says many years ago she had been inspired to read The Three Musketeers in French. It remains a goal.
"At my new job, I found many bilingual speakers and they inspired me to take up my studies again," she said. "It was intriguing to see worlds open up when the language barrier was lifted."
In the Black Dog Café's cozy clapboard structure facing Lake Ella, several people speak and laugh in French. They belong to one of Alliance Francaise's conversational break-out groups. From a native French speaker from Algeria to several who last said "ooh la la" in college, they are jabbering away with elan.
A woman in her 70s says her high school French has all come back in the company of others. "When I crawl into bed at night, I try to conjugate a few verbs," she says. "It's relaxing, and I'm usually asleep before I get to 'we' and 'they.' "
Most of the adult students supplement their classroom and book study with online sources or CDs. Tallahassee resident Michelle Frank, 45, says she listens during her 45-minute commute to work to Duolingo, an online learning platform, and Radio Lingua, which offers free podcasts.
"But sometimes I just narrate my activities in my head in French," she said.
Chinese, Russian, French, Arabic and Italian are taught at Florida State University, where non-degree seekers often can audit classes. Italian professor Silvia Valisa says her students include international affairs majors, music majors who want to sing opera and trilingual speakers who are just passionate about language.
"There are really so many reasons to know a language different from the one you learned at home," she said.
Science tells us that a foreign language is just plain good for you. Some studies say that speaking a second language can sharpen focus, improve decision-making and even delay dementia.
And if that's not worth some conjugating, then that trip to Paris certainly is!