Parade of Homes Builders Scramble to Finish Dozens of Homes Each Spring
A Tough Deadline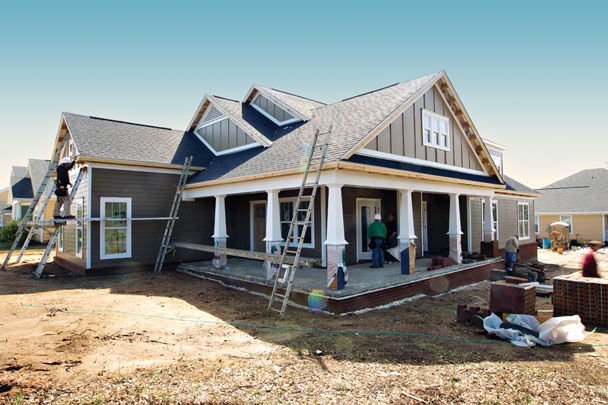 For Tallahassee homebuilders, the springtime Parade of Homes is their Academy Awards. And it's an annual challenge to make sure those homes are red-carpet ready.
The Parade of Homes, hosted by the Tallahassee Builder's Association, is an annual open-house event that encourages the public to walk through dozens of gleaming new homes throughout the greater Tallahassee area. This year, there will be 21 homes on display, with prices ranging from $139,990 to $599,000.
These homes are also judged by local homebuilding experts, such as Realtors, interior decorators and appraisers, and awarded prizes within different price ranges.
Often, people who visit these stylishly decorated homes are not homebuyers, but nosy looky-loos who want to see whether granite countertops and stainless steel appliances are still in vogue or are mulling over remodeling plans.
Just like the Oscars, a lot happens behind the scenes that many Parade of Homes visitors never get to see. There's last-minute scrambling to finish landscaping and add slivers of crown molding. There's the careful choreography of trying to find experienced subcontractors during this busy season of home building.
"It seems like no matter when we start, it always works out to where we'll be out there 'til midnight the night before putting the finishing touches on," said Jason Meadows, the president of White Oak Construction.
As the deadline gets closer, Meadows said he puts in longer hours, sometimes staying himself until the wee hours of the morning.
Some builders say the process for preparing for the Parade of Homes begins a year in advance. "We try to plan one right after the Parade of Homes from the previous year," Meadows said. White Oak prefers to highlight a home they're constructing for a customer, rather than building "on spec," as other homebuilders do.
Other homebuilders say they begin constructing Parade homes in December or January.
"If you do your job correctly, you start Dec. 1," said Steve Byrd, one of the owners of Foundation Homes. Byrd said Foundation tries to secure financing and design the house in December and is ready to build by the end of the month. "It's about a 90-day build on homes nowadays," Byrd said. By the time March rolls round, more than a dozen homebuilders are scrambling to finish their homes at the same time.
"You can build a nice, high-quality house in three or four months," said Matt McHaffie, the owner of GBGH Construction. Last year he encountered every builder's worst nightmare: an unfinished house. McHaffie was juggling several residential remodeling projects while building his Parade home and opening Fuzions frozen yogurt in Midtown.
By the time May rolled around, his Dellwood area house had no touch-up paint or yard landscaping, the countertops weren't set in, the kitchen had no backsplash and the floors didn't have their final coat of finishing.
"I got caught with my pants down," McHaffie said. "I was so embarrassed." He refused to allow the judges to see the house.
This year, McHaffie vowed to learn from his mistakes.
Scott Holstein
Builder Sulu Demirpolat stands in front of the Parade hom he built three years ago that has yet to find a buyer.
His 2011 Parade house sits in Midtown, directly across the street from his personal residence. And he promises this time he'll wow the judges and public.
"This year I've got my trim, drywall and exterior done, and I'm putting in landscaping this week," McHaffie said in mid-February. McHaffie said he only builds about one home a year and focuses more on home remodeling and renovations.
Though the Parade of Homes takes place over two weekends in mid-May, builders usually have to get their homes ready by the end of April because judges preview the homes before they are open to the public.
The biggest challenge, homebuilders say, is finding subcontractors, such as plumbers, electricians, cabinetmakers and flooring experts, in March and April.
"There are several homebuilders all hollering for stuff at the same time," Meadows said. "The (subcontractors) get really stressed out, it's a little taxing on everybody."
The most experienced and trustworthy subcontractors are fought over. "A lot of builders use the same subcontractors, which ties them up," Byrd said. "That's what gets bottled up at the end." Byrd said it's the builder's responsibility to foresee these problems.
The 10 days before the Parade are the most stressful, Byrd said. He said the trick is to make a new home look not-so-new. The grass has to be put in a few weeks ahead of time, and Byrd hires home stagers to bring in furniture to give it a lived-in look.
Byrd said he's on the job sites every day, and often they work Saturdays as well.
But, for the builders, the stress of finishing before a hard deadline is worth it.
Last year, Foundation Homes sold six other homes after showcasing only two of them in the Parade. This year, Byrd is putting two SouthWood homes in the Parade.
In recent years, homebuilders have reacted to the recession by building smaller homes. Gone are the five- and six-bedroom mini-mansions. In this year's Parade, you'll find a plethora of homes from 2,000 to 2,500 square feet in the $219,000 to $295,000 price range.
These homes are geared toward second-time homebuyers. Byrd, with Foundation Homes, said last year's $8,000 tax credit convinced most first-time buyers to purchase a home, leaving little demand for the 1,600- to 1,800-square-foot homes popular with first-timers.
The Parade of Homes has struggled in recent years as the number of homebuilders has shrunk. In 2007, the Parade had more than 90 entries. This year, it's dropped more than 75 percent from that number.
Some homebuilders say they prefer the smaller size.
"When the market hits the bottom, everybody is ditching it," McHaffie said. "I like how it separates the people who were in and out of the industry to the people who are going to be here a long time."
---
If You Build It, Will it Sell?
Homebuilders typically enter a home in the Parade because they want exposure and to meet potential clients. Occasionally builders have already sold the house they are building, but most are built "on spec," which means the homebuilder hopes to sell it during or after the Parade.
Sometimes this gamble doesn't pay off. A review of homes sold in Parade of Homes for the past three years indicates that some take months to sell.
One 3,800-square-foot home on Shannon Lakes Drive featured in the 2008 Parade of Homes is still on the market, nearly three years later. This four-bedroom home near Killearn Acres was built by S&K Ventures, which is owned by Sulu Demirpolat.
Originally listed at $639,000, the home is now priced at $549,000. Keller Williams Realtor Terance Keenan is the listing agent. He said the home regularly gets showings, but struggles because of the competitive price point, busy street and modest neighborhood. "We go through cycles, where we have a lot of interest in it and then it goes away," Keenan said. "We've had four showings in the past two weeks."
Owner Demirpolat said the home received a lot of attention when it debuted in the Parade of Homes three years ago.
"People were coming nonstop and there were no parking spots to accommodate all the people," he said. "But 99 percent of them were just looking."
Demirpolat had one contract with a prospective buyer in 2008, but it fell through due to the buyer's financing troubles. Since then, Demirpolat has received no offers.
"I don't have a 100 percent loan on the house, so the bank is not so much an issue with me," he said. Demirpolat said he is waiting for an offer that will allow him to "minimize my loss." But he certainly isn't the only builder whose Parade of Homes dwelling took a long time to sell. A home on Breton Ridge Drive in Bull Run took two years to sell. It was also in the 2008 Parade of Homes, listed at $699,000.
It finally sold in June 2010 for $550,000.
---
Homes That Took Six Months or Longer to Sell
Parade of Homes 2010
8658 Shire Ridge Loop
Built by Hartsfield Construction
Listed for $229,000. Sold for $214,900 in December 2010
Parade of Homes 2009
398 Terrace Street
Built by Quail Valley Homes
Listed for $415,000. Sold for $399,000 in November 2009
Parade of Homes 2008
1329 Preakness Point
Built by Ertl Custom Homes
Listed for $795,000. Sold for $570,000 in January 2009
---