Panama's Tropic Star Lodge, Anglers and Piscatorial Pursuits
Providing fish stories and the pictures to prove them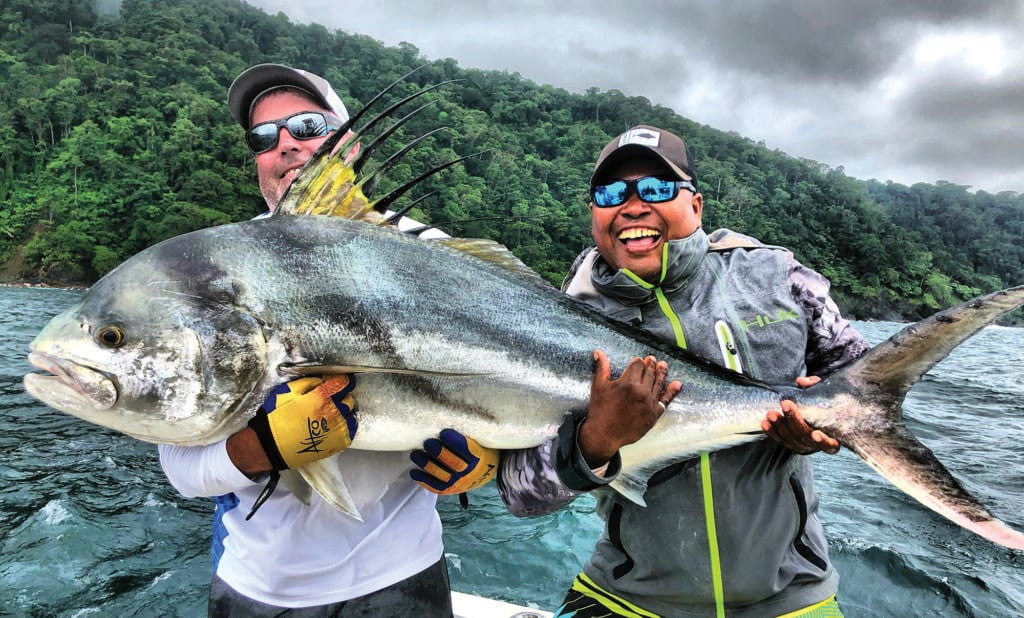 Just 10 miles off Panama's Pacific coastline, anglers fishing out of the Tropic Star Lodge find themselves in a sea of dreams.
Here, the cobalt blue water teems with marlin, sailfish, tuna and other big-game tackle testers.
More than 50 years ago, Ray Smith, a Texas oilman who lived to fish, established the Tropic Star Lodge at Piñas Bay. (Is "Tropic Star" a play off "Lone Star"? I'm gonna say yes.)
The lodge continues to provide some of the best fishing experiences on the globe for anglers of all skill levels, fishing at various depths.
Tropic Star is all-inclusive and first rate, but it's remote. Getting there involves a few logistical hurdles, but you won't have to go it alone.
A Tropic Star team member will greet you when you fly in to Tocumen International in Panama City and drive you to a hotel located near a smaller, domestic airport.
The following morning, your escort takes you to a private hangar where you board a small plane for a one-hour flight to an airstrip adjacent to a village of about 1,000 people and a mile from the beach.
An open-air truck delivers you to a boat that carries you and other lodge-bound passengers to Tropic Star, 20 minutes away.
Your adventure is about to begin.
Already, it's time for a lunch of fresh fish and vegetables before you check in to your room. The accommodations are immaculate.
Later, an orientation session precedes a poolside buffet featuring the previous day's catch. Then it's time for bed and anticipation of the days to come.
Our Daily Itinerary
5:45 a.m. Hot coffee, juice or tea, delivered to your room.
6 a.m. Breakfast, and we pick up a bag lunch, fresh towel and earplugs.
6:20 a.m. Boarding the boat. Ours was "Canada." The captain and first mate help our party of four get settled and our belongings stowed.
6:30 a.m. Leaving the dock. About a dozen boats, including ours, head out to sea in unison, like a pod of marine mammals. We watch the sun rise over the unspoiled coastline.
7 a.m. Bagging the bait. For up to two hours, we fish for bonita, a torpedo-shaped muscle fish capable of strong runs and a preferred live bait for marlin and other big game. The bonita are dropped into a live well that will keep them frisky throughout the day.
9 a.m. Into the deep. We don our earplugs for a two-hour run to the fishing grounds. Twin 400-horsepower engines do generate some noise. During the ride, anglers draw cards that establish the order for winding in fish.
11 a.m. Deploying the baits. With flat lines and outriggers, the mate places
four bonita in a trolling pattern that stretches 100 feet across. The first strike will happen soon.
11:30 a.m.–2:30 p.m. The hits keep coming …
Billfish. Prized black marlin and other billfish must be released. The mate makes sure to keep the line tight as anglers take turns slipping into the fighting chair and bringing these top predators to the boat.
Yellowfin tuna. The captain keeps an eye out for circling birds that feed on baitfish driven to the surface by tunas. From a distance, yellowfin look like skipjacks as they leave the water and crash the surface while sating their appetites. But closer inspection reveals hundreds of 30- to 60-pound yellowfin tuna in a feeding frenzy. In no time, our rods bend to their will. The tuna do not give up easily. We work for 20 minutes to get the fish to the surface, only for them to turn tail on us and dive down a couple of hundred feet. Gaining and losing line, we wonder if angler or fish will prevail. When finally a fish comes to gaff, we take a moment to breathe and shake the tension from our arms. Then we have a photo taken with our prize before it is placed on ice. Later, the mate cuts up the best of the fillets and serves the freshest sashimi possible.
Dorado. These fish, otherwise known as mahi-mahi — or as dolphin in the Northern Gulf of Mexico — hit hard and are great leapers. The all-tackle record is 87 pounds, but specimens have been known to reach 100 pounds. Their meat makes for a nice dinner-plate complement to tuna.
Shorefishing. Trolling closer to shore is an option. Hugging the coastline, you will hook up with snapper, roosterfish, jack crevalle and possibly sailfish. We encounter four sailfish at the surface, seeming to sun themselves. With their dorsal fins extended into the air, they appear to be waving at us.
The hours spent fishing provide fast action and only the occasional moment to think and process. Mostly, one lives in the moment.
2:30 p.m. Time to head in.
4 p.m. Terra firma. Returned to the lodge, any angler who has caught his or her first billfish is required to walk off a plank at the end of the dock — a longstanding, fun tradition.
4:30 p.m. Story time. We relax, cool off at the pool and swap stories over cocktails and a hot plate of fish appetizer.
7:30 p.m. Dinner. We enjoy a selection of four to six entrees. On three of our nights, a pool buffet offers numerous culinary delights.
9 p.m. Nightcaps and then we turn in for some of the best sleep of the year.
5:45 a.m. A knock on the door starts another day in a fishing paradise.
Given days like that, it should come as no surprise to find that Tropic Star Lodge books up well in advance.
There are only a few openings available through the winter of 2021, but it is worth the wait.
Find a couple of buddies to commit to a trip, get your deposit in and look forward to an unforgettable adventure.