Palate Pleasures
Good Wine, Good Food, Top Chefs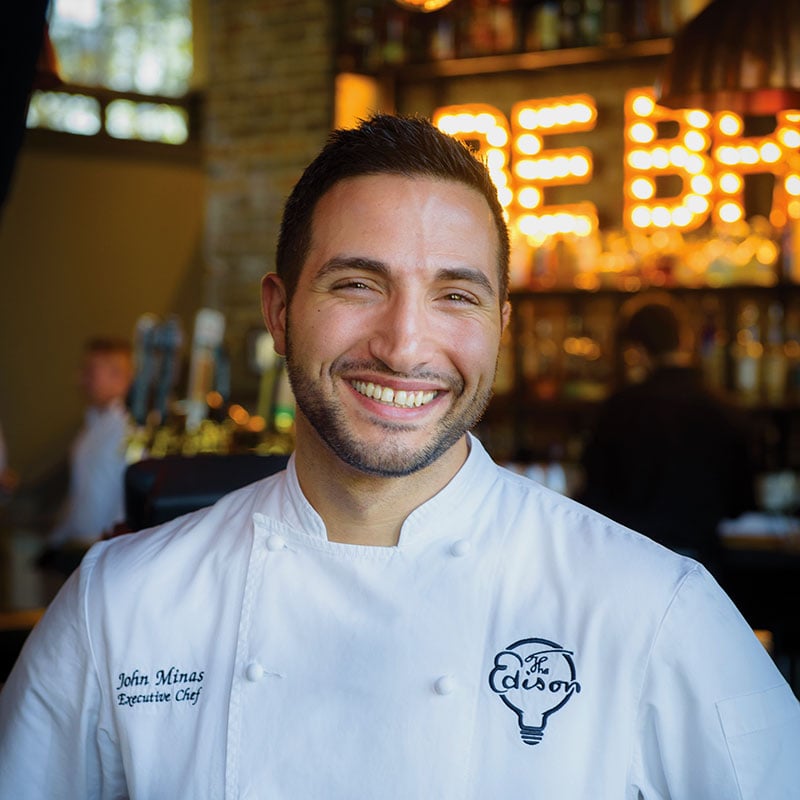 While the ability to throw a great low-key shindig is practically a requirement of Tallahassee living — think tailgate — a talent for swankier affairs is more singular. A penchant for organization and entertainment doesn't often coincide with posh taste and impressive connections, but when it does, the results are nothing short of remarkable.
Elroy and Lisa Caldwell know about elegant entertaining. The couple hosts monthly wine dinners, meals created for the purpose of featuring fine wines. Some are potlucks, some are meals prepared by Elroy and Lisa, some are lighthearted double-blind wine tasting competitions, but the one they hosted last November was especially memorable.
"Several chefs had expressed to Lisa and me a desire to come to our house, see our wine cellar and pop some corks," Elroy Caldwell explains. "My thought was that chefs don't get to enjoy most wine dinners because they are always in the kitchen.
Brian Rowland
Chefs Art Smith and John Minas
"At a typical wine dinner, the chef comes out to tell us about the course, then goes back in the kitchen to get the next course ready. I wanted the chefs to sit with us and enjoy everything like the guests do. So, my thought was to have multiple chefs with each doing one course. And their preparation would be done ahead of time, so that once the event began, they would be in the kitchen only to do the plating."
The invited chefs prepared four of the seven courses at the dinner, with the amusebouche, cheeses and an entree course provided by Elroy Caldwell. Of course, the star of the dinner was the wine, provided by Caldwell and his guests, George Percy and Steve Ecenia.
Next to the wines, perhaps the second-most celebrated guest at the event was chef Art Smith, famed cookbook author, former personal chef to Oprah Winfrey and the founder of Common Threads, a nonprofit organization that gives cooking lessons to underprivileged children. Smith made a Gulf shrimp and grits dish a la Bill Neal for the November dinner, which Caldwell paired with a 2012 Williams Selyem unoaked Chardonnay Russian River.
Chefs from outstanding local restaurants also contributed to the dinner.
Terry White, the owner and head chef at Sage, presented a ham crusted cobia with spiny lobster, stone crab gyoza, brassicas and an emulsion of saffron, orange and lemongrass. John Minas, former head chef at the Governor's Mansion and now the executive chef at the Edison, made short ribs ravioli with a puree of parmesan, parsnip and celeriac on a bed of micro arugula. University Center Club pastry chef Maria Streety created a deconstructed s'mores dish for the dessert course, with dulce de leche ice cream and chocolate Kahlua sauce.
Maybe you don't know anyone who runs a restaurant or has written a bestselling cookbook, but you can still take some advice from the Caldwells' Pleasure Palate dinner: Next time you host a dinner party, spread the cooking responsibility around so everyone can enjoy the gathering. And, for goodness' sake, don't skimp on the wine.