Painter of Flora Explores Her Roots
FSU Professor Lilian Garcia-Roig has been awarded a 2021 Guggenheim Fellowship.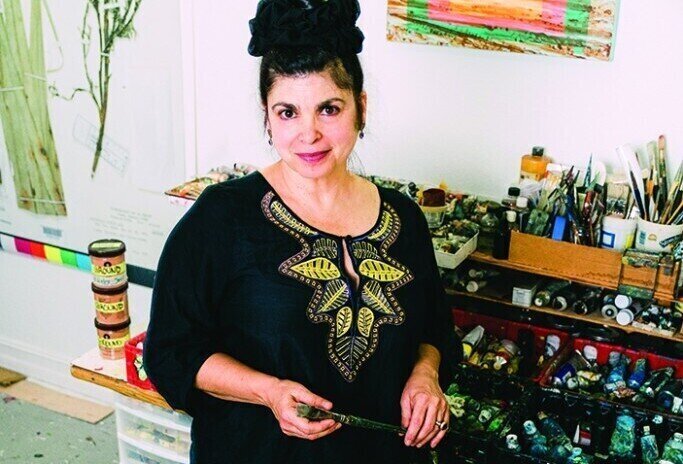 What would it be like to enter the mind of Lilian Garcia-Roig, hold her brush and prepare to translate the cacophony of a forest glade into a megalithic painting that throbs with chlorophyll greens and sunlight?
Garcia-Roig, an art professor and department chair at Florida State University, gives us fair warning.
"My mind is like an exploding firecracker — everything is going on at once," she said.
Her paintings, as a reflection of that mind, portray the natural world as a kaleidoscope of commanding colors and alternating thicknesses that pull us deeply into a forest's shadows, then expel us, confetti-like, amid twists of red, green and brown.
Now, among the countless admirers of Garcia-Roig's work, the John Simon Guggenheim Committee has awarded her the prestigious 2021 Guggenheim Fellowship for Art. Chosen from among 3,000 applicants nationwide, Garcia-Roig is one of 184 artists, scholars and writers who will be funded up to $45,000 for six to 12 months to expand their research practices.
Above all else, it seems, Garcia-Roig does love to work. She is a self-driven artist and educator, who, when she approaches a challenge, asks herself, "Why not me?"
Her Cuban-born parents tried to steer her into a stable business career, but Garcia-Roig asked herself, "Why couldn't I be an artist?" And, despite being just two generations removed from forebears who left school after the fifth grade, she permitted herself to wonder, "Why couldn't I be a professor?"
Her willingness to try, to step forward, to work and to "presume the possibility" has led Garcia-Roig to 17 major national awards, fellowships and residencies — among them, the Joan Mitchell Foundation Award in Painting, a Mid-America Arts Alliance/NEA Fellowship Award in Painting, a State of Florida Individual Artist Fellowship and a Kimbrough Award from the Dallas Museum of Art. She was a visiting artist at the Ludwig Foundation of Cuba, and she secured a Skowhegan School of Painting and Sculpture Fellowship.
But for the 54-year-old Garcia-Roig, who is married to an FSU mathematics professor and is the mother of two children, becoming a nationally recognized painter was far from a given.
"I was born in Havana to two physicians," she explained. "And in a kind of hiatus after Castro assumed power, he permitted anyone who wished to leave Cuba to do so. My family of three did."
The family settled in Houston, where her parents were able to take tests that qualified them to resume practicing medicine. Though there were no artists in her family, Garcia-Roig says that art and natural history museums "were a constant in our lives. We weren't allowed to listen to rock 'n' roll, but classical music and Broadway show tunes were on repeat."
It may be that an artistic muse was drawn to such a household.
"I was a natural drawer," Garcia-Roig said. She created mostly realistic portraits and still-life paintings early on. By 17, she had won a Gold Key in a National Scholastic Competition, and her prizewinning work was displayed in Washington's Corcoran Gallery of Art. By the time she graduated from Southern Methodist University, her work had figured in six group and solo exhibitions. She collected dozens of awards by the time she completed her master of fine arts degree at the University of Pennsylvania.
Among those awards, one changed her life.
"I was awarded a fellowship to the Skowhegan School of Painting and Sculpture in Maine," she said. "There, I shifted from student to artist and painted landscapes for the first time. I began to merge the abstract materiality of nature with the realistic. I wanted an image to emerge, not just to be painted. I wanted the viewer to go in and out of the painting, to be perceptually active."
Garcia-Roig adopted a plein-air approach, and her works grew larger and larger as she internalized the outdoor world. She hauled massive canvases into the woods, mixed copious amounts of specific colors she observed on her palette and put those colors into aluminum tubes that enable her to make dramatic, squeeze-out paint marks on the canvas. Thus equipped, she embarked on daylong sessions spent capturing the thrilling tumult of a forest using brushes and sometimes her fingers in attempts to capture the complex nature and ever-changing experience of being in a specific location over time.
In addition to maintaining an active studio and exhibition practice for more than 30 years, she taught at the University of Texas at Austin and the University of California at Berkley before coming to FSU.
Always, she kept food on the table.
"You should do art because your passion allows you no other choice, but remember, you can hybridize a career," Garcia-Roig advises young people. You can both eat and paint.
The Guggenheim Fellowship will give Garcia-Roig an opportunity to explore her connection to Cuba. She will investigate links between her work as a painter and the scientific work of her great uncle, the renowned Cuban botanist Juan Tomás Roig, who cataloged and collected Cuban plants.
"I've always thought about the world visually, and this will be a journey of discovery. Why not me?