Outfoxing Intruders
Home security systems grow in sophistication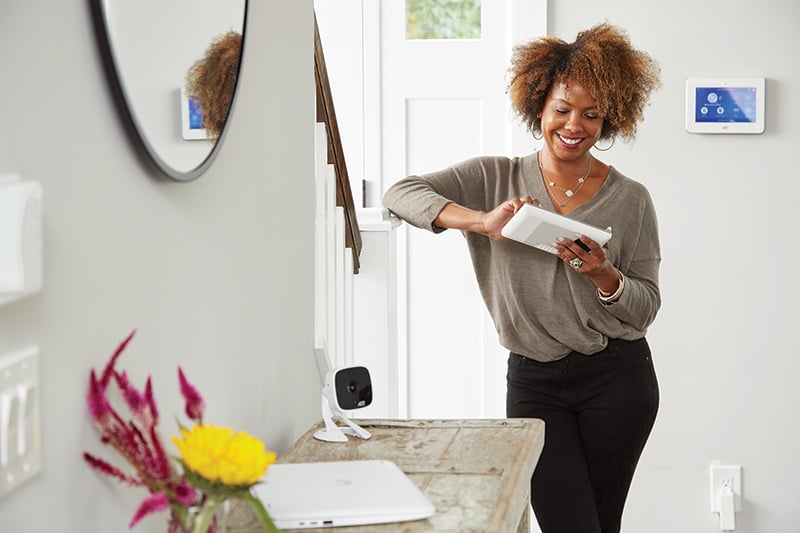 In 1604, English judge and jurist Sir Edward Coke declared, "The house of everyone is to him as his castle and fortress as well for defense against injury and violence."
Over time, Coke's phrase became simplified to "a man's (or woman's) home is his (or her) castle." Now, if one's home were, indeed, an actual castle, history informs us that its protection would be supplied by such things as high walls, ramparts, moats, drawbridges, flanking towers, battlements, machicolations (stone boxes that projected from the walls of castles and had holes in the floors for dropping stones or boiling oil on attackers), as well as the portcullis, the spiked wooden or metal barrier that helped protect castle doors from fire and battering.
While today's modern homes may be relatively safe from marauding hoards or medieval monarchs, they are still the targets of burglaries, break-ins and forceful entries. In fact, in the United States, a home burglary occurs every 15 seconds, and the FBI estimates that one in every 36 homes in America will experience a break-in at some time — and not by swords, arrows or catapults, but rather by common household tools: pliers, screwdrivers and hammers.
While virtually every American home has doors that lock, and many have dogs that bark, only about 30 percent of U.S. households have installed modern security systems, the first of which was invented by Marie Van Brittan Brown, an African American nurse from Queens, New York. She and her husband Albert, an electronics technician, received a patent for their unique contraption in 1969.
Its features included a closed-circuit television, multiple peepholes, a sliding camera, two-way microphones and emergency buttons.
Mass manufacture of the Browns' system was too complicated in that era, but home security technology has more than caught up since then. Modern systems can contain any or all of the following components: a control panel that oversees the entire system and may or may not be connected to a home security company or police and/or fire department; door and window sensors; presence simulation, which may include light and shadow effects at night or sound simulation in the daytime; surveillance cameras, which can stream to users' phones or computers; motion sensors; glass break detectors; and high-decibel alarms.
Doorbell cameras allow users to talk with visitors while they're at home or even when they're away. And some systems have smoke alarms, carbon monoxide detectors and flood sensors, as well.
Today's home security systems are also highly customizable and available as DIY kits or as more complex setups that include professional installation and monitoring. Thus, pricing is highly dependent on what features one chooses. Equipment costs average about $300, with installation costs running up to almost $200. Average monthly monitoring costs range from zero to a few dollars for self-monitored systems and $25 to $50 for professionally monitored systems.
When shopping for any system, a smart consumer will want to consider price, reliability, ease of use and compatibility with any other smart devices in the home. Homeowners should also consider which companies are highly rated by industry insiders and respected periodicals. Companies that often appear in Top 10 lists include: ADT, Vivint, SimpliSafe, Frontpoint, Abode, Cove, Ring Alarm, Wyze, Brinks, Link Interactive, Deep Sentinel and Comcast Xfinity.
Today, the home security industry is growing rapidly. Revenue for U.S. companies should reach $5.43 billion by the end of 2022. With a projected annual growth rate of 11.55%, the projected market volume should approach $8.41 billion by 2026, with the number of active households expected to amount to 57.6 million users.
Main growth products are smart locks and smart security cameras. Companies from several different industries compete in this market. Next to traditional security companies (e.g. ADT) and tech startups (Canary or Alarm.com), media companies and connectivity providers (e.g. AT&T or Comcast) also play an important role due to the high amounts of data that need to be transferred, especially in the video surveillance sector.
Going forward, more and more home security systems are going to be linked with other "smart home" components. Keypads that control door locks and alarms also can allow users to turn lights on and off, control thermostats, open and close garage doors, and even manage and monitor other home appliances and electronics. Alternatively, voice control apps, such as Alexa and Google Assistant, are increasingly able to augment, or even replace, keypads so that all one need do is give commands via a smartphone, tablet or smartwatch. Safety has never been more user-friendly.
So, to protect your castle, your family and your possessions, you don't need to arm the ramparts, ready the crossbows or load the machicolation with boiling oil anymore. By installing a modern home security system that suits both your needs and your budget, you can keep the barbarians outside the gates.
---
Types of Home Security Systems
» Monitored – Professionally monitored systems are continuously overseen by dedicated teams. Self-monitoring systems give authorized users access to live camera feeds and other details that could indicate issues.
» Unmonitored – A fully unmonitored system may capture camera footage or include door and window sensors. However, notifying the authorities or getting alerted to a potential issue does not happen unless someone hears the alarm and acts accordingly.
» Wired – These systems use hard-wired connections to get power and send signals to a central hub. Wires connect every sensor and entry point in the home. Professionals must install them, but that process is easy in homes pre-wired for such setups.
» Wireless- These options use radio waves to send data and notifications of possible problems. Renters and people who move often appreciate their portability. Electromagnetic interference from other devices in the vicinity could trigger a false alarm.
» App-Based – Most modern security systems come with apps, letting users check statuses, watch live camera feeds and receive real-time notifications. Less common are security apps not associated with a particular brand. They aimto protect a person rather than property.
---
Companies that often appear in top 10 lists
» ADT
» Vivint
» Frontpoint
» Adobe
» Cove
» Ring Alarm
» Wyze
» Brinks
» Link Interactive
» Deep Sentinel
» Comcast Xfinity
---