Outdoor Kitchens Make Entertaining a Breeze
Be the perfect host this summer with an outdoor space perfect for grilling and more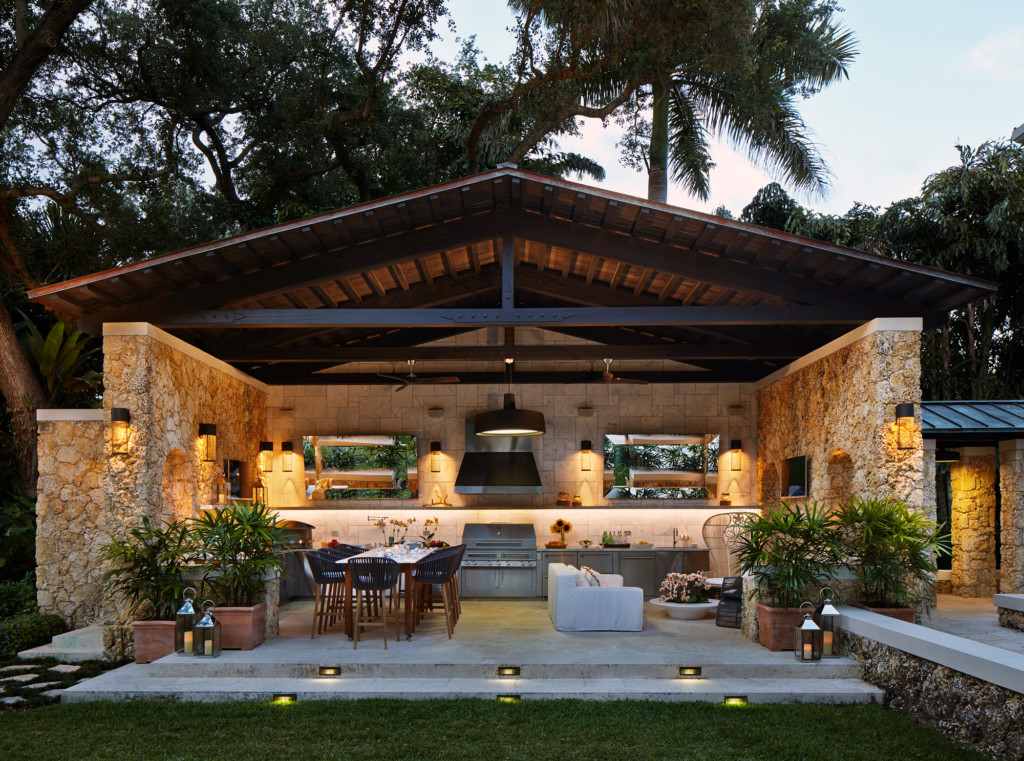 Now that it has warmed up outside, let's take a look at a trend that remains pretty hot: outdoor kitchens.
Components of an outdoor kitchen include virtually anything you can imagine, including pizza ovens, according to Destry Burch, owner of Burch Plumbing and Construction.
Burch says his customers use their outdoor kitchens far more often than they would have thought, not just for entertaining. They find themselves frequently cooking outside as their kids watch movies on pull-down screens, he says.
Style, Components and Cost
Styles range from formal to rustic depending on the style of the house. Burch says no two outdoor kitchens are alike.
He says his company shows customers photos of designs and likes to show them in-person examples of the company's work.
Cabinets should be fully waterproof. Some are tongue-and-groove pine, and some have locks for year-round liquor storage.
Burch says one homeowner put in French doors that led to a screened porch and then to the outdoor kitchen.
Mike Munroe of Mays-Munroe Inc. says the outdoor kitchen basics are:
A grill. Insist on a lifetime warranty from rust. "You don't want to replace a rusted-out grill in five years," Munroe says. He adds if it is under a roof you must have ventilation.

An under-counter refrigerator for storing drinks and marinating meat to put on the grill.

A sink.
The cookers need to be on something solid. Flooring can be brick, gray travertine or concrete. Tile is considered old-fashioned.
Other components include an icemaker, a wine cooler, a hidden trash can, a fireplace, a water heater and, for entertainment systems, surround sound.
The components and structure affect price and timing. Allison Bean, editorial director of TheSpruce.com, says the national average cost for an outdoor kitchen is $9,600, with a range of a few is $1,000 to over $100,000. In the Tallahassee area, Burch says, a fully outfitted outdoor kitchen with a roof, ceiling fans and lighting can run $50,000 to $80,000.
Where to Place It?
For a sense of privacy, you can create some enclosure with an L-shaped stonewall outdoor kitchen.
If you have 10 acres or so, leave it wide open; if you are on, say, an eighth of an acre, you will want a wall or fence.
For daytime use, you need a roof for sun protection.
To prevent setting your home or garage on fire, don't put the grill right up against your house.
Color Coordination Is Key
Choose a color palette that really sings for you — screaming orange or calming sea salt green. Mix cool, neutral (gray stone is a perfect setting) with sparks of hot colors. Botanical prints and plants can pull it together.
Power Up & Storage
Use lighting to emphasize what you want to focus on or to hide what you don't want guests to focus on, perhaps the garage or garbage cans.
Add a refrigerator for marinating steaks and for holding sodas, ketchup, mustard, salads and barbecue sauce.
To reduce running in and out of the house, you need storage. Cabinets near or under the grill hold utensils and plates. Consider an upper cabinet for glassware and a drawer for flatware.
For Entertaining
Skip complicated main dishes when you take the party outside. You need handhelds such as hamburgers and hot dogs and bite-size bits on skewers.
Depending on the menu, offer craft and well-known high-end beers, a wine assortment, sodas, sparkling water, and specialty alcoholic and non-alcoholic cocktails.