Our 'Intersection With History'
Recalling 'Flashbulb' Memories on Sept. 11, 10 years later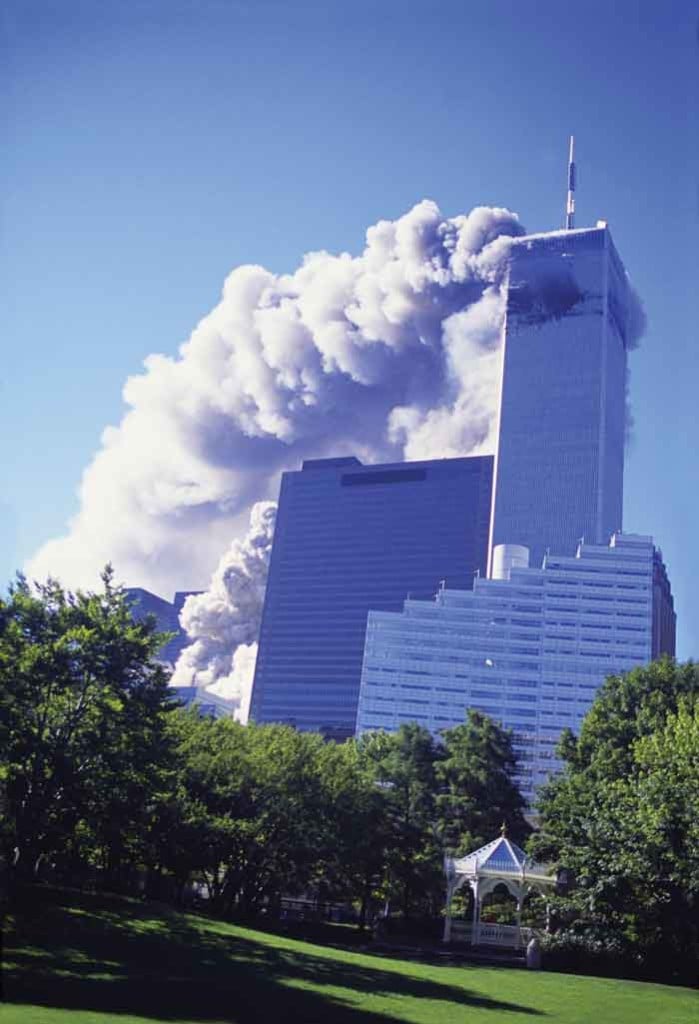 Maybe you knew someone in the towers in New York City or at the Pentagon on Sept. 11, 2001; maybe you didn't.
Maybe you've got a crystal-clear image of what you did, said and saw that day 10 years ago, and maybe your recollection is a little hazy. Everyone remembers that morning a little differently — but we all remember it.
Psychologists call it a "flashbulb" memory — peoples' tendency to tie witness of a historical or traumatic event to a memory that stays with them forever. Certainly those in the Greatest Generation would tell you the Dec. 7, 1941, bombing of Pearl Harbor was etched in their memory. And any Baby Boomer can tell you where they were, what they were doing and in some cases what they were wearing when they heard the news of President John F. Kennedy's assassination in November 1963.
That day, noted Florida State University Grief Counselor Sally Karioth said she was at school, in study hall. "I had my cheerleading outfit on, and I was wearing too much White Shoulders perfume. It was way too much — I remember I could smell myself," she says now with a laugh. "I'm sure I thought I looked quite lovely, though."
Karioth says 9/11 is another "historical marker" that people process in much the same way as the death of a friend or family member.
She's processed the 9/11 memory differently than the JFK assassination she thinks because, when the towers fell, she'd recently lost a younger brother to a brain tumor.
She'd spent time away from Tallahassee to be with relatives in her brother's home of Madison, Wis. When she heard the towers had fallen, she realized she'd been so consumed with dealing with her own grief that she hadn't really been aware of current events at all. Her grief over her brother's death has superseded her 9/11 memory.
"I had no idea what was happening," she said, "That whole week is just … gone for me."
Since then, she's spoken with several people who have processed their memories of 9/11 in similar ways. "I think if people had other things going on in their own lives that were traumatic — the, say, death of a spouse or family member, or a divorce, even the loss of a job — 9/11 was just one more thing too many," she said.
Still, Karioth said, people who are emotionally healthy, with good coping mechanisms, "… get better. They still have the memories, but those memories mellow."
In many cases, it's more than mellowing. It can also be simple forgetting. Colleen Kelley studies memory in Florida State University's Cognitive Psychology Department. She said researchers now think that while people often feel very confident about their flashbulb memories years after the fact, they still tend to get a lot of the details wrong.
She points to a 2003 study by Jennifer Talarico and David Rubin of Duke University, who surveyed 54 college students and found their Sept. 11 memories faded just as much as their everyday memories did. They wrote that the extreme emotion connected to the event convinced people their recollections were accurate.
"Flashbulb memories are not special in their accuracy, as previously claimed, but only in their perceived accuracy,"
they wrote.
Kelley uses her own memory of the morning of Sept. 11 as an example. She knows she was in her car, driving to campus along Duval Street, passing in front of the Supreme Court Building, when she heard the news. She remembers not really knowing what was going on until she got to FSU's Psychology Department, where colleagues had tuned a TV into the news.
Later that morning, she decided to go and pick up her son from his downtown preschool, thinking it would be better if he wasn't quite so close to Florida's Capitol buildings. But beyond that, Kelley said, her own memories of that day aren't too solid.
"I think I remember details of hearing about 9/11, but knowing the research, I realize the details in my memory have a good chance of being wrong," she said.
Kelley often talks about 9/11 in class, with her students.
"Maybe four or five will pipe up and recount their stories. Some students had family and friends in New York that day, and for some of them it immediately became more of a political issue," she said. "An event like 9/11 can certainly threaten your worldview, it can change you. That kind of flashbulb memory is a personal intersection with history. With 9/11, the world changed, and people changed with it."
One constant in people's memories of 9/11, especially mothers, was the urge to go and pick up children or connect with family members as soon as possible — whether they were downtown, a little too close to state buildings, or not.
"Many people at work left to get their children and go home, to try and feel safe, but I think that is what has changed — we all feel less safe," said Tallahassean Carol Knox, who works in wildlife conservation for the state.
"I was at work and we followed the story as it evolved. The first plane hit one tower and it seemed like a bad accident, then the next one hit the other tower. Then it hit me, 'Hey, that can't be a mistake,'" she said. "I remember thinking, this doesn't usually happen to us. We fight our wars 'over there,' not near our shores."
Karioth said she thinks the most traumatic thing about 9/11 was not simply the shock and loss of life, but also the sudden sense of vulnerability.
"We felt secure. We thought, who would dare attack us?" she said. "Then the buildings fell down, and I think we were in shock at the loss of our omnipotence."
For many, the event signaled a return to prayer, often after a long time away. "I was at a Mothers of Preschoolers meeting, and the leader of the meeting came in and said, 'We have been attacked, we need to pray.' And that is what we all did," said Tallahassee mother Andi Cohen. "I'm Jewish, and MOPS is predominantly Christian. I was probably the only Jew there, but I tell ya … we all prayed to anyone who would listen."
Lisa Begue Carey, host of "Tallahassee Matters" on WCOT, the City of Tallahassee's cable access TV, remembers being "at home with my youngest son. A friend called to tell me to turn off the Barney videos and watch the news."
"I watched in horror for a few moments, then raced to Temple Israel to pick up my preschool-aged son. I knew he was safe, but there was this overwhelming urgency to have him near me," she said. "I felt a little foolish, like I was being overly dramatic. Then other parents' cars started lining up behind me. We all wanted to hold our little ones."
Karioth points out "it's not so much the events themselves that we remember as being traumatic, it's our responses that are traumatic — even though by then we were almost used to tragedy being in our front yard."
It also didn't help, she points out, that media coverage of the event was so constant, so overwhelming. Staring gape-mouthed at a TV might be the one part of the collective memories of just about everyone in the country who wasn't on the ground in New York to see the damage for themselves. Tallahassee Democrat Features Editor Kati Schardl spent the whole day on coverage for the paper.
Schardl was interviewing blues guitar icon Buddy Guy, when "he interrupted to ask if I was near a television. I glanced around and saw my colleagues clustered in front of the TV sets placed around the newsroom. He said, "Darlin', you'd better hang up now, and go look at the TV. An airplane just hit the World Trade Center.'"
She spent the rest of the day phoning friends in New York City and putting together a reaction story.
"And because those TVs were always on, it was impossible to escape the horror and tragedy broadcast in real time from New York and Washington, D.C. As much as I wanted to turn away, I couldn't. I was a witness and it was my duty to really see what was happening, and to remember."
It's a memory that's not easy to shake, whether you want to forget or not.
"You couldn't get away from it. It was on hour after hour," Karioth remembered. "And we all kept watching and watching, thinking, maybe this time when I watch the plane … it won't go into the building."