Our Giving Spirit
For Three Decades, The Christmas Connection Has Helped Spread Holiday Cheer to Those Who Need It Most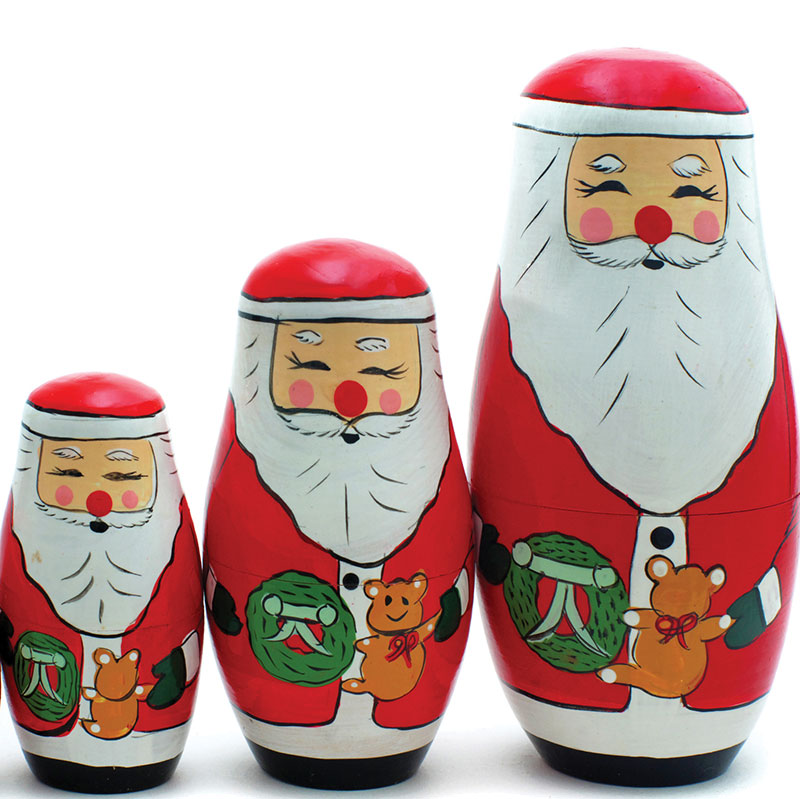 Traditionalists say diamonds are the gift to give for a 30th anniversary; those of us who are a bit more modern might give pearls. But the Christmas Connection, in its 30th year, isn't asking for gifts, at least not for itself. Instead, once again this year it will ask people to open their hearts to those in our area who are less fortunate or in need for any reason, to help them have happier holidays.
Starting in 1979 with a plan to help just 25 families, in the 30 years since, the Christmas Connection has embraced thousands of Tallahassee's neediest families with open arms, helping hands and a heart too big to measure. Beginning with a pastor's request, this outreach of Catholic Charities' Tallahassee office is truly an ecumenical labor of love. It all started with the late Monsignor William Kerr who, as rector of the Co-Cathedral of St. Thomas More, saw a need and sought a solution.
"Father Kerr came to me and asked me to locate 25 of our neediest families," said Wendy Blair, then-director of Catholic Social Services (the forerunner of Catholic Charities). "He wanted a program for the parish and for the community that would encourage participation from everyone. It started as the 25 Most Needy cases program.
"Our referrals came primarily from HRS (the state's Department of Health and Rehabilitative Services)," Blair said. "We wanted to collect enough so that we could provide for the 25 families that we had identified with the help of case workers and other social service agencies. The community was so enthusiastic and generous that we were able to help 55 families that first year."
Thanks to the community, the Most Needy Cases campaign grew in other ways as well. Nearly 10 years later, in 1988, Meg Guyton of VolunteerLeon sat with Blair and discussed ways the two groups could help each other. Blair needed volunteers to help fill Christmas wishes, and Guyton sought opportunities for those who wanted to help the community. While working out a plan, they also shifted strategy a bit — the Most Needy Cases campaign got a bright new name and a positive new outlook when it was rechristened the Christmas Connection.
With the help of pastors, social workers, teachers and others, the program has grown steadily over the years until 2008, when the Christmas Connection provided food, clothing, toys and other gifts for 3,000-plus families in and around Tallahassee. To be included in the Christmas Connection, each client must be referred. That process has evolved as well, from the handwritten requests of 1979 to today's online registration and applications.
Debra Herman, current director of Catholic Charities' Tallahassee regional office, said the Christmas Connection is "an extension of our emergency assistance function at Christmas, and it helps support our work throughout the year. People pour out their hearts and open their purses at Christmas. They want people to feel love, joy and hope. Through their generosity, the Christmas Connection has become a major source of funding, since their gifts often are for use at Christmas or throughout the year."
Even though Catholic Charities is Catholic, many people don't realize the Christmas Connection's ties to the faith, Herman noted. The initiative "has its own branding; it is very ecumenical," with widespread community support both in churches of all denominations and elsewhere.
Such a major undertaking requires a major commitment on the part of the Catholic Charities board, Herman said. In fact, all of the 2009 fundraising has focused on helping make the holidays a little brighter for others. Starting with an online auction and a tennis tournament, the board will round out the year with a 5K run and the annual Christmas Connection golf tournament; members have put in countless hours of hard work, all aimed at making the 2009 Christmas Connection the best ever. And not all the fundraisers are geared to athletics — a social hour held at a Tallahassee club helped launch a successful Friends of Catholic Charities campaign, which to date has netted more than $4,500 for the Christmas Connection and other Catholic Charities efforts.
A.J. Smith, retired chief of enforcement for what is now the state Division of Alcoholic Beverages and Tobacco, is perhaps one of the busiest Christmas Connection workers. He starts out the season seeking out a site for the year's campaign. Previous headquarters have included an old automobile dealership, and for the past two years, Tallahassee Community College President Bill Law has donated a college building located on West Pensacola Street for the campaign. Smith has spent countless hours seeking a site for the 2009 Christmas Connection, and at the time this article was being prepared, there is no set collection center for this year's drive.
And Smith's involvement doesn't end once the site is secured. Visit the Christmas Connection and he'll likely be there — coordinating volunteers, moving donations through the door and onto the sorting floor, answering questions and keeping things moving — all the while never skipping a beat.
A law enforcement veteran, Smith also coordinates Cops for Kids, a charity that supports efforts to provide bicycles for children who otherwise wouldn't have one. Much like the Catholic Charities, the group focuses its efforts on raising money for the Christmas Connection. A motorcycle ride and a golf tournament go a long way to helping Cops for Kids meet its goals, and Smith is proud to say that only 1 percent of funds raised goes to administration of the program.
The Tallahassee community makes the effort a lot easier, Smith said.
"One thing you have to realize is that Tallahassee is a very giving community," he said. "People here have very big hearts. That's one reason Cops for Kids is so successful; in the past 10 years, we've given away more than 5,000 bikes.
"Lots of charities do a lot of good things," Smith continued. "People need help all year long, but especially at Christmas. That's when the child who has the least really looks for something. Cops for Kids tries to make sure things get taken care of; it's what differentiates us from other charities.
"I don't like to have anything left over when Christmas rolls around," Smith said. "Last year, on Christmas Eve, we had four bikes left, so I started driving around with them to see if I could find someone who might need one. I was riding down Orange Avenue and saw a woman walking on Meridian with her 6- or 7-year-old son. I asked her if he had a bike, and she said no. When I gave her one, she started to cry. Turns out she had just gotten out of jail and had nothing for her kids. And she said she had another son, so he got a bike, too. That's the kind of thing that makes you want to come back over and over."
Cops for Kids is just one of many agencies and groups that come out each year to support the Christmas Connection. Of course, none of this could happen without a whole lot of help, and it seems that virtually every nook and cranny of the community steps up in some form or other. Take, for instance, the Tallahassee Police Department. Each year, as the holidays approach, officers take bicycles, tricycles and other "vehicles" donated either to the department or to the Christmas Connection. Under the direction of Dave Ferrell and Mark Wheeler and other members of the community policing unit, they take their turns as Santa's elves.
"We take the bikes that people bring us and repair them if we can," Ferrell said. "If we can't repair a bike, we might piecemeal it or 'cannibalize' it for parts (to repair others). We get the bikes to the Christmas Connection and if they need us to, we help deliver them. They provide a wonderful service, and we enjoy partnering with them."
Leon County Sheriff Larry Campbell echoed Ferrell's sentiments. His deputies also assist in making deliveries, and Campbell sends inmate crews to help prepare the selected site for the annual campaign, sweeping, scrubbing, setting up shelves — whatever needs to be done. Then, as the campaign winds down, deputies load up their four-wheeled "sleighs" to deliver gifts, food and cleaning supplies provided by the Christmas Connection to families in the areas they patrol.
"If we can show a child that someone cares, it might help prevent problems later on," Campbell said. "Most of the time at Christmas we see people at home, enjoying the holiday and all the trimmings that go with it. Our deputies out riding around see kids who had no Christmas, who got nothing, and that kind of thing gives you a real feel for the underprivileged. If we can do anything to make a difference, we will. It's a win-win situation for all of us."
In addition to law enforcement, the Christmas Connection has friends in the media. The Tallahassee Democrat dedicates daily news coverage to Christmas Connection cases, and the Democrat opinion page staff conducts an annual blanket campaign, delivering lots of cozy warmth to the Christmas Connection site in early December.
Bill Edmonds, communications director for the State University System Board of Governors, initiated "Blanket Day" when he was an associate editor (editorial page staff member) at the Democrat. The previous year had been bitter, and the weather at the time wasn't much better, he recalled. First Presbyterian Church in downtown Tallahassee had opened its basement so that people without shelter could come in from the cold, and it made Edmonds wonder what contribution the newspaper might be able to make.
"It was a real simple idea," he said, "especially in that first year. We really didn't know what we would get. After all, Tallahassee is not exactly a blanket town," Edmonds pointed out, referring to the Capital City's warm climate. By the end of a week, his entire office was "flooded with blankets. It was very satisfying, and blankets almost became symbolic" of the Christmas Connection's warmth and kindness.
WCTV-TV, Tallahassee's CBS affiliate, comes to the table with coverage as well. Julie Montanaro, co-anchor of the 6 o'clock evening news, will air five to 10 cases each year to help provide momentum for the program.
"The Christmas Connection cases themselves are media-friendly," Montanaro said. "We also will cover the site opening day, perhaps focusing on a family then. We also adopt a family at the station."
Montanaro also is a regular volunteer, starting in 1991 when she was new to the area. Working weekends with one weekday off, she didn't know many people outside work and wanted something to do. She started volunteering for the Christmas Connection and helped develop the station's coverage of the program. In 2008, she brought her infant daughter, Natalie, with her when she came to volunteer.
"I want her to grow up knowing that even if you have no money to share, you can always share your time and the things that you have," Montanaro said.
Cases can be filled in one of two ways. Community groups, agencies or individuals can "adopt" a case. They purchase the requested items and whatever else they might want to add; they can either bring them to the Christmas Connection site or deliver them to the recipients if they prefer. If a case is not adopted, volunteers will fill the wish list from among the thousands of donations received that year. In addition to the requested items, recipients get toiletries, cleaning supplies and fixings for a ready-to-cook holiday meal. As the campaign picks up steam, troops of Boy Scouts, Girl Scouts, church groups, service clubs from area high schools and others all join in, sorting, organizing, packing and preparing gifts of all sorts and sizes.
Mary Coburn, Florida State University's vice president for student affairs, is a longtime Christmas Connection volunteer.
"I can't really remember how long I've been doing this," Coburn said. "It probably has been about 20 years or so. When I started, I was just one of those people who showed up at the door, sorting, doing whatever needed to be done. Then, when I joined the (Catholic Charities) board, I developed a little more steady relationship. The only thing I haven't done is deliver. Some people really like to deliver, and I'm fine with doing what other people don't want to do."
Just like Montanaro, Coburn brought her daughters with her; both girls, now grown, worked many Christmas Connections at their mother's side.
"They started working with me when they were fairly young and got instantly hooked," she said. "Just like I did, they kept at it, moving up through the ranks into positions of greater responsibility.
"Every year, you see special stories," Coburn said. "There are always those moments when you see God's hand. I really believe that coincidence is just a moment when God wants to remain anonymous.
"One year, I filled a case for a mother and daughter," she continued. "The daughter wanted a violin; I called Dee Beggerly in the dean's office at the (FSU) School of Music thinking they might have a used instrument they could donate." Instead, Coburn said, Beggerly and her boss, Music Dean Jon Piersol, purchased a violin out of their own pockets and put the child in touch with a music-school faculty member for some initial training on the instrument.
"The Christmas Connection is one of my favorites," Coburn said. "It is truly community-wide and ecumenical. All of Tallahassee comes together to help give others a special Christmas. It is the perfect example of how the giver receives as much as the recipient does."
Makin' a List?
While some gifts, such as toys, are given to the Christmas Connection in abundance, there are other needs often overlooked by generous Tallahasseeans. Here are 10 items (plus one) that the organization can always use more of, courtesy of Christmas Connection administrative assistant Barbara Stout:
Heaters
Baby items
clothing, and equipment such as strollers and portable cribs
Clothing for teenage boys and girls


don't forget the larger sizes

Linens
sheet sets, towels and rugs
Men's socks, underwear and T-shirts
Women's toiletry sets
bath and shower gels, lotions
Sporting goods
Portable music devices
Coats and sweaters for all ages
Adopters
individuals, families, workplaces or other groups who are willing to "adopt" a family and assemble most of the items on their Christmas wish lists.
No shopping is required for the "plus one" on this list: Give money.
Oftentimes a family's need isn't for an item, but emergency assistance for "needs that can't be bought," said Stout, such as medical expenses and utility bills.
---
For more information or to volunteer, visit the Christmas Connection Web site, thechristmasconnection.org.