Opportunity Art
Monticello man handcrafts one-of-a-kind guitars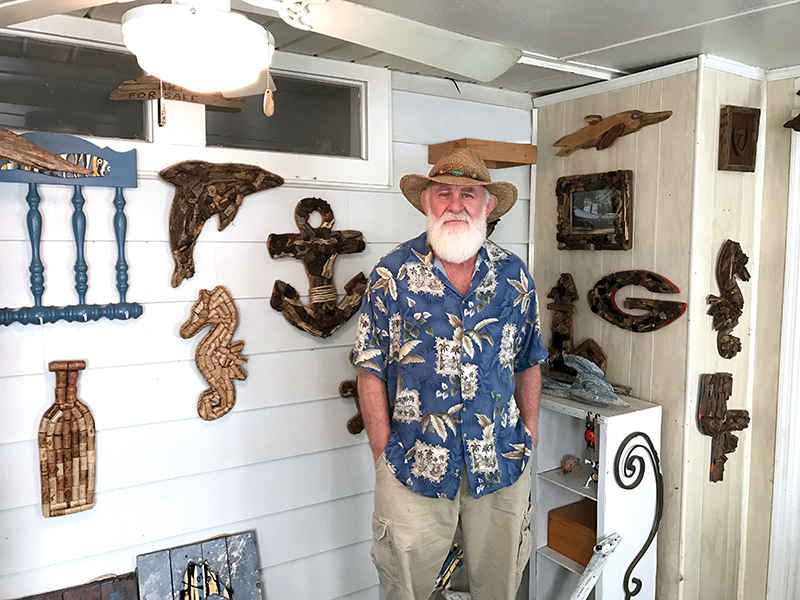 "Where other people see junk, I see what could be," the 67-year-old Vietnam veteran states.
A coffee pot, two serving spoons and the door handle of a vintage automobile become an elephant; nuts, bolts and sections of tubing form a long-legged alien; a few gnarled pieces of driftwood, arranged just right, make a fine alligator.
"One thing leads to another — that's how I make my creatures," Isbell says.
Most unusual of all Isbell's artistic creations, however, are his electric guitars — made from roasting pans, cigar boxes … even a shovel.
"I've always enjoyed making things," Isbell says. He comes from make-do cowboy stock and was born on a cattle ranch in Roswell, New Mexico. "I was raised in the cowboy way: Your word is your bond, and you do things yourself," he says. "If a pipe's leaking, you don't call a plumber — you fix it. If something needs building, you build it. I've made a lot of things in my life."
Unlike his uncle, whose road led from New Mexico to Florida and back to New Mexico once Isbell arrived in the Sunshine State, he never went back to the Land of Enchantment. On his way to Florida, however, he did make a pit stop or two: in Muscle Shoals, Alabama, and overseas, in Vietnam.

As a boy, Isbell was inspired by his uncle, Arnold Pfeiffer, who was a World War II fighter pilot as well as a teacher at the Army Air Corps Topgun school here in Florida, before he returned to the ranch in Roswell. Isbell remembers that his uncle built a one-man helicopter out of scrap metal and a broken water pump. "It flew about six feet off the ground, and he used it to round up his cattle," Isbell says. "It got to the point where he'd fire that thing up, and the cows would come running."
"We moved to Muscle Shoals when I was 16," he says. "In the '60s, everybody in music recorded over there. I heard the Allman Brothers, Marshall Tucker, Charlie Daniels, Bachman–Turner Overdrive, Wilson Pickett, Wet Willie … I heard the Little Ol' Band from Texas back when they were cowboys that didn't have beards. Even Rod Stewart used to record there."
In spite of Isbell's exposure to rock, bluegrass and soul music during his teenage years — and an obvious talent with the harmonica, which he had played from his childhood — he was a self-described "jock" in high school. An injury prevented him from taking a scholarship to play football at Auburn; but it didn't keep him from joining the Air Force and heading to Vietnam, where he worked on fighter jets. "I've always been good at working with my hands," he explains.
While in Vietnam, he met a man from St. Marks who spoke of his hometown with fondness. "I decided, once I got back, that Muscle Shoals wasn't the place for me," Isbell says. "I thought I'd try out St. Marks. But when I drove through Tallahassee, I liked it so much, I decided to move there instead. Then, 18 years ago, we moved out to Monticello."
Isbell's 30-mile distance from Tallahassee hasn't prevented him from frequenting the bigger city on weekends to sell his creations at craft fairs. "I get real good reception from people about my stuff," he says.
There's something about his three- and four-string electric guitars, in particular, that appeals to the crowds. Maybe it's the brightly colored Cuban cigar-box bodies; maybe it's the guitars' soulful, Depression-era sound. For whatever reason, these guitars are captivating and, like their maker, one of a kind.
Steve Isbell, of Driftwood Designs, can be reached via telephone or email: (850) 342-9884; thefanman@embarqmail.com.