Opening Nights Presents Skerryvore This Winter
Along comes a band that is Scottish to the core and a whole lot more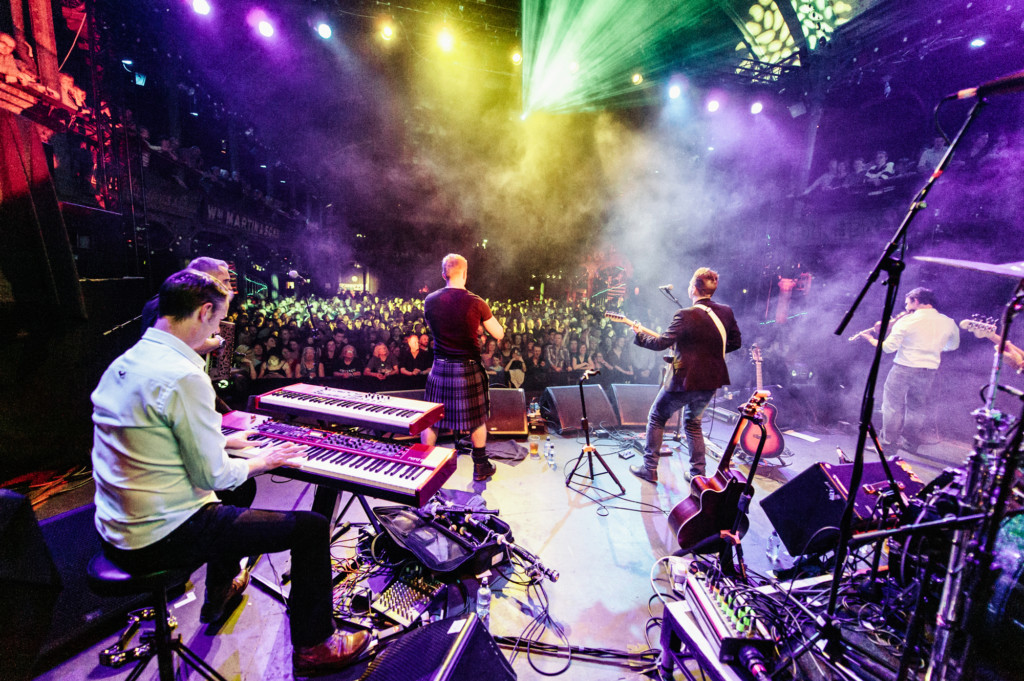 Daniel Gillespie is aware that the music of the band, Skerryvore, which he founded in 2005 with his brother, Martin, isn't easily described.
To those who call it "Celtic rock" or a "fusion of traditional and contemporary sounds," Gillespie is prepared to give only partial credit.
Traditional Scottish music forms the foundation of Skerryvore's sound — that much is for sure — but beyond that, Gillespie says, "We play music and leave it to others to determine what kind it is."
The band, based in Glasgow, comprises eight men from throughout Scotland.
Together, they have furnished the foundation with influences including folk, rock and pop. Instrumentation includes bagpipes, accordions and concertinas, guitars and drums.
And songs range from soft ballads to highly energetic, pulsing anthems. Moving beyond the traditional core, Gillespie said, has made Skerryvore's music "accessible" by diverse audiences around the world.
The band has played dates from New York City to Dubai and Shanghai.
In the United Kingdom, it is synonymous for many with its festival, Oban Live, conducted each June.
No such success was envisioned when Skerryvore, named for a Scottish lighthouse, got started 13 years ago.
"Really, we just wanted to play music and have a few beers and a good time," Gillespie said.
It may be hard to think big when you grow up on the tiny Isle of Tiree, the westernmost island in Scotland's Inner Hebrides.
The island is treeless due to relentless winds, flatter than Nevada and often cold, meaning that its white sand beaches often go unoccupied.
Measuring just 12 miles in length and three miles in width, the "Sunshine Isle," so called because it enjoys more hours of sunlight each year than any other spot in the UK, is home to some 600 hearty souls.
Gillespie, who has a sunny disposition, was part of a high school graduating class of 15.
"We are excited about being in Florida, especially in January," Gillespie enthused, noting that he has been only as far south as Louisville, Kentucky, in the United States.
He learned most of what he knows about the "Sunshine State" from a friend who moved south from Wisconsin.
Skerryvore is scheduled to play Jan. 9 at the Ruby Diamond Concert Hall as part of FSU's Opening Nights performance series.
The audience can expect songs about yearning, striving, love and ultimately, resolve and the notion of "home."
To anyone who wishes to quickly get an appreciation for what Skerryvore is all about, Gillespie recommends that they listen to its song, "Take My Hand." "It's a good representation of what we do," Gillespie said. The song recalls a long-ago summer, "a time when our dreams were born paving the way for all we have and all we need."
So things have come to pass for Gillespie and the boys in the band.
Want to catch Skerryvore on stage?
They will perform at Ruby Diamond Concert Hall on Wednesday, January 9, 2019, at 7:30 pm. For information on other performances, visit openingnights.fsu.edu/events.
Tickets are priced at $12 and $17 for students and $25 and $35 for others. To get yours, visit openingnights.fsu.edu or call (850) 644-6500