One to Watch: Logan Lane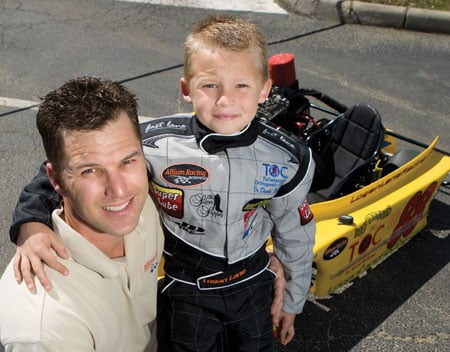 7-year-old Logan Lane is making his mark on the local go-kart scene
Photo by Scott HolsteinLogan LaneLife in the Fast Lane
By Mike McLafferty
While most second-graders are preoccupied with toys and action figures, 7-year-old Logan Lane is racing his way toward local celebrity and his dream of NASCAR superstardom.
Kart racing has rapidly become the Tallahassee racer's favorite pastime over the last year, and his competitive drive is taking him to the top.
"What's really amazing about him is his focus," says Logan's father, also named Logan Lane. "Of course he does typical 7-year-old things, but when you get him on the race track it's just amazing to see his focus and drive."
The young driver immediately realized his passion for racing back in August 2006 after meeting racer Justin Larson, who was 18 at the time, at a model stock car race where the two struck up an immediate friendship. Larson told Logan that if he was serious about pursuing racing, he should do what Larson did as a child – get a go-kart and begin practicing. And that's exactly what Logan did.
Since then, the young novice has managed to rack up five back-to-back wins and finished third in the Beginner Rookie points' standings. Not too shabby for his first year on the track.
"He's always thinking strategy," says the elder Lane. "He's constantly saying 'what ifs' in his head and practicing in one form or another, whether he's on the track or just in his room playing with his NASCARs."
To learn more about Logan Lane and view his racing schedule, visit loganlaneracing.com.