Young Kelley Breeden is Making Waves in the World of Competitive Waterskiing
She may be young, but as a highly acclaimed water skier, Breeden is ahead of the pack.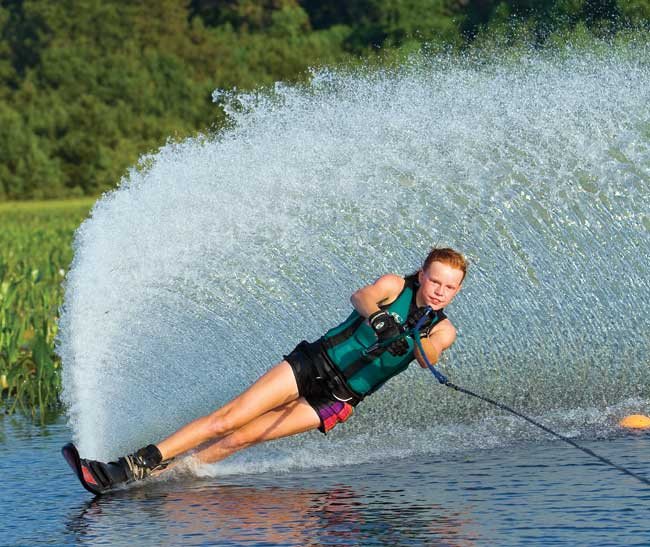 In many ways, Kelley Breeden is your average 11-year-old girl. She enjoys playing basketball, kayaking, practicing piano and playing with her dog. However, Kelley has a unique claim to fame. Last year, based on her total accumulated tournament scores, she was ranked No. 1 in the nation for slalom waterskiing in the Girls 1 division.
Last season, Breeden won the state tournament. At nationals, she was runner-up in slalom, placed fifth in trick and came in third overall. She also broke a 15-year-old record by passing more buoys in a slalom run than any girl had ever done in her state and age bracket. This season, Breeden stepped up to the Girls 2 bracket, where she will remain until she turns 14. She is currently ranked 19th .
Breeden, who has been skiing for about four years, says she enjoys the focus required in this sport. "I like that when you're out on the water, you don't have to think of anything like schoolwork — you can just concentrate on skiing."
She got her start from her father, who was a non-competitive skier. "When she wanted to learn, we sought out the nearest teacher," says Breeden's mother, Betsy. "Cory Pickos in Santa Rosa (Beach) was the closest — he taught her to slalom and trick ski." Slalom skiing, which is her specialty, involves navigating a course of buoys at increasing speeds and ever-shortening rope lengths, while trick skiing involves a routine of different flips and turns.
Breeden practices four to five days a week to stay sharp during the season, which runs from mid-February through August. She does trick skiing on Lake Talquin and slalom skiing on Lake Bradford and Lake Jackson.