One to Watch: Keith Hamilton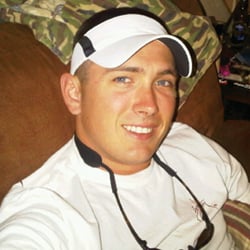 Keith Hamilton's fully ad-wrapped Honda CRV is a moving memorial to his late son and a thought-provoking message for anyone who comes in contact with it. "Most people think of philanthropy as giving money," he says, "but what kind of philanthropy is giving your organs to people once you don't need them?"
The volunteer-run organization, The Austin Spencer "Ash" Hamilton Foundation for Organ Donor Awareness, was something Keith knew he wanted to start after his son's unexpected death — an accident that occurred shortly after he was released from military service overseas. At the time, fulfilling his son's wishes as a registered donor was complicated and tiring. "There were times when I almost shut it down, because it was very hard, and I was getting a lot of misinformation," Hamilton says.
A few months after the tragedy, something came by post.
"We get this letter in the mail, which very rarely happens, saying basically, your son saved my leg," Hamilton recalls. "A light bulb just goes off that says, 'that's what your mission should be.' "
The organization promotes organ donation across North Florida and Georgia, and the brightly colored red and green vehicle proclaims "Donate Life" everywhere it's seen around North Florida.
Now a certified referral service for Donate Life Florida, the organization has already encouraged as many as a hundred new donors in a day. As for the commitment to driving a more colorful ride, "If I'm driving 40,000 miles a year, a lot of people see that car," he says. "It's like the blood in your body, it goes so many directions."
For information, visit The Ash Foundation.