Oncologist Profile: Dr. Scott Tetreault
FCS legacy partner has a passion for healing — and fast cars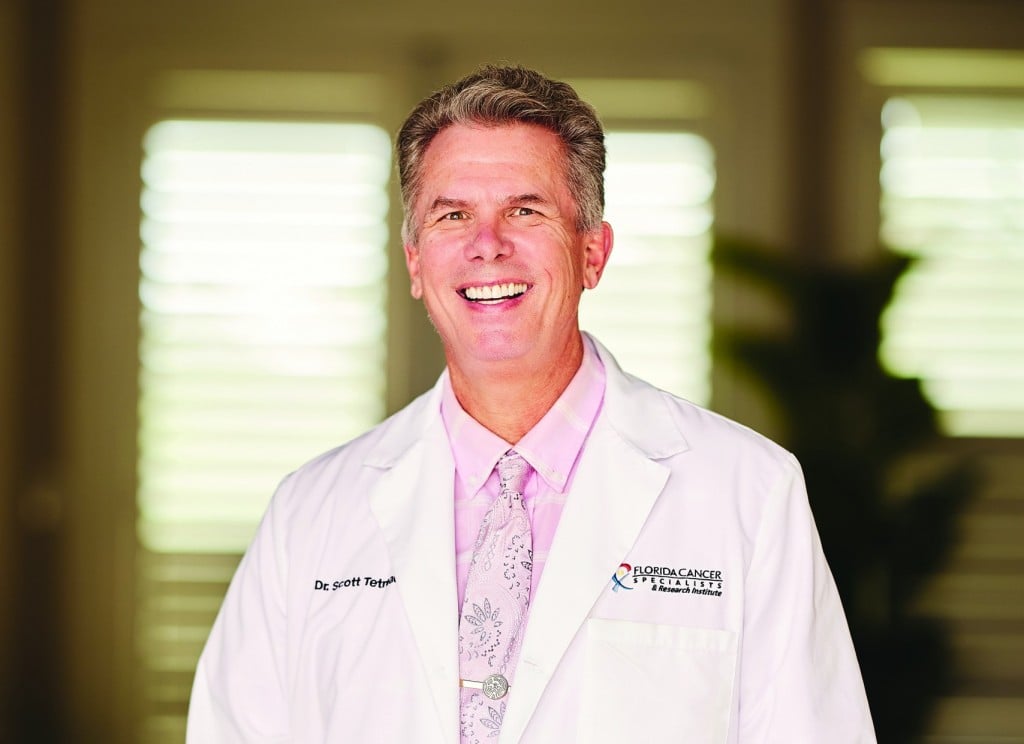 Cars and pups are two of Dr. Scott Tetreault's passions.
"There's nothing like dogs. They never bug you. They never make you talk when you don't want to talk. They are always optimistic, I mean dogs are awesome."
Abraham Maslow, in a paper published in 1943, posited a hierarchy of needs, often represented as a pyramid, that Psychology 101 students for decades would be required to memorize.
Once a person meets his physiological and safety needs, Maslow reasoned, he may proceed to work to satisfy other, higher-order needs for belongingness, esteem and, finally, self-actualization.
Dr. Scott Tetreault, a legacy partner at Florida Cancer Specialists and the chief driver behind the new Tallahassee Cancer Center, impresses as someone who has crested the pyramid. His life has been shaped by a need not specifically articulated by Maslow, the need to be needed.
"What you want ultimately in life is to know that if you didn't go back to work, if tomorrow you woke up and said 'I'm not going back in there,' then a bunch of people would be really upset," Tetreault said. "You don't want the kind of job where, if you don't come back, people say, 'Oh, you weren't really doing that much anyway. We can get along without him.' "
At that, Tetreault, the son of a nurse and an entrepreneurial restaurateur, got an early start. He knew in high school that he wanted to become a cancer doctor.
"It seemed to be the most complex area," he said. "My thinking was, 'Why go into something easy?' I wanted to work with sick people who, when they come through the door, they know they need me. There is no wondering about it."
The need to be needed would one day influence his move from Southwest Florida — he spent 10-plus years building the Sarasota division of FCS — to Tallahassee.
Tetreault went to high school in Clearwater and attended Wake Forest University as an undergraduate. He completed medical school at the University of Miami and an internship and residency at Shands Hospital at the University of Florida. He was awarded a fellowship in oncology at the Scripps Clinic and Research Foundation in La Jolla, California, near San Diego.
After California, he returned to his home state and joined a small group of cancer specialists who impressed him as forward thinking. Having grown up in a "business household," he liked the fact that the group ran its own operation.
"Sarasota was awesome, perfect life, big houses, great doctors, affluent community," Tetreault said. "The best of everything everywhere. I certainly could have spent the rest of my career there. Every patient was a great patient — but they didn't really need me. Here in Tallahassee, every day I know I'm needed."
Tetreault was seeing patients in Sarasota when his office phone rang. A Dr. West, the chief medical officer at Capital Regional Medical Center in Tallahassee, wanted to speak with him. Tetreault was curious enough to take the call.
Tallahassee Memorial HealthCare was developing a cancer center and snapping up the oncologists in town, leaving Capital Regional without any. Would FCS, West wanted to know, be interested in establishing an office in Tallahassee? The FCS business model involved expanding by acquiring practices versus starting new offices, but Tetreault and his wife nonetheless drove to Tallahassee and had a look around.
He was "amazed," not in a good way.
"Cancer care here was like it was in the 1980s, maybe the 1970s," Tetreault said of his exploratory trip to Tallahassee, taken some 10 years ago. "If you needed any treatment that was new, you had to get on the highway and go to Gainesville or go to Mayo."
Standard chemotherapy treatments were available, "but you had to be admitted to the hospital on a Monday and leave on Friday. That was crazy. For 20 years, the profession had been doing treatment on an outpatient basis."
Tetreault determined that "a great final act for my career would be to bring our FCS philosophy and build a cancer center here in Tallahassee."
The experience, he said, has been fantastic. He has worked to establish relationships with referring doctors and nurse practitioners in Tallahassee and beyond, sometimes sending handwritten notes to them in predominantly rural Northwest Florida counties. He finds especially gratifying working with "salt of the earth people who do the best they can and never dreamed that they would have access to a miracle drug."
Tetreault's greatest passion is for healing, but he loves, too, fast cars, big dogs — he owns a collie and a doodle — and Miami Hurricanes football.
"There's nothing like dogs," Tetreault said. "They never bug you. They never make you talk when you don't want to talk. They are always optimistic, I mean dogs are awesome."
As to cars, Tetreault started out collecting antique grand touring cars, "but now I'm 100 percent Porsche." He'd like, one day, to own a 1962 Maserati 3500 GT.
Tetreault, along with a number of other prominent doctors, as it happens, is a member of a motorsports club, which he likened to a "golf club for car people."
"There is nothing more relaxing than driving really fast in a fine car on a track," Tetreault said. "When you have a big practice and you work with very sick people, you are always interrupted. You have to learn how to do nine things at once. You get interrupted for consequential reasons. Scans are dramatically abnormal. Somebody might die in an hour if you don't do something about this electrolyte or this scan.
"You've got to get away and, driving at 200 miles an hour is a perfect escape; you can't think of anything else. You can't be bothered by anything."