Oncologist Profile: Dr. Paresh Patel
In the fight for the long haul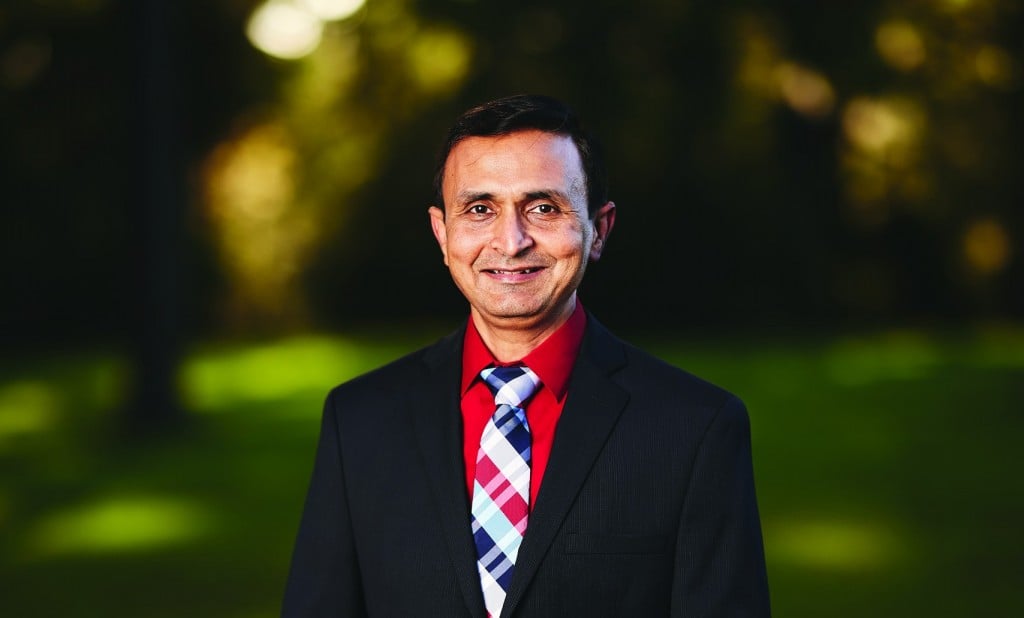 Whether it is adding yet another board certification to his considerable credentials, fighting big pharma for his patients or acing his tennis game, Paresh Patel, MD, is in it to win it.
Growing up in Patan, India, Patel tagged along with his uncle to make house calls for patients. Even as a high schooler, he was struck by the power of healing human touch.
"It was immediate. I saw the instant reward of making patients feel better," he says.
After earning top honors at B.J. Medical College in Ahmedabad, India, Patel was recruited to Jersey Shore Medical Center. As chief medical resident (internal medicine), he participated as a clinical investigator in numerous clinical trials. His work earned an award of excellence for outstanding clinical research. He was invited to do his first fellowship in palliative care at Virginia Commonwealth University (VCU) Health System, followed by another in hematology and oncology. Patel is fastidious about continued learning and is quadruple Board Certified in medical oncology, hematology, internal medicine, hospice and palliative care.
He relocated with his wife, Yamini, and their three children to Tallahassee in 2011 and joined Florida Cancer Specialists & Research Institute (FCS) in 2012. Now 49 years old, Patel has been Board-certified for 11 years and is still thrilled when his care earns him a thank you card or, better yet, a hug.
His uncle's footsteps were not the only ones Patel followed; teaching mirrors his passion for medicine. "It runs in my family. My father was a teacher at an engineering college," says Patel, who clearly relishes the memory.
For four years as an attending physician at VCU, he taught his colleagues. At FCS, he teaches medical students from Florida State University in rotation, as well as students from the Alabama College of Osteopathic Medicine.
"You get to share your knowledge and educate them and give them a better perspective about cancer diagnosis and treatment so they can continue to do better and increase their abilities," he says.
When students ask this tenacious teacher for career advice, he is fair but not impartial.
"I'm always biased about oncology. Not everyone is made for it. It's not everyone's cup of tea. But if you have the passion and compassion to do it, it's rewarding. If I had to do it again, I would still choose oncology," Patel says.
What's the secret to choosing a successful path in medicine?
"I always tell students, 'Look for what you like to do rather than looking for what you want to do,' because once you like what you do for a living, you will keep doing it forever," he says.
The ground gained in oncology continues to encourage Patel.
"Since I began practicing, drug approvals have more than doubled," he explains. "Now we have the highest FDA drug approval rate of any specialty. Medicine-wise, treatment-wise, testing-wise, oncology has significantly exploded compared to what it used to be, even 15 or 20 years ago. Patients who would not have survived six months … we're now seeing them four, five, 10 years without treatment. So, it is much more challenging; at the same time, it is much more rewarding and exciting, and that's what makes it a pleasure."
Patel credits his entire caregiving team, led by APRN Cheryl Holm, for his success. He sees about 20 patients a day and tries to treat each of them as
an individual.
"I look at a patient as a person, not a number," he says. "I always think of myself in their shoes and ask, 'how would I like to be approached?' "
In 2011, Patel's sister-in-law was diagnosed with breast cancer. He helped her with difficult decisions and she helped him realize first-hand what his patients' families go through.
"It's hard," he confesses.
Patel continues to fight hard for his patients outside of his doctor's office, too.
In addition to serving on the boards of the Florida Medical Association and the Capitol Medical Society, he is chairman of the Legislative Committee for the Florida Society of Clinical Oncology (FLASCO). In this role, he is actively engaged in eyeing "legislative care" to ensure patients gain "transparency" and avoid "delays in treatment and financial toxicity."
"It will change, but it takes time," Patel says. "It's not a small task. It takes a lot of education. At least now it's on the legislature's radar; two years ago, it was not. I'm here for the long haul and I am here to make things better for patients."