Oncologist Profile: Dr. Margarett Ellison
Tough As Iron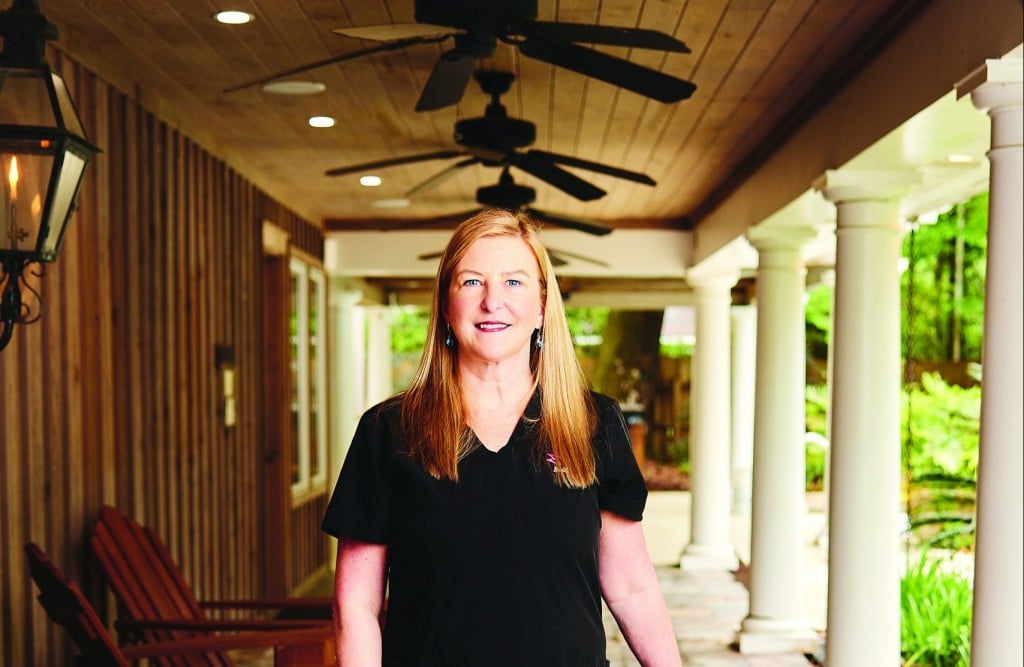 "It was about clearing my head and gaining some life-work balance. And I wanted to show my kids you can do anything you set your mind to."
Dr. Margarett Ellison competes in triathlon competitions as a way to stay in shape.
Who enlists in the Army during a war? Who trains for an Ironman to get in shape? Who raises three boys and works full time? Who is triple Board-certified? Who opens a medical practice during a pandemic?
Attempting any one of these things would be impressive; Margarett Ellison, MD, has accomplished them all …
and more.
This straight-shooting 53-year-old will tell you she's tough as a mother, and as a gynecologic oncologist, she has to be.
Ellison was born in Jonesboro, Georgia, where she was never without her Hasbro doctor kit and where she never missed an episode of Emergency on TV. She attended undergrad (Emory University) and medical school (Mercer University) in her home state. She joined the U.S. Army in 1991 and earned a health professions scholarship that helped pay her way through medical school. Her residency (obstetrics and gynecology) was at the University of Alabama at Birmingham. When she ventured to Providence, Rhode Island, in 1997 for a fellowship with Brown University/Women & Infants Hospital, she remembers she "had to buy a coat for the first time."
Upon completing her fellowship, Ellison served as assistant chief for the Division of Gynecologic Oncology at the Brooke Army Medical Center in Fort Sam Houston, Texas. During 2003, she deployed to Kuwait, where she served as a general surgeon for the 10th Combat Support Hospital in Operation Enduring Freedom. For her stellar service, she was promoted to the rank of lieutenant colonel, U.S.A.R.
"Anyone who's been in the Army learns patience. Things are not
100 percent under your control. You have to make do with what you've got and get the job done MacGyver-style," Ellison says matter-of-factly.
After being Board-certified in 2004, she worked in Los Angeles for six years before heading south to Atlanta, where she practiced until 2016. She happily left the "daily grind of the city" to settle in Tallahassee, where she has worked with Florida Cancer Specialists for just over a year. Her specialties are gynecologic oncology, minimally invasive and robotic surgery and chemotherapy for gynecologic (GYN) malignancies.
Ellison admits military training was great preparation.
"Surgeons are super picky, and I'm just not that way," she says. "I can get by with a piece of gum and some matches. When you have dedication to a mission, you work around things. It teaches you how to get through tough situations in your head space."
If she needs a nudge, Ellison is not beyond putting herself in a "tough situation."
When she was 45, she had put on some weight, so she made a New Year's resolution to get into better shape. She changed her diet, started spin classes and progressed to jogging. Her "muscle memory" from her days on the elementary swim team was put to the test when she registered for her first triathlon in 2013. She continued to increase her distances and relay times, and at age 48, she competed in Ironman Florida.
"My goal was to better myself in terms of my overall health," she says. "It was about clearing my head and gaining some life-work balance. And I wanted to show my kids you can do anything you set your mind to."
Her sons, Devon, 25, Austin, 23, and Thaddeus, 15, cheered her on. So did her daughter in-law, Samantha, who was her "catcher" — someone who stays at the finish line to be sure you are okay and gives you your medal.
"There's no better feeling than having someone you love there for you," she says.
You could say Ellison is a "catcher" for her patients daily. During her 60-hour workweek, she sees about 50 patients per week and conducts seven-to-10 surgeries. Of those, about 70 percent are for endometrial cancer — the most common gynecologic malignancy — and about 30 percent are ovarian cancer — more technically challenging to perform.
Elena Gellepis was diagnosed in 2018 with ovarian cancer and referred to Ellison. She reflected about her patient experience in a video testimonial for FCS. In it, Gellepis says, "She made me feel that I was safe in her hands, and I was. She really does care; you're not just a number, you're not just another patient. She gets to know you, and I credit her with me being here today."
When she first entered the field, Ellison was considered to be at the forefront.
"There has been a trend for more women migrating to obstetrics and gynecology as a specialty," she explains. "When I was finishing school, there were about 600 Gyn Oncs in the U.S. and "10 percent" were female; now there are more like 1,200 and 50 percent are female."
Armed with compassion and dedication — and yes, toughness — she intends to prevail in the war on gynecological cancer, too.