Once Ambushed, We Feared Not Jaws
Five rafts' worth of Rowland Publishing employees enjoyed a day away from the office on the Chattahoochee River on June 6. All would do it again.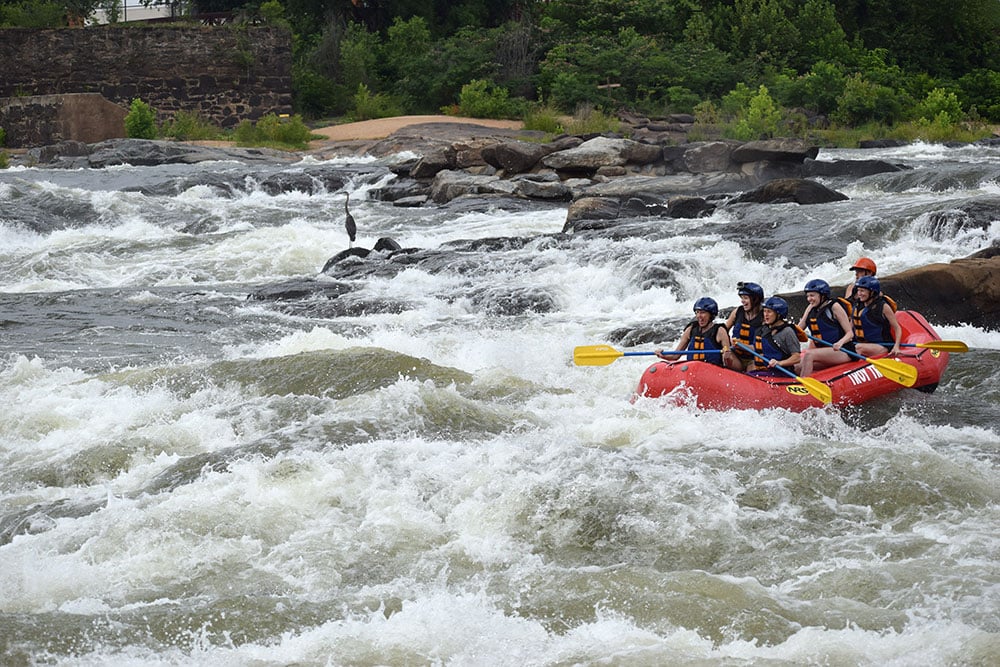 Fellow Rowland Publishing employees Alyssa, Daphne, Darla, Jackie and Lisa looked like they could use a sixth. And so I joined them aboard a raft assigned to a guide named Counts, who is with the urban outfitter, Whitewater Express, in downtown Columbus, Georgia.
Together, the rafting experience of the five ladies totaled less than the sum of my experience. So, not a lot. Alyssa, 19, told me that she had been rafting one time previously, but couldn't remember where. Darla, the senior member of the group, had been twice, once in Utah. Her second trip was in Alaska. I asked her if Alaska had achieved statehood at the time. She wasn't sure.
The Chattahoochee River flows between Columbus and Phenix City, Alabama, the cities that figured in the Battle of Columbus, the final skirmish of the Civil War, which actually took place two weeks after Lee surrendered to Grant. News traveled slowly.
Fighting for the Confederacy, Lt. Col. John Stith Pemberton of the Georgia State Guard sustained a saber wound to the chest and subsequently became addicted to the painkiller, morphine. A pharmacist by trade, Pemberton worked to develop an opium-free alternative that contained cocaine and kola nut extract. His development would evolve to become Coca-Cola, and the cocaine in Pemberton's French Wine Coca would be replaced with caffeine.
At Whitewater Express, Pemberton's story is told when rafters gather for their safety meeting. There, one also learns that the most dangerous aspect of rafting in swift water is the paddle. It can result in "summer teeth." That is, "some are in the raft, some are in the river and blood is everywhere." Paddlers pledge never to loosen their T-grip on what can become an unintended missile.
The outfitter sees to it that rafting resembles hot sauces: Paddlers can choose among mild, medium and wild trips down the river. We chose "mild," a route that provided sufficient respites to allow for maintenance work on Jackie's GoPro.
Once underway, we soon encountered rapids called Ambush — and it is true that when that first big wave came cascading over the side of our raft, we weren't fully prepared, and our raft became The Scream. Think watery roller coaster ride.
Next up would be Jaws, a series of rock ledges that results in something like a wave pool. (One of the great things about rivers is the names given their features.) Further downstream, a relatively idle stretch is known as the Lazy River. Paddlers are invited to exit the raft and float along, supported by their PFDs, with toes pointed downstream. I would find that eddies see to it that some work is required to reach shallows where paddlers climb back into the raft.
We would exit the raft one more time, then to complete a short walk to inspect the spectacular Class IV rapids called Cut Bait, located on the Alabama side of the river. Counts beached our raft after piloting us through Rookie Crusher on the Georgia side, and we clambered onto a flat rock that stood about two feet higher than the surrounding uneven terrain. Under those circumstances, I was paying attention to Darla, about whose safety I was concerned. Poised at the edge of the flat rock, Darla asked me, "Borny, are you ready to catch me?" and did not wait for an answer, hopping from the rock into my not-so-ready arms.
The paddle is not necessarily the most dangerous aspect of a rafting trip. Darla, herself, would own up to the realities that she ain't right … and she ain't light.
Counts, along with another guide, threw himself into Cut Bait, as if to imitate Ronny Cox tumbling down the Chattooga in "Deliverance." He emerged, he confessed, exhausted; but we had not far to go to the take-out point and would soon drift past the Phenix City campus of Troy University.
At the rear of an impressive, columned campus building, there stands atop a stone pedestal a bronze figure surveying the Chattahoochee. At a distance, I thought it might be Pemberton, a Confederate statue, as yet unremoved. But, as we moved closer, it became clear that the statue was instead that of a Trojan warrior, Troy's mascot. Of course.
Still, once back at the impressive pro/gift shop where our adventure began, I got me a Coke.
Only seemed appropriate.
---
Five rafts' worth of Rowland Publishing employees enjoyed a day away from the office on the Chattahoochee River on June 6. All would do it again. Find out more about Whitewater Express outfitters at whitewaterexpress.com.