On Tallahassee's French Connection
Lake Ella landmark signifies friendship between France and Florida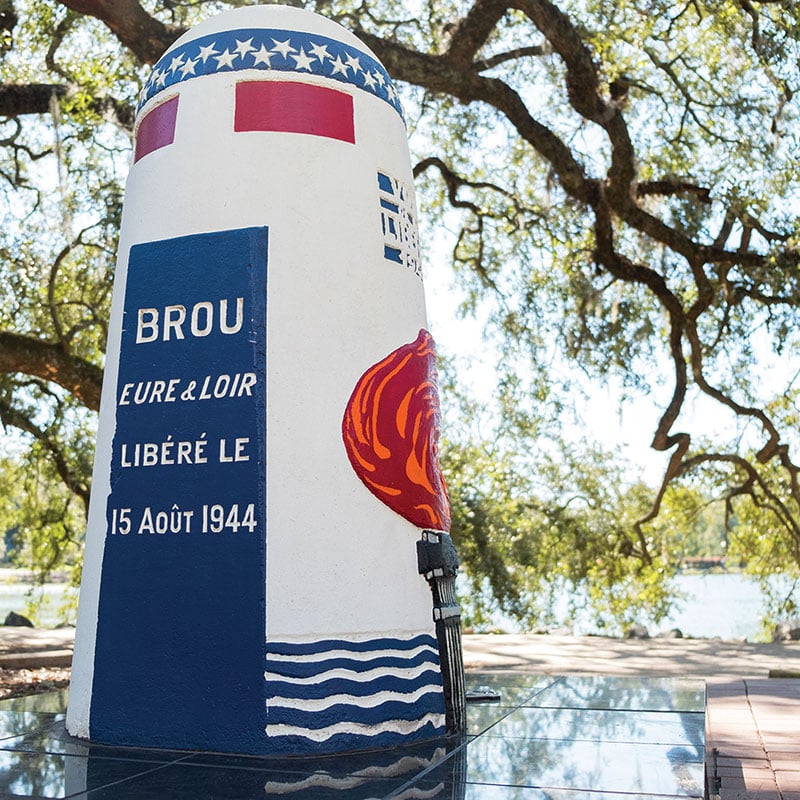 A bullet-shaped stone painted in red, white and blue and adorned by a flaming torch of liberty has stood near Lake Ella for nearly three decades. Standing at only 5 feet high, or about the average height of a 13-year-old, the stone is easily overlooked by passersby who may not give the boundary stone, or borne, a second glance.
The borne's humble exterior subtly betrays a history that is anything but unremarkable — a story born in the Allied liberation of France during World War II and forever linking Tallahassee with the small French town of Brou, 80 miles southwest of Paris.
Soon after the war's end in 1945, Guy de la Vasselais, a French liaison to Gen. George Patton, proposed the construction of a monument that would properly convey the enormous gratitude of the French people to the American soldiers who liberated their homeland.
To that end, a total of 1,146 bornes were installed at kilometer intervals along the roads followed by Patton's Third Army from France into Belgium. Stretching 711 miles, the Voie de la Liberté, or Liberty Road, was opened on Sept. 7, 1947.
A year later, after Americans donated $40 million worth of food and clothes to war-torn France and Italy, a grateful France thanked the United States with the Merci Train, made up of 49 boxcars filled with gifts including clothes, books, paintings and antiques and shipped across the Atlantic.
Among the gifts was a borne from the Liberty Road donated by the City of Brou and placed in Florida's car. The date Aug. 14, 1944, was inscribed on its surface, the day of the city's liberation by American forces.
Dr. David Greenberg, vice president of Alliance Française of Tallahassee, remembers going through the New York boxcar with his mother back in 1949.
"We went downtown and stood in a long line since Americans were interested," Greenberg says. "We went through the train and there were a lot of documents and historical things, with a copy of the Declaration of the Rights of Man being one of them."
When Florida's boxcar arrived in Tallahassee in early February 1949, the borne was placed in what is now the Historic Capitol where it would remain until 1988, when it was given to the Tallahassee American Legion and moved near their headquarters at Lake Ella. Over the years, it fell into serious disrepair — and at one point it was almost rolled into Lake Ella by vandals, according to the Tallahassee Democrat.
Like the decaying statue in Percy Bysshe Shelley's famous poem "Ozymandias," the borne all but crumbled under the weight of time. That is, until Jake Moudy, a high schooler at the time, restored it two years ago as part of a Boy Scout project.
"It was getting ready to fall apart," says Moudy, now a freshman at the University of North Florida. "There were cracks, algae and mold everywhere. If something wasn't done in a year or two, it wouldn't have lasted."
The grandson of a World War II Marine Corps veteran who fought in the Pacific, Moudy wanted to restore it in honor of his grandfather, who passed away as he was planning the project in February 2014.
Throughout the endeavor, Moudy enjoyed the support of the Legion post, which raised more than half of his $1,000 fundraising goal at one of their meetings.
Working weekends with the help of a small team of fellow scouts and military veterans, Moudy carefully scrubbed, repainted and filled in cracks.
In January 2015, a small ceremony conducted by the Legion commemorated the restoration of the memorial. Moudy saw his role as similar to that of a caretaker preserving history and strengthening the bonds forged between two distant cities for future generations.
"We have a lot of rights, freedoms and opportunities because of what happened and the sacrifices made by these soldiers," Moudy says. "I also wanted this to be something I could take my family back to see and make it last for years to come."
---
The Merci Train was made up of 49 boxcars, one for each state at the time and one to be shared by the District of Columbia and the Territory of Hawaii. The boxcars were called the "Forty-and-Eights," as they could transport either 40 men or eight horses. The train arrived on February 3, 1949, when 200,000 people turned out for a ticker-tape parade in New York City to receive that state's boxcar. Florida's boxcar, one of 43 still in existence, remains on display at Holly Hill.