Olympic Memories
Hard Work Paid Off for Two Former Olympic Competitors Now Living in Tallahassee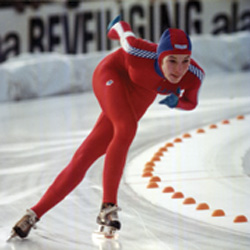 Training to be an Olympic-class athlete is no mean feat. It's relentless. You've got to want it. You have to push yourself to the limit. You have to ignore the muscle pain, the cramps, the sweat and tears. You have to dig deep, and keep going.
That's something most Olympic hopefuls and veterans alike can attest to. Tallahassee is fortunate to have two former Olympic athletes — one, a gymnast; the other, a speed skater — who shared their stories of sacrifice and dedication as athletes all over the world prepare for the 2012 London Summer Olympics, held this year from July 27 to Aug. 12.
Courtesy Sarah Williams
Sarah Williams a teenager speed skater Olympian and mother of aspiring athletes.
"I lived and trained at the National Academy of Artistic Gymnastics in Eugene, Ore., for three years until I made the Olympic team in 1976," said Carrie Zimmerman, Tallahassee's first Olympian, and co-founder of The Zimmerman Agency, the largest hospitality/tourism public relations firm in the U.S. and the largest public relations firm in Florida.
The public just doesn't see that side of the story, according to Sarah Williams, a speed skater originally from Madison, Wis., and a physical therapist at Tallahassee Memorial HealthCare.
"Everyone thinks it's glamorous but for the athletes, it's a lot of pressure," said Williams, who raced in the 1980 winter games in Lake Placid, N.Y.
Zimmerman was born and raised in Tallahassee and got her start in the Tallahassee Tumbling Tots as a kid in the late 1960s. Classes were held in the old city armory (now the Senior Center on North Monroe Street).
"It was one big giant floor and we did tumbling and trampoline, but no gymnastics," Zimmerman recalled. "However, it was an opportunity that most places didn't have. Every girl in town was in that. It was the thing for girls to do."
Tumblers honed their skill under the tutelage of former circus gymnasts and performers who would "come in and tell us what to do," Zimmerman said. Then the program was moved to a large basement at the old Northwood Mall. The arrangement was not without flaws, because a structural support beam was centered in the middle of the room — something the tumblers had to learn to avoid bumping into.
"That's the humor of it," Zimmerman said. "It didn't start with any grand gymnastic gym that was available at the time."
For Williams, training to be a skating athlete was something of a community tradition. She grew up near a lake that was perfect for skating. Eric Heiden, who won five gold medals at the 1980 Olympics, was a neighbor.
"Madison was a big speed skating town,"she recalled.
She started skating at age 2 and entered international competition at 13. She won the world short track speed skating competition that same year. The next four years of her life were spent competing on the world stage. She competed in at least 10 world championship events before reaching the Olympics.
"I really left home at 13, pretty much," Williams said. "I didn't go to high school, only a year or so, and spent the rest of the time competing in Europe. I skated in Lake Placid in four races, and my best race result was 10th. I think I was 15, pretty young at the time."
Zimmerman was 11 when the TTT decided to add real gymnastics to its routine. "The girls had never seen it. We had a manual that told us (what to do), and that's how we started. The old (teachers) were gone at that point and we were a tumbling team self-teaching ourselves gymnastics."
Zimmerman eventually ventured to Oregon to be taught by master gymnastic coach Dick Mulvihill, who had taught some 20 Olympians.
Courtesy Carrie Zimmerman
Tallahassean Carrie Zimmerman, teen gymnastics Olympian and mother of aspiring athletes.
"I was at Leon High School in my junior year and got on a plane by myself and flew to Oregon by myself and walked into the gym at 15 and changed my entire life," she said.
Zimmerman devoted three years to her training with Mulvihill, and at 18 her training paid off. She became the National U.S.A. Champion in balance beam and floor exercise, and was the first U.S. woman to score a perfect "10" in gymnastics at the '76 Olympics in Montreal. Today, her son Cade, a rising junior at Chiles High School, is following in her athletic footsteps as an award-winning cross country runner, track star and soccer player. He is the only sophomore to start on the Chiles Varsity soccer team during playoffs; he was named the First Team All-Big Bend Cross Country Team, and in track his 9:44 two-mile time earned him the rank of No. 4 sophomore in Florida.
Coincidentally, Williams' kids are aspiring athletes at Chiles as well. Cecelia, 16, is a swimmer and Lily, 17, is a runner. "CeCe" made the Olympic 200 and 400 free-style swimming trials in Omaha, Neb., and Lily was recently ranked No. 1 in the nation in the 1,600-meter run.
"They both have that athletic, competitive gene," Williams said. "I see myself in them, and I wish they would lighten up a bit. It has great benefits, but it has its drawbacks."
The hard work doesn't stop once you reach the top. The Olympics were pretty grueling, Williams said. She skated in four races in 10 days, which was very stressful.
"It was a pretty hard 10 days for me, but one of the highlights was when we got to watch the Americans beat the Russian hockey team," she said. "It was exciting to be part of that. In retrospect it was a wonderful experience, but stressful. There was a lot of pressure, and I didn't skate as well as I had earlier in the year."
But the grueling training it takes to reach Olympic glory takes a toll on even the best athlete, and Williams was no exception.
"I skated two more years (after the Olympics) and continued to progress but I was training five or six hours a day … (at) about 17 I burned out because I was training too hard," she said. "I think one of the lessons you learned growing up training so hard, whether you win Olympic medal or not, the important thing is to set a goal and work very hard and you can accomplish whatever you want."