Oh is for Olive Oil!
Extra Virgin is Nature's Liquid Gold, but Beware of Low-Quality Imitators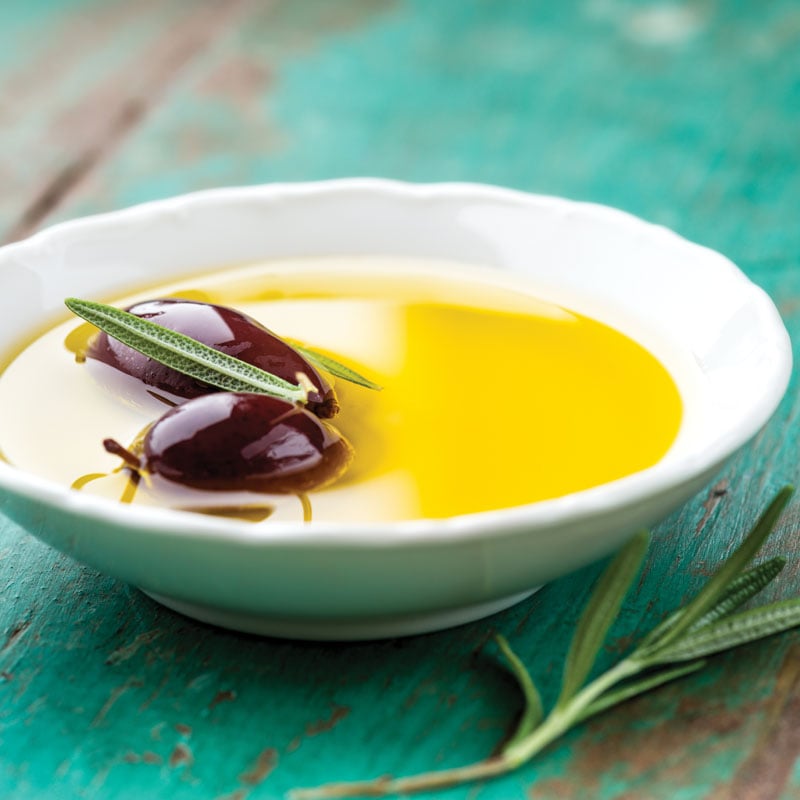 Revered by Homer and thought to be a gift from the Goddess Athena, olive oil was once thought by ancient civilizations to be worth its weight in gold.
Today, as Americans grow exceedingly health conscious, it is viewed more like a liquid gold, containing properties that can make you smarter while possibly extending your life.
A fat obtained from the fruit of the Oleaceae, a traditional tree crop of the Mediterranean Basin, olive oil is extracted from ground whole olives and is commonly used in cooking, cosmetics, soap and pharmaceuticals.
Consumers interested in getting the best quality for their dollar are digging deeper to find out more about the products they are using. And what they're gradually learning is that the majority of olive oils in supermarkets labeled as "extra virgin" are actually adulterated imitations. Indeed, according to farmprogress.com, 69 percent of U.S. supermarket oils labeled as extra virgin showed defects in flavor and composition when tested.
Check it Out … Carefully
Extra virgin is the highest grade of olive oil and must be extracted from the olive without heat or solvents. International and U.S. Department of Agriculture standards require that extra virgin olive oils meet specific criteria for chemical makeup and sensory qualities, including flavor and roma.
According to Tom Mueller, author of "Extra Virginity: The Sublime and Scandalous World of Olive Oil," extra virgin is deemed as "olive oil with zero taste flaws and some perceptible fruitiness, peppery-ness or bitterness." Because of these standards, the "extra virgin" oil commands a top price.
Based on studies by UC Davis Olive Center at the Robert Mondavi Institute in California, however, most olive oil fails those standards. Poser oils contain refined nut and soy oils that not only debase the olive oil's quality but also can exacerbate health conditions such as food allergies and cancer. Charmed by popular brand name labels professing venerable Italian legacies, consumers falsely assume that they are purchasing quality oils beneficial to their health.
Unfortunately, the adulteration of olive oil is at the bottom of the list of concerns for the United States Food and Drug Administration (FDA). As a result, there is limited legislation and few safeguards regulating the production of extra virgin olive oil. So buyer beware!
While 97 percent of olive oil in the U.S. is imported, Georgia Olive Farms in Lakeland, Ga., supplies a tiny bit of the other 3 percent. Just 95 miles from Tallahassee, the farm prides itself on producing high-quality extra virgin olive oil distributed throughout much of the Southeast. "It's important to at least be able to identify the country of origin, said Jason Shaw, a partner at the olive farm. "Many of the olive oils available now state that it is from olives grown in several different countries. That can sometimes be a good indicator that the product may not be what is says it is if you can't even tell where it's from."
Scott Holstein
At Jackson County's Green Gate Olive Grove, owner Don Mueller consolidates fruits harvested by being raked out of the trees.
Five acres in Jackson County are home to what may be the only commercial olive oil operation in Florida, Green Gate Olive Grove. "It was just an experiment to begin with, said owner/farmer Don Mueller. "I love olives and was anxious to try it, and it worked."
His work hasn't gone unnoticed. In 2008, he won an award at an international contest in Ft. Lauderdale. His olive oil went up against oil from all over the world — and won the award for its taste. Mueller is currently lobbying the state to jump on the olive bandwagon and introduce olive trees across the northern border of Florida. (Only the northern part of the state is practical, because olives need a chill for the fruit to set.)
California has strict quality standards for labeling extra virgin olive oil, so buying a product from that state will get you a true EVOO, said Michelle Robson, general manager of the Dry Creek Olive Company, which grows and processes olives in Sonoma County. Her company has a tasting room, and the taste and smell of the oils — often pungent and grassy — can come as a surprise to those used to grocery store variety olive oils.
But the price for quality oil doesn't necessarily have to strain the wallet. The Wall Street Journal has declared Trader Joe's Extra Virgin California Estate Olive Oil "the most affordable high-quality domestic oil on the market." A 500-milliliter bottle sells for about $6.
EVOO So Good For You
Good olive oil truly is liquid gold with its many health benefits. Considered the most important component of the traditional Mediterranean diet, this extraordinary fruit juice and its effects are still not fully understood, yet some of the ways only two tablespoons of olive oil consumed daily can preserve and improve human health have been firmly established.
According to mayoclinic.com, the top five most scientifically supported health benefits of olive oil today are that it lowers LDL or "bad cholesterol" due to being one of the best monounsaturated fats, lowers blood pressure, lowers risk of heart disease, helps prevent hardening of the arteries and helps with cognitive function.
But be aware that heat, light and air affect the taste and health nutrients of olive oil, so store oil in a dark, room-temperature cupboard, or even in the refrigerator.
---
All olives have the ability to be green or black, says Dry Creek Olive Company's Michelle Robson; it depends on how long they are allowed to ripen on the tree.
Unlike wine, olive oil does not improve with age. It should be stored in a cool, dark place (not on the kitchen counter or above the stove) and used within several weeks of opening.
Stats from Green Gate Olive Grove
Olive Production: three to seven tons per acre.

A half liter of olive oil runs $23 while a pint of fresh olives goes for $10.

A 30-foot tree costs between $10 and $25 and could grow to 40 feet.

Olive trees can live for 200-500 years.

40 gallons of olive oil can be produced per ton of olives.

Mueller has approximately 300 trees on his farm and hopes to have 500 in the near future.
(Courtesy: Don Mueller and greengateolivegrove.com)
Types of Olives That Can Grow in Florida
Arbequina: The olives grow in heavy clusters and have a high oil content.
Arbosana: Has fruit that looks almost like the arbequina but matures three weeks later. Arbosana oil is more robust than Arbequina and has a more peppery taste. It has a fruity, nutty flavor.
Koroneiki: A very small olive that originated in Greece and is grown for its oil. It has a robust flavor and a peppery finish.
Mission: Has a high oil content. Olives ripen mid-season. Oil can be bitter if picked early. Mission is considered mid-season.
Manzanilla: The most widely grown variety in the world and has a very high quality. The oil is described as very aromatic, fruity and peppery.
Source: Florida Olive Council
---
Lee Gordon and Rosanne Dunkelberger contributed to this story.