Off to Join le Circus
Exotic 'Dralion' Star is Actually a Home-Grown Gal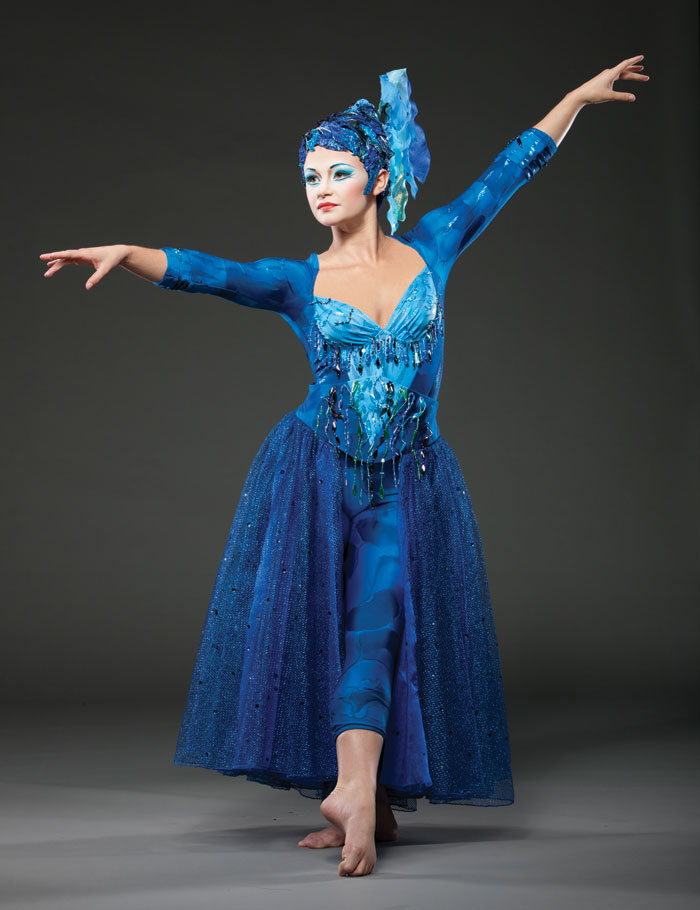 Nothing conjures up the exotic quite like a show by Cirque du Soleil, and when its show "Dralion" comes to Tallahassee for eight performances Sept. 28 through Oct. 2, we can expect to be dazzled by acrobats, contortionists, aerialists, dancers and other artists from around the world.
About half of the show's 52 performers are part of a Chinese acrobatic troupe, while others hail from Hungary, Spain, Russia, Japan and other countries. So it might come as a bit of a surprise to realize that beneath the blue costume and dramatic makeup of Azala, goddess of the Air, is a Florida girl, Amanda Oroczo of Orlando.
The 22-year-old's adventure began when she saw a Cirque show in her hometown with her mother 10 years ago. "I was completely enamored by it. It was my first experience seeing something like that and that night after the show I was like, 'Mom, this is what I want to do,''' Oroczo says. She admits her aspirations were something of a "wild fantasy," and her teenage years were pretty typical, with some emphasis on competitive dancing.
But after high school, the Big Top called to Oroczo and she traveled to Montreal for a "three-year, very intensive" circus school. While her peers were studying business and accounting, "I specialized in aerial tissue … I also did contortion and duo trapeze," she says, and landed her role in "Dralion" right after finishing her circus training. She's been performing in arenas throughout the U.S. and Canada for more than a year now. "I'm very, very lucky for my role in the show," she says. "I get a lot of stage time. I get a lot of opportunity to connect with the audience, and I'm very grateful for that."
Oroczo has a featured role, playing one of the four elements (the others are Earth, Fire and Water.) She makes appearances throughout the show, but her star turn is an aerial "tissue" pas de deux, flying high above the stage being held up only by long, flowing swaths of cloth, also known as silks.
"There are no safety nets or any tricks, it really is just us," she explains. "At certain points the tissue is supporting my partner, and he's the only thing holding me up."
Getting into her elaborate costume and headgear isn't the most challenging aspect of her pre-performance ritual. "For me the hardest costuming aspect that takes the longest is the makeup," which she applies herself. When she began, training for the show included two-and-a-half-hour sessions on how to apply makeup. "It definitely takes much longer than that in the beginning, so the first time you actually complete your makeup in one session it feels like you've just run a marathon," Oroczo says. Now, she can do it in about 45 minutes.
Although she did learn French while in Montreal, Cirque's official language is English. But the atmosphere is multicultural, and Oroczo says she likes that just fine. "Before the shows you sit down at the table and there's three or four different languages being spoken in one place," she says. "It's really cool because you have to learn how to communicate together and intermingle and really understand each other even when speaking isn't the primary form of communication."
And those meals are prepared by a culinary staff that travels with the show. All of her living and travel expenses, except for her cell phone bill, are paid for when she's on tour.
"People ask, 'How can you stand to live in a hotel?' and I say, 'Oh, it's really hard to have people make my bed for me every morning.' It's not really that difficult."
Time off is built into her schedule. The troupe works 10 weeks on and two weeks off. Their typical weekly schedule includes eight performances Wednesday through Sunday, giving them two days off to explore whatever city they find themselves in. "It's a really nice way to see the world and travel and do what you love," she says. "I've gotten to see more of the U.S. and Canada than I ever thought possible. Every place is so different … you're there long enough to understand the place but not long enough to get bored."
But Oroczo is definitely looking forward to performing in her home state. "It's kind of where the dream comes full circle … . To perform in my hometown in my home state is kind of a surreal feeling of, 'Alright, I made it,' " she says.