Challenger Learning Center's IMAX Theater features first-run flicks
Tallahassee secures first-run status with top six Hollywood distributors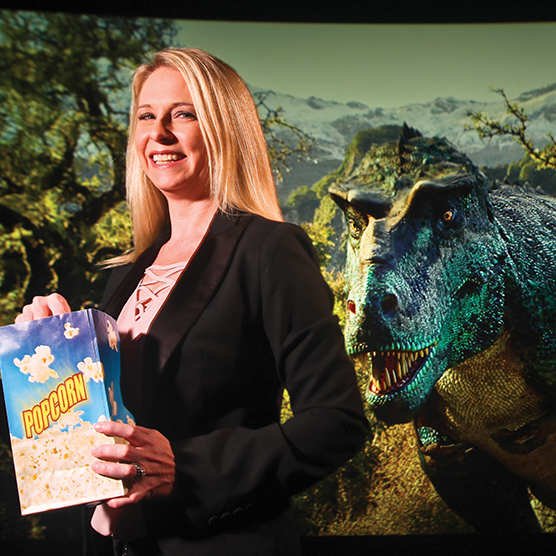 Michelle Personette really likes movies and really wants to share the IMAX experience with everyone.
"Do you want to be a part of the movie? That's what the experience is for me. Getting into the movie and taking yourself out of everything else," said Personette, the center's executive director. "It's immersive, engaging, and the picture is always stunning."
But now there's an added incentive. The IMAX theater is showing first-run movies in that larger-than-life format. It's a coup for the capital city.
"As of last year, we secured first-run status with the top six distributors in Hollywood," she said. "That has really changed the operation of our theater and how we are able to get films here."
As you might expect, certain terms and requirements apply when leasing first-run movies. But Personette said she and her staff work together to carefully plan and creatively schedule the screenings per the lease agreements. Each film has to be shown a certain number of times at optimal attendance hours. That's tricky because the theater only has one screen; but they make it happen.
"We work together to ensure that our theatre can meet the film lease terms because the opportunity we've been given to be a first-run theater is very important to the Challenger Learning Center's growth and the vitality of an 18-hour downtown," Personette said.
Because it is a first-run movie house, the Learning Center receives movies in an encrypted hard drive, called a DCP, or Digital Cinema Package, which weighs less than the traditional film reel package.
The Challenger Center's IMAX auditorium has 287 seats and a screen that is 52 feet tall and 71 feet wide. It converted from film to digital in 2010. While it can't play "normal" movie formats, it can play both 2-D and 3-D IMAX movies. Personette said the distributor and IMAX determine if a movie will be released in 2-D or 3-D or a combination of both. 
"We just put tickets on sale for Beauty and the Beast, and the distributor requested we show it in both, each day," she said. "I love that, because some people may have vertigo, and 2-D is a great option to help those customers. But there are some films that have to be shown in 3-D, and we are going to show their art the way they want it to be seen."
But Challenger isn't all about Hollywood movies. The mission of the center is to inspire young minds to follow careers in science, technology and engineering. Various IMAX documentaries are used to do just that.
"For me and our educators and staff, the film we are looking forward to the most is Dream Big. It's all about the engineering wonders of the world and inspiring kids into the STEM careers, and it aligns well with our purpose and outreach," she said. "It is stunning and beautiful, and I can't wait for people to see this documentary on our screen. I've seen a lot of documentaries and IMAX films in my life, and this ranks up there as one of my favorites." 
---
Specialized Format
The IMAX theater at Challenger is set up solely for the purpose of screening movies that have been filmed with IMAX cameras or have been converted to the format. Otherwise, the movie can't be shown at the Learning Center. That's something Personette can do nothing about, because it's all up to the filmmaker. She would have loved to have seen Hidden Figures in IMAX, but it wasn't filmed that way. 
"I want to get across that there are a lot of really great movies out there, but we can't show them because they haven't been converted," she said. "The distributors have a method to their madness as to how they decide what (is filmed) as IMAX. They have a knack for selecting which films will look good in the IMAX format."
Challenger Learning  Center 
200 S. Duval St.
Tallahassee, FL 32301