Now is the Time to Save Millions of Acres of 'Old' Florida
Preserving Wild Florida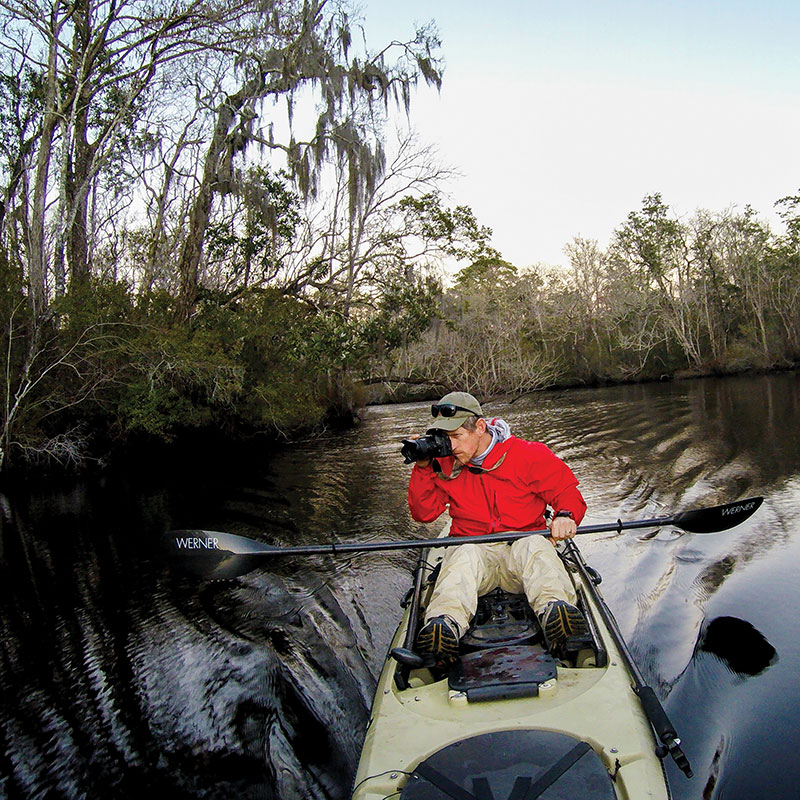 Welcome to Florida. We have it all: world-class golf, world-class beaches, world-class industry, world-class resorts and world-class entertainment. We also have world-class traffic headaches, world-class development issues and world-class debate over how to preserve and protect the state's valuable waterways and landscapes.
Fortunately, more than 9 million acres of Florida land is today held in conservation by state, local and federal governments. But there's a lot more land out there to protect, according to members of the Florida Wildlife Corridor Expedition.
This Tampa-area team of scientists and artists has literally paddled, hiked and biked its way across the length and breadth of the Sunshine State in two separate expeditions in an effort to show there is still land waiting to be saved from overdevelopment.
Eastern box turtle
CARLTON WARD JR.
The name of this expedition is taken from the parent organization, the Florida Wildlife Corridor, which also describes the ultimate goal: to create a vast chain of connected wilderness areas for everyone — people and wildlife — to enjoy. For animal life in particular, these corridors are important to the long-term survival of many species. These undeveloped greenspaces provide homes for 42 federally listed endangered species and 176 state-listed endangered species. There are an additional 56 species listed by the state as threatened and 29 on the species-of-special-concern list. The endangered species include the whooping crane, Florida panther, West Indian manatee, green turtle, leatherback turtle, hawksbill turtle and gulf sturgeon.
The Florida Wildlife Corridor's vision is not a new one; rather, its goal is to make more people aware of the necessity of preserving wild areas.
"The Florida Wildlife Corridor is a statewide vision to keep Florida wild," said award-winning conservation photographer and author Carlton Ward Jr. "As we go along, it becomes more and more clear that the need and value of this … is it's showcasing a Florida that's hiding in plain sight to so many people."
The Florida Wildlife Corridor covers a staggering 15.8 million acres. Although 9.5 million acres are already protected, another 6.3 million acres do not currently enjoy conservation status. Protected areas include 4.7 million acres of federal land and 4.5 million acres of state land. There are 162,776 acres of protected county and city land and 204,232 acres of private land with permanent conservation status.
Mallory Dimmitt wades across Monkey Creek.
CARLTON WARD JR.
"I think we are really are seeking a balance for public and private ownership," said Joe Guthrie, a wildlife biologist from St. Petersburg who works as a consultant for the National Wildlife Refuge Association. "It's really important that a lot of these places stay in private ownership and stay in production. Timber, for example, because that kind of keeps trees on the land, and keeps it from being more intensely developed."
As a graduate student at the University of Kentucky, Guthrie studied bear and panther populations in South Central Florida. His work, and the data collected via radio collars, led to the creation of the Everglades Headwaters National Wildlife Refuge and, ultimately, helped inspire the Florida Wildlife Corridor's 2012 expedition.
"The black bear became a symbol for us," he said.
The Florida Wildlife Corridor isn't trying to create a list of priorities. That has already been done by state government. All the Tampa group is trying to do is make the public understand that there is a need to move the protection process along.
"We're just trying to bring attention to the fact that there are all these existing projects that have already been vetted by the state, and the science supports their acquisition or protection via conservation easement, but they haven't been done because the funding hasn't been there to actually move all the way down this list," said Mallory Dimmitt, a seventh-generation Floridian, conservationist and executive director of the Florida Wildlife Corridor.
The hope is that the recently passed Amendment 1, formally known as the Florida Water and Land Conservation Initiative, will help jumpstart those lagging acquisition efforts.
"That's why Amendment 1 was put on the ballot," Ward said. "There had not been significant progress on land acquisition and protection for a few years, and there is still a science-based need for that, but not necessarily the political support to fund those things."
According to the Florida Wildlife Corridor, 1.46 million acres inside the "corridor opportunity area" are a high priority for conservation via Florida Forever, the state's premier conservation and lands acquisition program. There are also approximately 600,000 acres on the conservation priority list of the U.S. Fish & Wildlife Service's Greater Everglades Program (including the new, 150,000-acre Everglades Headwaters National Wildlife Refuge and Conservation Area project).
"We've made tremendous progress toward protecting this list of incredibly important lands and the waters that benefit also from that land protection, and we've got to keep at it until we finish the goal," Dimmitt said.
Florida is going to continue to grow. The time to act is now before these precious waterways, swamps and forests are all gone, supporters say.
"If we don't act now before generations change hands, if the public wants to see land stay out of development … but the how, when and why of that is critical to that vision," Ward said. "Yes, we have seen areas of concern in our treks, but there are huge successes and opportunities waiting to be realized."
Meanwhile, as the human population increases, bear populations are on the rise too, leading to frequent encounters between the two.
"We've got a (bear) population that's expanding statewide," Guthrie said. "The focus lately is on bear management. Those problems plague certain parts of the state."
Ward said that 100 years ago, bears could be found in every Florida county, and it's possible that isolated pockets of bears could be reconnected.
"Connecting these bear populations is synergistic to this Florida Wildlife Corridor project," he said.
Walking the Walk
The 2015 Florida Wildlife Corridor Expedition was no weekend jaunt for Dimmitt, Guthrie and Ward. It was a 70-day, 1,000-mile journey that took them from South Central Florida, up the Nature Coast and finally West to Pensacola. A similarly epic trek in 2012 took them from the very tip of peninsular Florida in Everglades National Park all the way up to Okefenokee National Wildlife Refuge in southern Georgia. The crew allowed themselves 100 days to make the 2012 journey. This year's trek is a bit more ambitious, traveling just as far in only 70 days.
"We have a lot more biking on this trek than our last trek simply to get us between places and get some of the distance in, because we are going almost the same distance as last time but with 30 less days to do so," Dimmitt said.
The expedition entered the Tallahassee area when they trekked across the Aucilla and Wacissa river region in February. From there, the crew ventured into Forgotten Coast territory via the St. Marks National Wildlife Refuge, the Apalachicola National Forest, the Ochlockonee River and the Crooked River, and the town of Apalachicola. The final leg of the journey had them hiking and biking across the Panhandle to the Perdido River and the Gulf Islands National Seashore. Their 1,000-mile trek ended at Fort Pickens in Pensacola. Dimmitt and Guthrie spent more than a year planning the route, 150 yards at a time. It was a journey of discovery for the expedition members, Ward said.
"There are also millions who don't know these places exist, so it's an incredible opportunity to try to experience them for ourselves," he said. "It's a sense of discovery for us."
Waiting in the Wings
Thousands of acres of sensitive wildlife lands in Leon County and surrounding areas are currently sitting on the Florida Forever "wish list." Among these is the 134-acre Millstone Plantation located near Lake McBride and flanked by Bannerman Road, Ox Bottom Road and Thomasville Road. The parcel hosts at least one nesting pair of bald eagles, and its sinkholes and lakes need to be protected from runoff. Millstone also has some archaeologically significant sites, including the Millstone Plantation House. The entire parcel has been on the project list since 2001, and since then 78 acres have been acquired for a conservation easement.
Another former plantation, Ayavalla Plantation in northern Leon County, consists of 6,081 acres — none of them acquired by the state. The land is owned by the Phipps family, who, according to a project summary, plan to keep 15 small plots for home sites. The rest of the land would be turned into a conservation easement that would connect the Ochlockonee River Conservation Area to land near Lake Jackson.
Other important lands include the Upper St. Marks River Corridor, acquisition of which would form one unified wildlife corridor connecting the St. Marks River headwaters north of U.S. Highway 27 south to the Aucilla Wildlife Management Area in Jefferson County. Meanwhile, there remains 3,275 acres of land in the Wakulla Springs Protection Zone that need to be purchased and conserved.
---
Want to Know More?
To learn about the Florida Wildlife Corridor, visit floridawildlifecorridor.org/about. You'll find links to maps, photo galleries, events, historical background and ways to support the cause.