Sneak Thief by Faith Harkey Is Infused With Magic
The fictional town of Sass in Harkey's novel is certainly transcending the ordinary.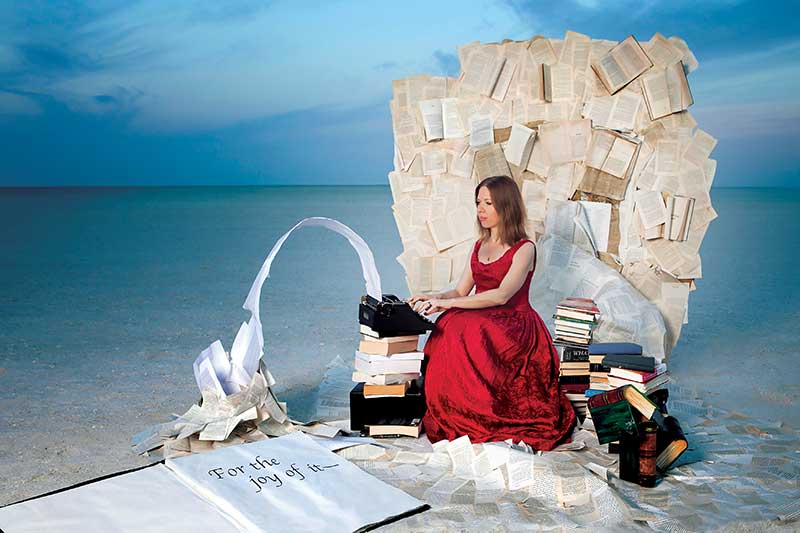 Sass, Georgia, won't be found on a map, but crack open one of Faith Harkey's novels and Sass leaps from the page.
The rural town is the amalgam of a few places local author Faith Harkey has encountered while traversing the United States.
Recent book Sneak Thief is Harkey's second venture into Sass' magical setting.
The book was published by Alfred A. Knopf Books for Young Readers and was released in March.
Clarion Books published Harkey's first book, Genuine Sweet, in 2015. Harkey writes for a middle school-aged audience.
Both Genuine Sweet and Sneak Thief have protagonists who possess a, shall we say, heightened proclivity for nudging the present toward their ideal.
In Genuine Sweet, Genuine can grant anyone's wish but her own.
In Sneak Thief, Hush Cantrell pulls off elaborate sneaks, borrowing what is not hers to take. Both characters must find ways to balance their magic.
"I think in the real world we can define magic as the fascinating operations of imagination and coincidence," Harkey said.
The author sat cross-legged on a cushion in her writing studio at home. It's a small room lined with bookshelves. A whiteboard is inscribed with, "Have I imagined enough today?"
A computer rests on a table settled low to the ground.
Harkey sits on meditation cushions on the floor to write.
"In literature, I think of magic as the principle of the numinous. … It takes a narrative to do it. It takes images and characters to enact magic within a story."
Sneak thief Hush Cantrell is more of an outsider than the protagonist of Harkey's first book, but it's a relatable standoffishness.
"Hush's forcefulness is about her survival. I think asserting herself is very part and parcel of who she is," Harkey said.
Harkey said the difficulty of writing Sneak Thief was waiting for Hush to appear. There was a lengthy gap between Genuine Sweet and Sneak Thief that Harkey described as a bit nerve-wracking. But once Hush's voice piped up in the author's mind, writing the book took about six weeks. Revising was the longer process.
"I think that that gestation phase (between books) is really important and it is part of that final book. The energy of that gestation permeates the whole work, but it was a period of fits and starts," Harkey said.
She estimated she began 20 stories that didn't work before landing on the correct tone.
"Part of the neat thing about writing for middle-graders is you can kind of live a magical realistic life," Harkey said.
"I like the idea that that's actually the reality of our world: Most of the time, things are mundane, but sparks of magic can come through."
Harkey gives a presentation about inspiration and other intangible gifts when on book tour. She often stops in schools, so she has made an effort to mix in practical lessons such as the importance of crediting sources.
The presentation could best be described as a TED talk for 9- to 13-year-olds. Harkey said she hopes to help her readers "feel elevated by their own power."
She also noted she does not read adult reviews of her work.
She is much more interested in how young readers engage with the stories.
"When I talk to kids, definitely, I feel a strong sense of responsibility," Harkey said. "The thing I know the most about and I feel is the most valuable thing for a kid to have is the understanding of finding their inspiration and using it."
At one school visit, a young girl presented Harkey with an index card full of questions but left before Harkey answered.
"I think she answered the questions in her imagination," Harkey laughed.
The author has made a concerted effort to visit small towns with her books.
"There was a gravity there," Harkey said about rural school visits in Arkansas and Mississippi. "I write about rural stories, so am I really connecting with rural kids? It was an open question.
"I think they received it and they understood it and they felt understood."
Harkey remarked it is both easier and harder to write for younger audiences. The challenge is authenticity. She has noticed kids have less patience for pretense.
"It's easier because they do suspend their disbelief more readily," Harkey added.
She warned against assuming middle-grade novels are written in a simpler way than adult fiction.
"I don't think you have to and should not tone down language for kids. I think that if you have an authentic character that's a great character, they're speaking the right language anyway," Harkey said.