Northern Migration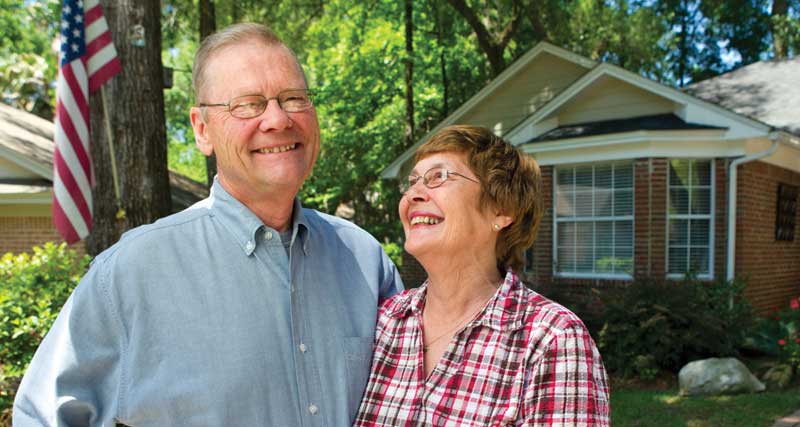 Folks who head to mountains of North Carolina when things get too hot at homeNorthern MigrationLocal Retirees Beat the Summer Heat with Part-Time Living in North Carolina By Lilly RockwellClick to enlarge

On May 15 each year, David and Judy Murphy pack their car with a cooler containing sandwiches and fruit. They bring at least three CDs, and crates to house their two dogs, Ty Henry and Phoebe. The Murphys leave their modest three-bedroom brick home in Tallahassee and drive for eight hours, dipping into small two-exit Georgia towns on Interstate 75, and whistling past the skyscrapers in the bustling city of Atlanta.
Before dusk falls, they arrive in Waynesville, N.C., a town of 10,000 people that sits in the shadows of the Appalachian Mountains and is 45 minutes southwest of Asheville. After stopping for dinner there, the Murphys keep driving northeast of Waynesville, turning off a paved road to a dirt one that climbs through the leafy woods and eventually deposits them at the steps of a four-bedroom cabin on four acres.
The couple will spend all summer living at their cabin in North Carolina, returning only briefly for family events such as birthday parties. They'll come back to Tallahassee on Nov. 1.
The Murphys are part of a growing number of Floridians either relocating to or living part time at mountain retreats in North Carolina. This migration is triggered by the desire of many sun-weary Floridians for milder summers and a preference for that the state's diverse mix of coastal living and the rugged, mountain lifestyle along the state's western edge.
The Murphys bought the land their cabin sits on in 1992, while living in Vero Beach. A friend of a friend was selling lots, and the Murphys bought one sight unseen. (However, they later switched after realizing it was on a steep incline.)
Over the next seven years, the Murphys built their dream house, with three levels, 28-foot ceilings, and a 12-foot wraparound deck with plenty of chairs and tables to entertain guests. David Murphy did all the electrical work and plumbing himself.
"We chose a remote piece of land so that we could be set apart from traffic, sirens and a busy lifestyle," Murphy said. "Judy grew up in the country, and we wanted to duplicate as much as possible a simpler way of living." The couple's description of life in the mountains sounds idyllic: They spend most days hiking their land, cooking and canning their own fruit; evenings are spent playing board games.
North Carolina is the second most popular state for Floridians to move to, with 47,747 people moving out of Florida to North Carolina from 2003 to 2008. (Georgia ranks No. 1.) This number reflects just the Floridians who moved to North
Carolina year-round; it doesn't include part-time residents like the Murphys.
Though statistics show many Floridians who move to the Asheville area are from counties with large populations, such as Palm Beach, Pinellas and Orange, a number of Tallahassee residents also have mountain homes in North Carolina. These part-time residents like escaping the heat of Tallahassee's stuffy summers for the breezy mountains of North Carolina, where the average high temperatures are in the low 80s.
"We both grew up in Ohio," David Murphy said. "I can't take Tallahassee in the summertime."
Judy Murphy said they moved to Vero Beach when her children were young and enjoyed the beachside lifestyle while they raised their children. Their plan was to move to North Carolina full time after retirement.
"Although we adored Florida and it has been very, very good to us, we missed the seasons," she said. "It's very exciting to see seasons change. It's something we look forward to."
Instead of moving to North Carolina full time, the Murphys decided to live part of the time in Tallahassee to be closer to their children and grandchildren. They're known as "halfbacks" — a term coined to describe Floridians originally from the North who move halfway back, to mid-Atlantic states such as South and North Carolina.
The flow of Floridians to North Carolina dates back to the 1920s, according to a Florida Trend magazine article from 2007. As the first intrepid wave of Floridians began moving to North Carolina, their friends and family members were encouraged to move after the rave reviews began pouring in. Florida Trend noted that so many Floridians have homes in, or have permanently moved to, North Carolina that the University of Florida Foundation throws an annual fundraising party each July in western North Carolina.
"Every summer, we have a lot more names to add to the invitation list," Carter Boydstun, the foundation's senior associate vice president for development, told the magazine.
North Carolina went through a big growth spurt in the 1980s and 1990s, said Ferrel Guillory, director of the Program on Public Life at the University of North Carolina at Chapel Hill.
"Even in the past decade, with the recession, it has continued to grow, but it's been slower," Guillory said. Though Floridians may flock to the state for its cooler temperatures, he contends that weather isn't the main draw. Guillory said the state's biggest attractions are its cities. North Carolina has transformed itself from a land of rural communities and small towns to a more urban, sophisticated state with large metropolitan areas.
The Raleigh-Durham-Chapel Hill area is consistently recognized in "best places to live" lists in national magazines because of its job growth, top-ranked universities, cultural attractions, restaurants and nightlife, not to mention quality health care. Asheville, home of the University of North Carolina at Asheville, is emerging as another popular destination, with a reputation as a center for live music and art.
"In the mid-1980s, we became much more metropolitan than rural, and that trend has only accelerated since," Guillory said. In addition, he said, many black Americans started returning to the South during this time, and Hispanic Americans started migrating to the state as well.
Guillory said that only in recent years have an increasing number of Floridians arrived in the state. He said the real estate crisis prompted many Floridians to flee to states that were less affected by the faltering real estate market, and there are many communities being built that cater specifically to retirees, with amenities such as golf courses.
Unexpectedly, retirees say they like North Carolina's universities, including the top-ranked Duke University and the University of North Carolina.
"They enjoy being in a university community," Guillory said. He added that it's not just older folks moving to the state.
"It's growing in every dimension at every age group," Guillory said.

Click to enlarge
Carol Reissig is another halfback who lives in Tallahassee part of the year. She moved to Miami from New York in the 1960s to teach school. When Reissig and her first husband, Vern Hedtke, approached retirement, they decided to split their time between the South Florida city of Port St. Lucie and Sylva, N.C., another small community in the folds of the Appalachian Mountains.
Her four-bedroom, four-bathroom, cedar chalet-style house in North Carolina is 2,800 square feet in size, with large glass windows and expansive views of the mountains.
"It's a good size," Reissig said. "You could live there year-round if you wanted." Best of all is when she steps on to her deck for her morning coffee and is greeted with a view of the mist rising from the Appalachian Mountains just outside her front door.
Carol Reissig married Roger Reissig after her first husband died in 2003. Though the couple enjoyed life in Port St. Lucie, their social life was lacking, so they moved to Tallahassee in 2005 to be closer to Hedtke's best friend, who also has a home in North Carolina.
"It's my friend I do everything with," Carol Reissig explained, though she has a social life busier than most teenagers, with a close circle of friends in each city. She sold her first Tallahassee home in 2007 to move to SummerBrooke, where she currently lives. Like the Murphys, the Reissigs leave Tallahassee in May and return at the end of October.
"I like the change in weather," Carol Reissig said. "I'm the kind of person who gets bored living in one place. I don't want to be stuck in a rut."
However, when pressed, Reissig said it's Florida that is home to her.
"I've lived in Miami and Port St. Lucie and now Tallahassee," she said. "I consider this my home, and if I had to choose one spot, it would be Florida."
Some Tallahassee residents have plans to move permanently to North Carolina. Tallahassee resident Barry Kling, who recently retired, bought a lot in 2005 in the North Carolina master-planned community of Chapel Ridge. He pays homeowner's association dues and plans to move there in a few years, after his wife, Kathy Neill, retires.
"We were looking at a number of states," Kling said. "We were pretty sure we didn't want to stay in Florida." They started with the Northwestern U.S., but quickly ruled them out because of the cooler climates and the long distance to family on the East Coast. Their next step was a scouting trip to communities in South Carolina, and visits to beachside cities including Wilmington, which is on the east coast of North Carolina, and Amelia Island, just north of Jacksonville.
It was Chapel Ridge, 15 miles south of Chapel Hill, that the couple particularly liked because it was a master-planned community with a nearby golf course and was close to Chapel Hill, with its university, shopping and dining and medical facilities.
Kling said he isn't sure whether they will build a house on that lot or purchase an already-built home.
"I never picked Florida myself," Kling said. "My parents did when I was 10. I don't like the weather in Florida, the heat and humidity."
Kling had one unusual item on his checklist: the right political mix.
"That area is progressive," he said. "We didn't want to live in a red state, we wanted a progressive section of a purple state."
Though retirement is still years away, Kling is looking forward to the day when he can step outside his front door with a golf bag in hand, a cool breeze whispering by, while Tallahassee swelters.