North Florida Animal Hospital
Makes Professional Development a Priority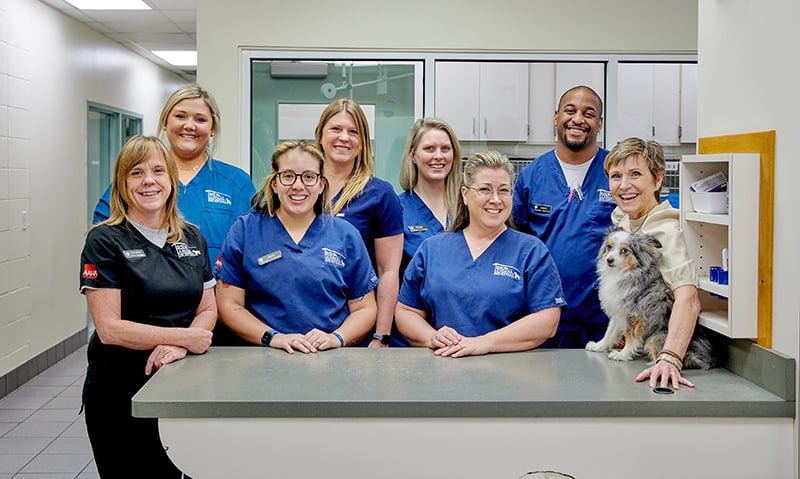 Investing in the professional development of people with an interest in veterinary medicine is part of the mission of North Florida Animal Hospital. That commitment makes it possible for the longtime veterinarian and the technician new to the field to continuously become better at what they do.
Dr. Robert Lee established the hospital in 1955 and worked as a solo practitioner. He sold the practice to Dr. George Simmons in 1988. In the years since, the practice has added co-owners Dr. Randy Fullerton and Dr. Shane Burkhead along with 10 DVMs and over 55 employees, including veterinary technicians, surgery technicians, management staff, customer service representatives and kennel staff.
"North Florida Animal Hospital makes it a priority to support the industry by providing sustainable and viable veterinary-related careers," said Alice Malone, hospital manager for North Florida Animal Hospital. "We foster employees' interests by helping them find
their niche."
At NFAH, there are many avenues that employees can explore. For those who are medically inclined but don't wish to become a veterinarian, work as a veterinary or surgical technician is an option. From there, technicians can specialize in areas such as phlebotomy
or pharmacy.
Those who have a knack for engaging with both people and animals may be candidates for a customer service or management position. Caretaking types often gravitate to kennel staff positions.
Since 1988, 40 employees have gone on to become DVMs.
NFAH is community minded when hiring, often welcoming students and graduates from Florida State University, Florida A&M University and Tallahassee Community College.
In addition, NFAH is encouraging young students to consider a veterinary career at any early age by speaking to audiences at
K-12 schools.
"Whether a longtime or part-time employee, staff members appreciate the camaraderie and culture at NFAH because they feel rewarded and appreciated," Malone said.
Malone noted that NFAH pays certified veterinary technicians a career salary, which limits employee turnover. Employees who begin work at NFAH as students often continue to work at the practice following graduation because of the fair pay and positive work conditions — and the furry friends are certainly a plus.
"In all that we do, we strive to maintain the best level of customer service and provide access to care when pets need it, which is why we hire the way that we do," Malone said. "We are fortunate to have staff and doctors that make pets a priority."
---
2701 N. Monroe St.  | (850) 385-5141 | NFLAH.com
---