No Plant-Sitter, No Problem
A guide to self-sufficient landscape plants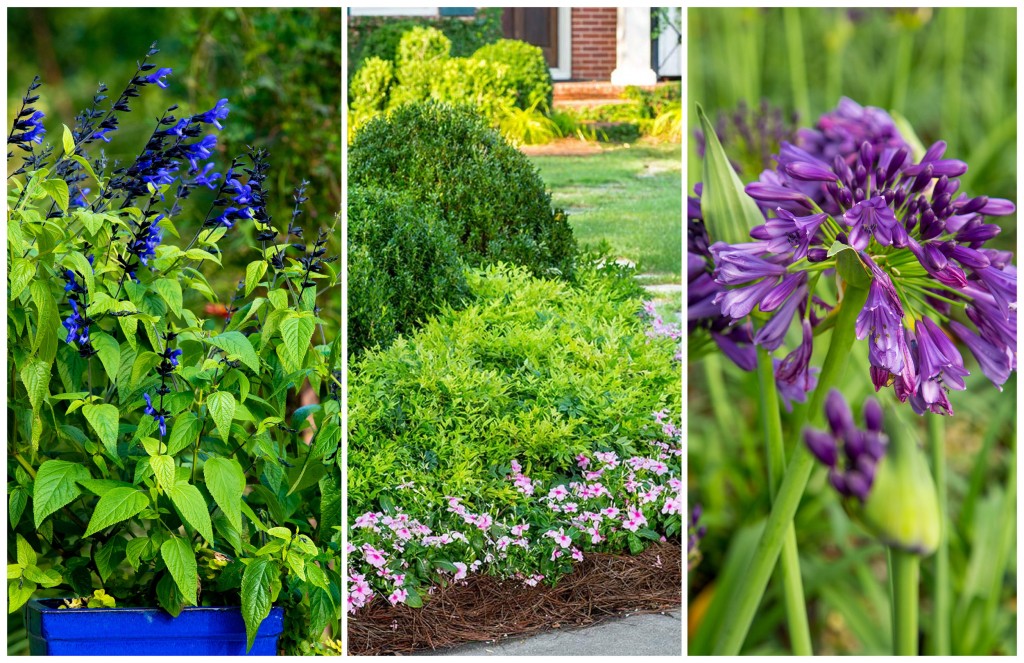 With 50 years of experience in Tallahassee, the Esposito landscape crew has discovered that Florida landscapes tend to suffer when their caretakers go on vacation. This is especially evident during the summer months when heat and humidity are relentless. To make things easier, we've put together this list of low-maintenance, drought-resistant plants which are perfect for gardeners who don't want to worry about their plants every time they go on a trip.
"There's no need to sacrifice color or beauty in exchange for flexibility," says Ralph Esposito, owner of Esposito Lawn & Garden Center.
"These tough-as-nails plants are as attractive and versatile as they are self-sufficient. When you landscape with plants as forgiving as these, there's no need to worry about hiring someone to look out for your garden when you go out of town."
1. Agapanthus
Affectionately known as African Lily or Lily of the Nile, Agapanthus features bold, purple blooms from spring to summer. Esposito's is excited to introduce Tallahassee locals to the new and improved Southern Living "Ever" series which comes in an array of purple and white hues. "Ever" Agapanthus features a longer bloom period than standard varieties, and they are drought-, disease- and pest-resistant to boot.
2. Lantana
Lantana is the quintessential Florida flower. They thrive in full sun and absolutely love the heat and humidity. These tiny flowers bloom continuously from spring to late fall in bright clusters of red, yellow, orange, white and pink. As an added bonus, Lantana is one of the best plants around when it comes to attracting butterflies!
3. Perennial Salvia
Another butterfly garden essential, perennial Salvia, features bright and cheery, whimsical blooms which come back year after year! An exceptional tolerance for drought means they can withstand extended periods of time without supplemental water. Esposito has eight varieties to choose from in shades of pink, purple, magenta, red and orange.
4. Abelia
If you're looking for something a bit larger, look no further than Abelia! Evergreen foliage provides year-round color which transitions from buttery yellow in the spring to burnt orange in the fall. Once established, only the occasional watering is required to help them grow and glow.
5. Mahonia
As lush as it is low-maintenance, Mahonia is one of Ralph's personal favorites for flower beds. Mahonia features unique foliage that appears to be a cross between a palm and a fern; it's almost pre-historic in appearance! In the spring, Mahonia surprises with bright yellow blooms followed by attractive, blue, summer berries which are adored by local songbirds.
6. Loropetalums
Purple Loropetalum is a dark, jewel-toned, mounding, evergreen shrub that comes in a variety of sizes and shapes. The colorful foliage may be enjoyed year-round, but Loropetalum truly shines in the spring when adorned by clusters of striking neon-pink blooms. This is one of Esposito's most low-maintenance shrubs; it requires minimal pruning or watering, and rarely experiences pest or disease problems.
7. Lemon Lime Nandina
Lemon lime Nandina is known for its chartreuse neon hue. Use this attractive shrub to add a pop of color within the landscape. In addition to being eye-catching and tolerant of neglect, Nandina is also deer, pest and disease resistant making it perfect for gardeners in woodland locales.