No More Gas Pains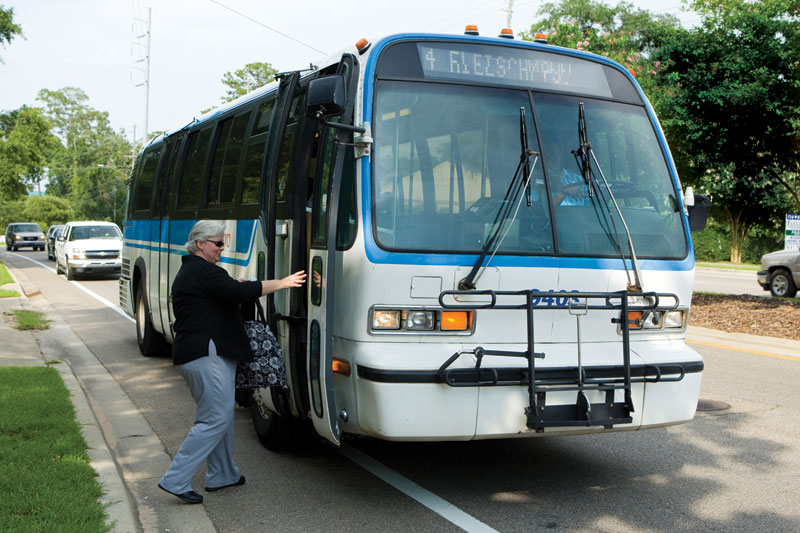 Karen Bridges chronicles her experiences on the city bus systemNo More Gas PainsWhen the Commute is an Economical, Enjoyable Bus Ride, Why Drive?
By Karen Bridges
With gas at $4-plus per gallon and my Killearn Lakes Plantation home a 35-mile roundtrip to my workplace near Tallahassee Memorial Hospital, the decision was made: It was time to start riding the bus to work.
I was able to identify my route (80X, transferring to either the 4, 16 or 18 bus downtown) using a detailed StarMetro route map I found inside a Tallahassee Area Visitor Guide. (You can also get your hands on a pocketsize or full-size complete bus schedule from StarMetro's C.K. Steele Plaza station downtown or from its office on Appleyard Drive.) To get the times for each route, I went online to talgov.com and followed the "StarMetro" link. By clicking on the route number, the extremely user-friendly site gave me the times for each bus stop.
(For potential riders who need a little help, StarMetro encourages them to call 891-5200 and get connected with experienced personnel who can help map out routes and times to get them where they're going.)
For my first Monday morning commute, I was a bit apprehensive and excited at the same time. I made sure to pack the night before to prepare for my little adventure, bringing an extra-large bag to carry my "essentials" – an umbrella, tissue, a book and such. I don't have a laptop, but like five other StarMetro routes, this bus had free wi-fi.
I drove two miles from my home to the Target on Thomasville Road (the first stop for the 80X bus) and parked close to the posted bus stop in the store's parking lot. About 12 people boarded with me, and I deposited my $1.25 fare (exact change is a must – drivers can't make change) in the machine next to the driver, got a transfer to be able to change buses downtown, and sat down. I found the driver to be helpful, with advice about transfers and other bus-centric information that is cryptic to bus neophytes.
At the next bus stop, at Wal-Mart near Kerry Forest Parkway, several more people embarked; the bus was standing room only after the fourth stop, near the Village Square Shopping Center. Seats in the front of the bus were designated for individuals who find it difficult to get around and, generally, men were willing to give up their seats for ladies. It's not a rule, but it is polite.
Everyone on the bus was very friendly and talkative, and the bus was very clean. After my first day's experience with a crowded bus, StarMetro assigned a bigger bus to the route that could accommodate the riders comfortably.
My 80X route starts at the Target on Thomasville Road and goes through downtown, then all the way to SouthWood. I got off of that bus when we reached downtown and transferred to another bus that dropped me off directly in front of the building I work in on Miccosukee Road. In all, the trip took about 50 minutes – slightly longer than the commute in my car, which averages about 35 minutes. But the bus ride was pleasant and stress-free.
That evening after work, I waited at the bus stop for about five minutes, and the bus was right on time. (I did have to make sure I was on time at the stop – otherwise I would have had to wait an hour for the next bus to arrive.) Riding the bus home, I reached my car at Target about 10 minutes later than I would have if I had driven through rush-hour traffic.
I find riding the bus is safe, easy and quite economical. By the third day, I felt like a pro. I knew where to wait, what time the bus came and exactly what to expect. I invested $41.25 and am now a proud monthly pass-carrying bus rider. In my B.B. (Before Bus-riding) days, I was spending about $120 per month on gas, not to mention wear and tear on my car.
Of course, on the days I need to run errands or have an appointment, I will have to drive. The only downside I can anticipate is that I wouldn't be able to get up and go if some sort of family emergency were to crop up.
In the meantime, I'll pay off my gasoline credit cards with the money I'm saving.
Taking You for a Ride
For information on StarMetro bus routes, visit talgov.com or call 891-5200.
Fare: $1.25, includes transfers
Reduced Fare: 60 cents for seniors (ages 60+), children (through high school) and persons with disabilities. ID required.
7-Day Unlimited Pass: $10
7-Day Unlimited Pass (reduced fare): $7.50
C-Pass, U-Pass: free for FSU, FAMU and TCC students with a valid ID
Monthly Pass: $41.25
Passes can be purchased at the C.K. Steele Transfer Plaza (111 W. Tennessee St.) or at StarMetro's administrative office (555 Appleyard Drive).