No 'Garden Variety' Gal
Fifth-generation Tallahasseean talks flowers and family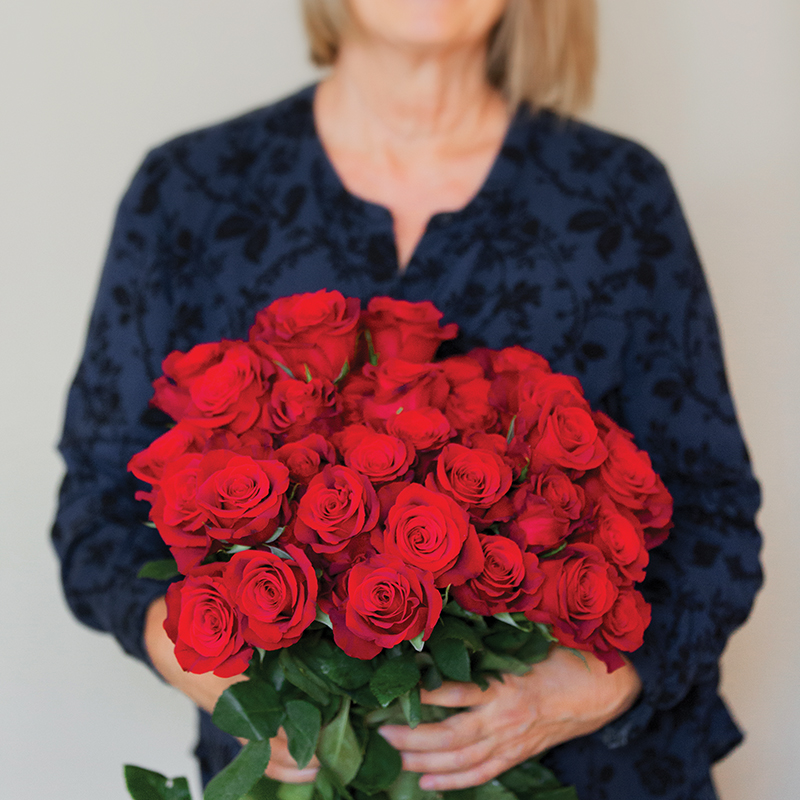 Annette McGuffey has more than 30 years of experience in the floral industry, 22 of them spent running her Tallahassee business, A Country Rose. She knows her flowers. But in conversation, McGuffey spends as much time talking about her family as she does botanical families.
"I think gardening is genetic," she says. "Both of my grandmothers were home gardeners, and my father and grandfather grew vegetables. When I was a little girl, I loved to pick wildflowers. Other girls' moms would say, 'I don't want those weeds in my house,' but my mom would put them in a vase on the kitchen table."
McGuffey's family taught her her about gardening when she was young and also gave her an education in hard work and entrepreneurship.
"I was raised by entrepreneurs," McGuffey explains. "My grandparents ran a small grocery store on Tharpe Street. My dad, Curtis Barineau, owned Big Bend Roof Trusses, and my mom, Ann, had her own salon, Betty Ann's. They taught me to work hard."
After graduating from high school, McGuffey took floral arranging classes at Lively Technical Center. She enjoyed it so much that she took a job in a floral shop, followed by jobs in plant nurseries. At the age of 21, she decided to follow the example of her parents and grandparents and open her own floral shop, Annette's Rainbow of Flowers, in the same building on Tharpe Street in which her grandparents had run their grocery store.
McGuffey quickly learned that entrepreneurship, while filled with rewards, also has it struggles.
"Flowers are a luxury item, so when the economy takes a downward turn, sales can go down, too," she says. "People think that flowers don't last; but the truth is, flowers convey feelings, and those feelings — and the memories of those feelings — do last."
"People think that flowers don't last; but the truth is, flowers convey feelings, and those feelings — and the memories of those feelings — do last." – Annette McGuffey
Annette's Rainbow of Flowers prospered, and after seven years, McGuffey was able to sell the shop so she could spend time at home with her children. Then, in 1990, she bought a small shop in Havana that she named "A Country Rose." Two years later, she moved her shop to Mahan Drive in Tallahassee, where it thrived for 20 years.
Around two years ago, she moved the business into a quaint, gambrel-roofed home on Sixth Street, where she also opened an all-in-one wedding planning site, The Wedding Suite. It makes sense that McGuffey would want a homey atmosphere for her businesses, because she really thinks of her employees as family members.
"They're all invested in their work," McGuffey says, "and we share a vision. We don't want our flowers to be a cookie-cutter design; we want them to be creative and fresh. We especially love it when our customers let us design a customized bouquet and we can pull out all the stops."
That desire to customize floral arrangements led McGuffey to open her own flower farm in Wakulla County three years ago. There she grows irises, zinnias, marigolds, yarrow, sunflowers, hydrangea, ornamental kale and cabbage, gerbera and much more.
The farm is a new undertaking, and 2017 was its first really productive year, but McGuffey hopes that soon she will be able to use all homegrown blooms in her arrangements — proof, perhaps, that the passage of time and the comings and goings of generations won't change the fact that Annette McGuffey is, in her heart, still just a girl who likes to pick flowers.