Nine Weddings, Nine Experiences
The Little Details Made Each of These Celebrations Special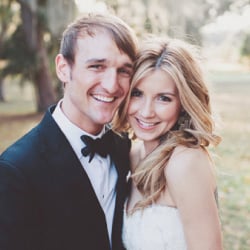 December 18, 2010
Charles and Angela Dewrell
Cuban meets classic Tallahassee
The Dewrells wanted an intimate ceremony that centered on them as a couple and the happiness they share, and a reception that kept things lighthearted, fun and informal. It was important to the bride to make her Cuban family members feel at home. In addition to saying certain parts of the ceremony in Spanish, the couple also served Cuban food at their reception (next to some traditional Southern favorites). The reception band, Acme Rhythm and Blues, was a very important selection to the groom, who knows them well. The band's music worked with the colorful Cuban fare to set a lively, jubilant mood for the couple's celebration.
December 31, 2010
Reid Strong and Anthea Watson Strong
Tallahassee as a destination wedding
When it came time to plan their wedding, Anthea Watson and Reid Strong knew they were going to be hosting a lot of out-of-town guests. Between her nomadic lifestyle and her work with President Obama's campaign (past and current), the bride had a lot of friends in far-away places — not to mention family living in different countries! Despite living in Chicago, the couple chose to make their vows in Tallahassee and have a destination wedding right here. To the bride, Tallahassee felt like home more than anywhere else. The rehearsal dinner was a taste of Tallahassee charm for guests, as was the traditional food (think: Bradley sausage and local cheeses).
April 7, 2011
Gregory and Jennifer Hartlage
Little reminders of a long-coming marriage
It's something that is usually reserved for movies — a boy and a girl who were close friends in high school find themselves in the same city after years apart and fall in love. This local couple did not take for granted how rare and beautiful their story is. Their yearbooks, signed for each other years before, were displayed at the rehearsal dinner. At their classic "Tallahassee" reception at Goodwood, pictures of the two were placed in composite frames, each pair from a different year (the couple had school, graduation and engagement pictures from 1982 to 2012), sharing their long journey as friends, and then as a couple, with their guests.
June 11, 2011
David and Mary Caroline Mica
One wedding, two dresses
The Micas' wedding celebration was very much a nod to family, nostalgia and the history of Florida — the reception was held at the Historic Capitol. Both Micas love to dance, and Mary Caroline didn't want a long dress to get in the way of a good time. For the ceremony, she wore a classic, elegant lace style Melissa Sweet wedding dress that her sister wore in 2008. But after the formal pictures, cake cutting, first dance and other traditional moments, she changed into a short "dancing dress" that was, at the same time, both something old and something new. Mary Caroline designed the pattern and had the cocktail dress made from beautiful old silk fabric that was given to her mother by an aunt and then passed on to her.
October 1, 2011
William and Abby Pichard
Celebrating Southern comfort
Abby Perkins and William Pichard's wedding could best be described as a Tallahassee dream wedding. Everything, from the venue to the music, was the essence of Southern elegance — sophisticated, yet very comfortable. The homage to local traditions was very meaningful to the couple, particularly the groom, whose family's roots here go back for generations. After saying their vows before their friends and family (and even their little dogs Milly and Chloe, who were included in the ceremony) on the front steps of the SouthWood Plantation house, the couple hosted their reception at the back of the property, serving traditional delicacies catered by The Black Fig that included shrimp and grits. Décor included monogrammed table runners, white and pink hydrangeas — and local Southern rock sensation Tom and the Cats kept the energy high.
December 31, 2011
Jay and Kathryn Stewart
A star-studded New Year's wedding bash
After their 7 p.m. ceremony at the beautiful St. Paul's United Methodist Church, Jay Stewart and Kathryn Davis hosted the party of the evening at the Governor's Club, with plenty of fun New Year's activities. The soiree, modeled after old Hollywood, kept it retro with the Tallahassee Swing Band. For entertainment, there was a cigar and bourbon bar; lots of dancing; a photo booth where guests could take photos with various accessories like New Year's hats and masks; and even a constantly changing hors d'oeuvres menu. Sentimental details, like a display of old family wedding photos and flower arrangements held in the bride's grandmother's Chinese vases and cranberry glass collection, made it personal.
November 11, 2011 (11/11/11)
Cameron and Jaimie Snipes
A quaint sunset ceremony
Her hopes set on an outdoor sunset ceremony, the bride fell in love with Honey Lake Plantation. When asked to look at the chapel, which backs up to the lake and brings nature in with great windows and an all-wood interior, her dream changed a little. The couple said their vows at sunset inside the chapel with a style that complemented the rustic feel — chic but informal. Colors were neutrals like brown, gold and ivory, flowers were white hydrangeas and the cake was a simple three-tier bridal cake. The venue choice was very relaxing, the bride notes; friends and family stayed in the cottages on the grounds all weekend, and the gorgeous natural surroundings allowed the couple to have a calm first look before joining their guests.
December 3, 2011
Peter and Elisabeth Barlow
Scottish traditions and Southern favorites
Elisabeth Pope and Peter Barlow added many small touches to their wedding to tie in the groom's Scottish heritage. A liturgy from the Church of Scotland was used as part of the ceremony; a bagpiper played outside the church; dinner was set up like a Scottish sit-down dinner, with a receiving line for the new bride and groom, and the men in the wedding party wore kilts. The flowers were thistle and heather, a Scottish symbol of good luck. The reception catering, including fried green tomatoes and fried pickles, and music were a nod to the Crawfordville bride's heritage.
October 8, 2011
Sarah and Ryan Sandy
All about family
As they planned their wedding, Sarah Redding and Ryan Sandy knew they wanted to hold it in a very special place. With so many fond memories from the bride's childhood home on Dogwood Hill, affectionately known to them as "The Hill," the house made perfect sense as a venue. The wedding ceremony was held in the pasture next to the house, and the reception in her parents' backyard. Countless contributions from family and friends made the couple's wedding deeply personal: catering, decorating and handmade gift baskets, jewelry and ring bearer's pillow were just some of the loved ones' contributions.