Glenda and Archie Have Been Calling 'Next' for 47 Years
This pair of barbers have been cutting hair and trading barbs for quite some time.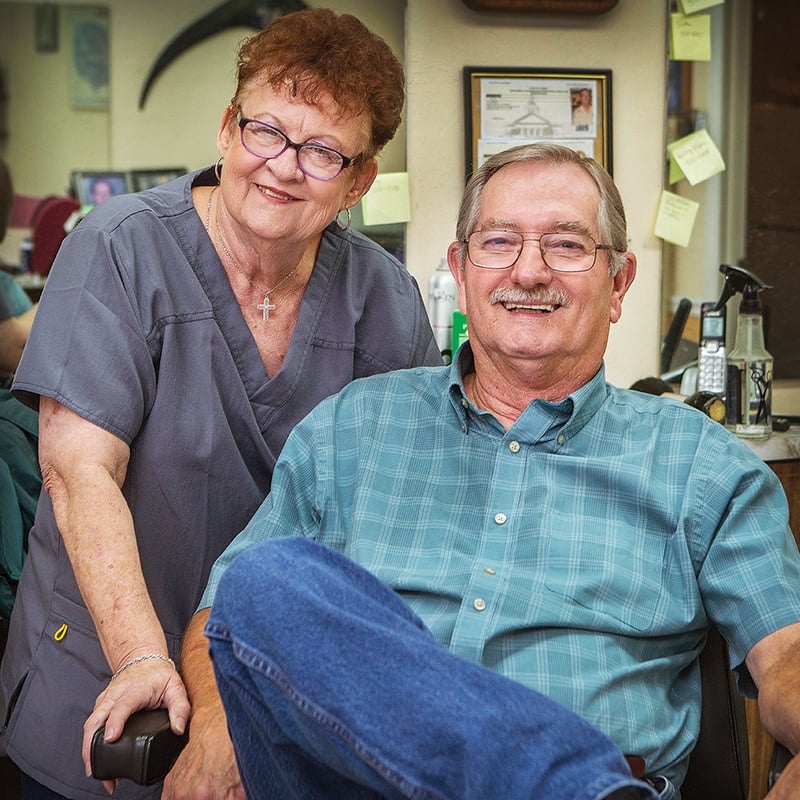 And, the truth is, Glenda Langston wouldn't object. Far from seeing the calendar as somehow contributing to the creation of a hostile workplace, she would dismiss it as simply Archie Hamilton being Archie Hamilton.
Langston and Hamilton have been cutting hair together for 47 years, first at a shop leased by another barber, Larry Black, on Tennessee Street. Neither admits to playing second chair to the other.
"We get along because he does what I tell him to do," Langston asserted, albeit with a wink, and then, as if caused by retaliatory energy sent by Hamilton, a tower of miscellany stacked behind Langston's desk in a corner of the shop tumbled to the floor.
"Oh, Glenda," Hamilton chided Langston. "What now?"
The random assortment of items behind the desk includes a can of SPAM, a zip-lock bag full of Chex cereal, knitting supplies, a stress ball, card files, a Payday candy bar, hand lotion, eight rolls of Scotch tape, Clubman talcum powder and a telephone from the 1990s. Perhaps inadvertently, an experiment that may one day determine the half-life of a cinnamon roll is underway.
"Archie and I are like brother and sister," Langston reclaimed her train of thought. "He picks on me all the time, but I can take it." She, after all, has seniority. Hamilton is 66; Langston is 67.
Black purchased the shop on Thomasville Road in 1983 and Hamilton bought it from him in 2002. Today, the shop's clientele is mostly white-haired and almost exclusively male. Chatter runs from football to fishing, restaurant reviews, dogs that are jumpers versus diggers, inane state regulations, current events, Viagra and surgeries.
A customer who sustained a compression fracture in his back in picking up a large bag of dog food described the surgery that was performed on his L4 vertebra. Hamilton, in turn, talked about the work, performed on his C7, that was necessitated by an auto accident. He's been sleeping on his side with a pillow between his legs ever since.
Another customer talks about his ongoing recovery from bypass surgery. That is one eventuality that Hamilton claims he doesn't have to worry about.
"I don't have a heart," he said. "I've got a thumping gizzard."
At the shop, banter cements relationships and unifies all who stop by.
Regarding the little blue pill, a retired attorney commented, "If I ever had one that lasted more than four hours, I wouldn't call my doctor. I'd call the neighbors and tell them all about it."
Langston has lived in Tallahassee all of her life. She was born at Tallahassee Memorial, graduated from Rickards High School, thought about a career in nursing, but then, like Hamilton, instead went to Tallahassee Barber College. She has nine siblings.
"Daddy was a carpenter," Langston said. "He built babies."
Hamilton grew up on a peanut/corn farm near Sneads in Jackson County. ›› For him, barbering provided an escape from work that was "hot, hard, dusty and nasty."
"I had cousins who were barbers in Chattahoochee," Hamilton said. "I thought I might like cutting hair because I like people and I like to talk. I probably could have been a politician, but I would have wound up in federal prison. I'll take a bribe now."
Hamilton has cut the hair of lots of Tallahassee notables. He nodded toward a waiting customer and said, "For example, there's Ross Morrell, who was the director of the state Division of Archives for a long time. I've been cutting his hair for 40 years. It wasn't always white like it is now.
"And, I had the chance to cut Bob Martinez's hair when he was governor."
(Hamilton had an in. A customer's wife was the head of housekeeping at the Governor's Mansion at the time.)
"But," said Hamilton, "when I found out he wouldn't come to me, that I was going to have to go to his place, I passed on the deal. Too much of a production."
Asked to offer up something few people know about Langston, Hamilton volunteered, "She's actually redheaded," and the shop, even the retired archaeologist, erupted in good-natured laughter.
"I do try to keep that covered up," Langston said. "I would give you something about Archie, but he would probably kill me if he ever saw it in print."
The key to being a successful barber, Langston said, is to "listen to the customer and give them what they want."
"But sometimes, people need to listen to their hair," Hamilton added. "They come in here and want a particular style and we can use enough spray and gel to make it happen, but a day later, it's gone and they can't put it back.
"They want somethin' that their hair just can't do."
Langston, for now, has no plans to retire. Hamilton kidded that he and Langston have entered the "drop program. We're gonna drop dead right behind our chairs."
Hamilton paused, then added, "Seriously, I'll give it another couple of years. Fifty-two years will have been enough, I think."