Volunteers Help Tallahassee's Refugees to Succeed
New to a land of dreams, families escape war to find friends and hope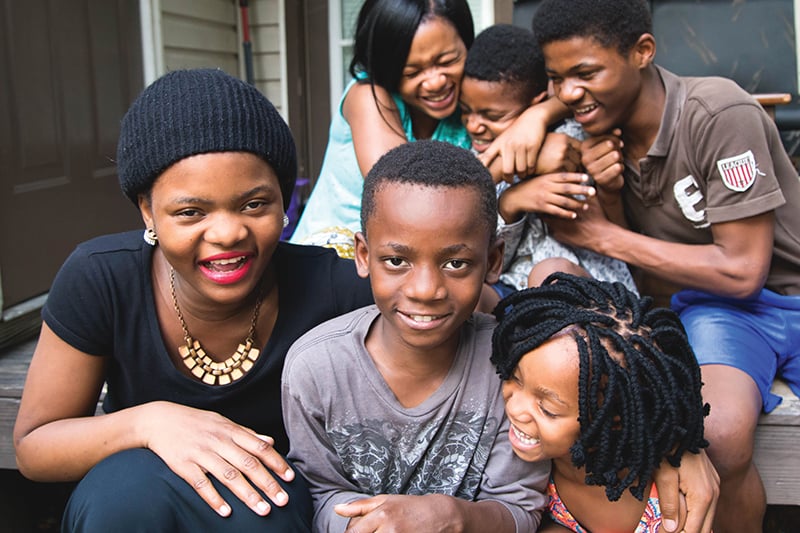 "Thank you," Suzanna replied, touching the headband with her fingertips. She has never heard of LeVar Burton, Star Trek or PBS television programming, but she, too, has dreams — dreams that actually have a chance of being realized, now that she and her family are in Tallahassee.
"Your turn." Misimango, who sat across from Suzanna, gestured to the Uno cards Suzanna held. She scanned her hand, made a decision and placed her card on top of the pile.
"Green three!" Misimango said.
The other children in the circle groaned, good-naturedly, but they knew they'd have to be quicker if they wanted to beat Misimango at identifying colors and numbers in English.
I watched the game for a few minutes, and then I joined another group of refugees, including Misimango's 8-year-old brother, Kibonge. This group taught me to count to 10 in Swahili. A small argument arose among the children when we got to 10; there are different words for the number, depending on which dialect of Swahili is spoken. I wrote both words in my notebook, and then I read the list of number names aloud.
"Nzuri," Kibonge said, giving me a thumbs-up. "Good!"
Like most of Tallahassee's young refugees, Suzanna, Misimango and Kibonge were born amid the destitution of refugee camps, where their parents had fled from war-torn homelands. For them, coming here was like coming to another world.
In the best refugee camps in Africa, shelters are built from wood, with tarps for roofs. But often, refugees are forced to live in huts made from whatever materials are readily available in the surrounding countryside, such as sticks and grasses. In Mozambique, where Misimango and Kibonge were born, flooding has been a terrible problem, and many refugee camps turn into mud pits, where disease runs rampant. To curb the spread of lice, fleas and other parasites, refugees' heads are often shaved to the scalp. Flooding also leads to the migration of old civil-war landmines to new locations, sometimes miles away from their original, noted positions.
In Syrian refugee camps, the majority of which are located in Jordan, Turkey, Lebanon and Egypt, the shelters are usually tent-like structures made with wooden stakes, rope and tarps. Some lucky individuals live in corrugated tin boxes.
The conditions in all of the camps are, in the eyes of the citizens of first-world countries, deplorable. Health care and medicine is limited, and health-care providers are often unqualified. The food rations are almost never sufficient, and the heads of families are lucky, indeed, to find work outside of a camp. If there is a school within a camp's boundaries or in a nearby town, the quality of education is generally poor, because there are not nearly enough teachers.
"When the refugees first got here, they were entranced by the drinking fountain, because they had never seen free-flowing water before," said Shannon Haire, the assistant principal and ESOL (English for Speakers of Other Languages) coordinator at Riley Elementary School, which is where I met Suzanna, Misimango and Kibonge. "Sometimes the Congolese boys come to school wearing pink and purple clothing, or shirts with flowers on them. We really want to encourage these kids' excitement over beautiful things, because that's a part of who they are. But at the same time, the American kids don't always understand where the refugees are coming from, culturally. So we have to help the refugees to wear socially acceptable clothing. It's a balancing act."
Riley Principal Karwynn Paul is enthusiastic about his refugee students' progress. "These children are growing in so many ways," he said. "You can't measure their growth just by their grasp of English — although their English is getting much better."
"All of our refugee students have come to us 'non-proficient' in English," said Kinisha Mims, the ESOL coordinator and guidance counselor at Astoria Park Elementary School, another of Tallahassee's "refugee" schools. "But I told their teachers, 'Don't assume they don't know things; some of them do know what you're trying to teach them, but they just don't know how to communicate in English that they know it.' Two of our Syrian students' parents were university professors. But there are also some kids who came to us never having gone to school at all."
One of these children is the youngest of three Syrian refugees who came to Tallahassee with their parents in the fall of 2016. He was assigned to Morgan Brown's first grade classroom at Astoria Park.
"He was scared, because he didn't know how a school day worked," Brown said. "He hid under his desk and wouldn't communicate with anyone." To compound the issue, he had been near bombing in Syria, so loud sounds — like the alarms that went off during the school's fire drills — terrified him.
"But now he understands everything I say," Brown continued. "It's crazy to see the progress he has made."
"Many of the refugees are happy to be here, at first," said Althea Valle, the ESOL resource teacher for Leon County Schools. "But then they get frustrated because they can't communicate, and they stop trying. They need help to get past that frustration."
Brenda Wawire, a doctoral candidate at FSU and president of the school's Swahili Language and Culture Club, explained that our community's Congolese refugees all speak Swahili — which is the common language in several African countries, including Wawire's home country of Kenya — but they also speak the dialect of their individual ethnic group.
"It's called their 'mother tongue,' or 'home language,'" Wawire said. "They are not written dialects, but each is a whole and complete language. In some homes, you have two or three dialects going on at the same time. In a large community or a refugee camp, you have many dialects. Kids will pick up other dialects in associating with other people in their community, but Swahili is the common language."
The Syrian Refugees who come to Tallahassee speak Arabic, but there are different dialects of that language, too, even within Syria.
Omar Erchid, a 25-year-old aspiring humanitarian and third-year law student at FSU, provides homework help for refugees at Tallahassee's mosque. Erchid is of Syrian descent, and he speaks Arabic. He also teaches adult ESOL classes.
"The refugees that come from the more urban areas — especially the college-aged ones — tend to have a basic English vocabulary, but the ones from the rural parts know almost no English when they arrive," he said. "As for those who do have some English skills, they usually studied it in high school or college, or picked up it over the years through watching American films with Arabic subtitles."
Regardless of what languages they speak, all of Tallahassee's refugees are now immersed in English. It's everywhere, and it's overwhelming. And they need help.
On any given day, Tallahassee's refugee schools play host to volunteer tutors of all levels of expertise, from moms who taught their own children their numbers and colors through the game of Uno, to FSU students in the International Affairs program who speak Arabic. There are those who have taught English in foreign countries, and there are those who have never set foot outside of the U.S. Some are serious by nature; others look for the humor in situations. In short, they vary in skills and personalities, just like their refugee students.
The work that these volunteers do is both difficult and rewarding — and it's not enough. They can't be in every refugee school all day — and they know that. That's why they're so determined to help their pupils learn English. Because it's these children to whom the school district's teachers will turn for help in explaining a concept to a brand new classmate who speaks only Swahili or Arabic. It's these children who will show their overwhelmed peers how to move through the lunch line in the cafeteria. It's these children who will show off the marvelous drinking fountain and assure each other when the fire alarms sound.
Successfully resettled refugees are the greatest hope that newly resettled refugees have, and volunteer tutors are essential to this cycle of learning and teaching.
Molly Conrad, who graduated from FSU in August with a degree in international affairs and Middle Eastern studies, and who plans to study human rights and national security law, works with Syrian students at Astoria Park. After eight months of volunteer tutoring, her pupil told her that she wanted to be like her one day — a teacher.
"That's such a great thing to hear," Conrad said. "For so long, they haven't had any hope, and now they do. They're making plans for their future.
"Sometimes, when we are teaching them, we look at them as normal, pain-in-the-butt, lovable kids. Then they say something that hits you in the gut and reminds you that they've gone through the unimaginable and are somehow supposed to be 'normal' and 'OK' now. It kind of shakes you and reminds you that for every refugee child learning and growing in America, there are many who didn't make it."
It's a sobering thought, particularly for those who are intimately acquainted with refugees, including Tallahassee's volunteer tutors. But it's hopeful, too; because more and more children are "learning and growing in America," thanks, in part, to volunteers.
"Volunteering to help refugees doesn't have to be the most important thing to everyone," Conrad said. "But if it's the most important thing to someone, that's a start."
---
Read more about Tallahassee's Refugees
Agency Works to Make Refugees Self-Sufficient
Diverse Volunteers United by Compassion