New Mayor John Dailey On Building an Active and Engaged Family
With his wife Ginny, he's working hard in and outside the office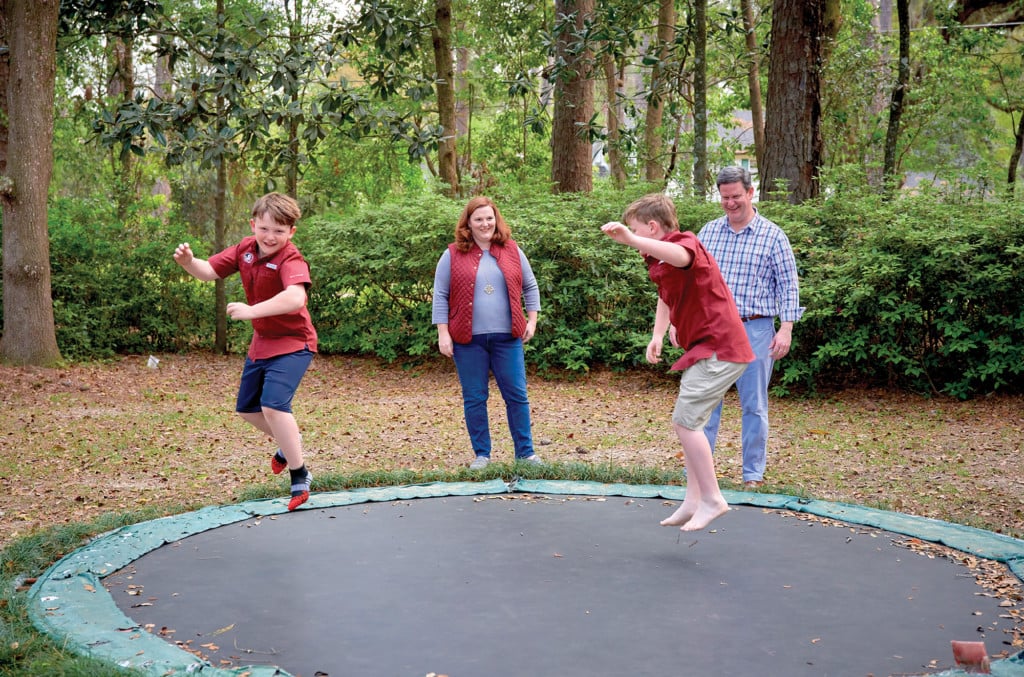 When you walk into the home of John Dailey, you first meet a welcoming pup named Lulu.
Tommy Dailey, 10, a grade-school image of his dad, walks right behind Lulu and is next to greet you at the door. He tells you that the dog's name is short for Hallelujah, after a character from the animated movie "The Easter Bunny is Comin' to Town."
John Dailey and his wife, Ginny, make their way downstairs with Henry, 8. You shake hands with the husband/father, who appears happier than even Lulu to see you.
"Nice to meet you, Mayor Dailey," you say.
"Call me John."
The title of mayor is new for Dailey, a former Leon County commissioner who won the seat last November in a tight election victory over Dustin Daniels.
A Tallahassee native, Dailey gives you his taste of Capital City hospitality. He offers you something to drink, with fun and generous options, before leading you outside to take you on a grand tour of his private joy: the backyard.
The backyard tells you that the Daileys must be builders. The parents have built a home for an active and playful young family, turning the yard into a kingdom for their boys to rule with play and imagination.
With the help of family and friends over the years, they have built an impressive wooden fort/playhouse; dug a tunnel and massive hole that lets the boys crawl and play beneath a trampoline that lies legless on the ground; and constructed a land bridge that you can walk underneath as you set out to explore the yard. During every birthday party, the parents take a photo of the boys beside the bridge to see how much they've grown.
The mayor takes you around a small path lined with Florida State University-themed gnomes. It serves as his alma mater and, of course, his city — where the Dailey family plans to stay.
"I love being mayor," Dailey said a few minutes later. "People need to realize that a lot of your long-term initiatives, it takes time, so you have to have continuity. You have to have focus, and I'm committed and dedicated to Tallahassee. I love this city."
Months after his victory, Dailey sat down with his family of four and Tallahassee Magazine to discuss managing life post-election, juggling parenting and politics and staying true to his family philosophy.
While making his way back to the patio after his tour of the yard, Dailey broadened his perpetual smile as he watched Henry zoom around in circles on a four-wheel scooter.
"That's your future mayor," he told a visitor. "He's got the personality."
Henry elected to keep zooming in circles. On the other side of the patio, Ginny Dailey asked Tommy to share what he gave up for Lent.
"A bad attitude," he replied, zipping past his mom.
"I guess we can only have a good attitude 40 days of the year," she joked.
The interview was about to begin, and three family members — plus Lulu, of course — were seated and ready on the outdoor sofa. The future mayor was tardy.
"Henry, come here, bud," Dailey said to his youngest son. "You got to be part of the family."
So began the interview outside their two-story brick home, which offers an oasis from political life. This has been the couple's home for 15 years, after they bought it from Trinity United Methodist Church, which used it to house ministers.
Now it houses a tight-knit group of four.
"I would say that as a family, our philosophy is to be a team," Ginny Dailey said. "It's the four of us. Team Dailey."
Like an ordinary family, the Dailey family sticks to rules — no electronics from Monday mornings until Friday afternoons. They set standards — the children's vocabulary includes "yes sir" and "yes ma'am." They expect their sons to do well in school, to be good listeners and to help around the home.
The family also goes on adventures. This means anything from walking to a nearby pond to feed turtles or hosting Incredible Hulk birthday parties in the yard.
Since the election, everyday errands have turned into social hours. Ginny Dailey said they can't get out of a grocery store in less than two hours.
"That is true. No quick trip to the grocery store anymore," John Dailey said. "It's a general excitement, and so people want to stop and say congratulations."
The couple said they try to make the schedule as normal as possible for the kids and to make family time a priority.
The mayor said the family's adjusting to the new routine. You can still see the Dailey bunch at their favorite places around town: Meridian Park during baseball season, Winthrop Park for football season, Tom Brown Park for soccer season, Skate World for fun and Faith Presbyterian for faith.
"As you can imagine, nights can get a little crazy," the mayor said. "I've got new responsibilities. We can't always have family dinner together."
That makes breakfast important, he said. With '80s-themed "Big Hair Breakfasts," Motown Mondays and more, the Dailey breakfast is more than a meal. It's an event.
After breakfast during the school year, the parents send the kids off to Gilchrist Elementary School. Tommy and Henry's afternoon schedules feature sports, music and Cub Scouts, for which their father serves as a scout leader.
To his sons, John Dailey isn't Mayor. He's still Dad. And they're still kids, who like show off their favorite dance — "the floss," an arm-swinging and hip-moving hit among kids and teens.
When he and his brother see their father on television, Tommy said they call him "TV Dad" — a distinction they didn't quite understand when they were little.
"I remember sometimes when Henry and I were younger, Mom would turn the TV on, and we would yell at him," Tommy said, referring to his dad, "but then he wouldn't respond because he couldn't hear us."
John Dailey would tell you that he always hears them. During the interview, the parents often asked their kids to share their opinions. The same goes for the dinner table, they said. Some of their favorite topics involve sports — and, you bet, traffic congestion and proposed city ordinances.
Dailey previously served 12 years as a county commissioner, and he and his wife have made societal issues part of their boys' upbringing.
Ginny Dailey said her husband has been especially "energetic and excited" about city issues. He wants to engage the boys in the bigger issues, just as he says he was engaged at their age. His own father was a Leon County School Board member and executive director of the Florida Institute of Government. That organization now bears the name of his father, John Scott Dailey.
"I grew up with local government issues being dinner table conversation, just like they grow up with Florida issues being part of dinner table conversation," the mayor said.
He boasts about his wife, an accomplished attorney who has represented foreign states in international disputes. She has "incredible ideas," he said, and he often asks for her thoughts on city matters.
"Ginny probably has one of the finest grasps of municipal issues here in Tallahassee," John said.
They met as undergraduates at Florida State, where Ginny was studying business and John political science.
After graduating from FSU with their master's degrees, the young couple moved to England while John attended the London School of Economics. They would spend time in Washington D.C. before returning to the city John had called home for most of his life.
"We'd always decided that we were going to go out and see the world, and when we were ready to start a family, we would come back," he said. "So many people have the similar story. There's something special about Tallahassee, and that's what brought us back."