Nefetari's is a Small Restaurant With a Huge World Cuisine
Food for Your Soul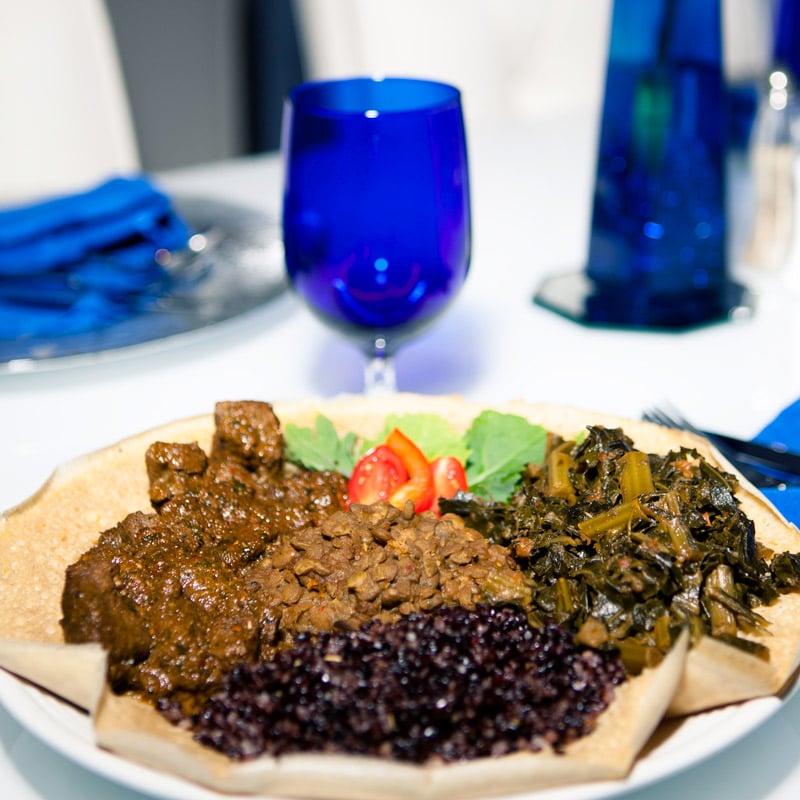 Psychologists by training, Sharon and Dana Dennard believe Nefetari's helps patrons relax and find wellness through the restaurant's healthful food and ambiance.  Photo by Matt Burke
You know the drill: The gang is going out for dinner, and everybody wants Indian food. Except Dad. The twins are torn between Chinese and Italian. Or — egad — the son-in-law has decided to embrace a vegan lifestyle.
No matter where you go, surely somebody is not going to be happy, unless you've heard about Nefetari's Fine Cuisine & Spirits. A little off the beaten path in the All Saint's district, Nefetari's promises "a Royal Experience" and delivers a diverse menu of delicious world cuisine, friendly service, generous portions and an atmosphere unlike any other in town. I mean, have you ever been to a restaurant with a stuffed lion named Maliki in the vestibule?
Psychologists Dana and Sharon Dennard are the proprietors of Nefetari's, named for an Egyptian queen — and their daughter. It is the latest incarnation of the building that, since 1992, has housed their clinical practices, a bookstore, recreation center, art gallery, school and Internet café (the kind that offered Internet access to people who didn't have it, not the shady gambling parlor sort). Sharon Dennard sees the restaurant, which opened last fall, as a natural extension of their desire to contribute to people's quality of life. "Food," she said, "is very important to your mental, physical and spiritual health," and she considers the restaurant a "decompression zone."
The Ethopian Stew is one of Nefetari's most popular menu items.  Photo by Matt Burke
First-time patrons are greeted with a sampling of two non-alcoholic brews, a Caribbean Sorrel, a sweet cordial made from steeped hibiscus blossoms, and a spicy Ginger Brew. 
Diving into the menu takes you on a quick trip around the world. Among the appetizers you'll find are Indian samosas (accompanied by a trio of delicious homemade chutneys), Thai spring rolls and Nefetari's unique take on nachos — the chips are made from naan, the meat is seasoned lamb or jerk chicken and it's topped with tomatoes, scallions, feta cheese, Kalamata olives and Greek yogurt.
One of the restaurant's most popular entrees is the Ethopian Stew Platter. The entire plate is lined with house-made injera bread (it looks like a thick crepe) that is meant to be torn apart to scoop up the traditional stew of meat (or tofu), lentils and finely chopped vegetables, as well as two side dishes. You're encouraged to eat this gracious plateful with
your hands.
Many of Nefetari's entrees let you choose your protein from selections that include lamb, shrimp, chicken and tofu. Shown here is Shrimp Alfredo. Photo by Matt Burke
Other popular specialties include the Greek Red Snapper and Curry Coconut Chicken or Lamb, but there are also choices for folks who are craving Thai, Caribbean and Indian dishes. There's a breakfast for dinner choice and even a raw platter. Vegetarians and vegans will be delighted to find an assortment of creative offerings. "Vegans eat more than lettuce," Sharon declared. 
Many of the menu's curries, stews and other offerings allow you to choose your protein — usually between tofu, chicken, shrimp or lamb. Appetizer prices range between $6 and $14 and entrees, served with your choice of side dishes, cost between $14 and $24.
All desserts are homemade and include carrot cake, cheesecake, key lime pie, a vegan chocolate truffle cake and ice cream and cheesecake made from plantains. 
But the Nefetari's experience is much more than just food and drink. The dining room's décor is dominated by African and Egyptian art collected by the Dennards, and in the center is a very special "Queen's Table" that can be reserved for $20 an hour, featuring flowers, elegant china, glass and flatware and two thrones at either end that are recreations of the chairs of King Tut and Queen Sitamun.
Every Monday is devoted to special topics — networking, art, health and wellness, and movies. And Wine Down Wednesdays offer $2 dessert and wine tastings. A small bookstore is onsite as well as The Fuzzy Pineapple, their daughter's boutique, featuring art and handmade accessories and apparel.