Nearly 2 Centuries Strong Stands First Presbyterian
The church touts a mission of service and the Capital City's oldest public building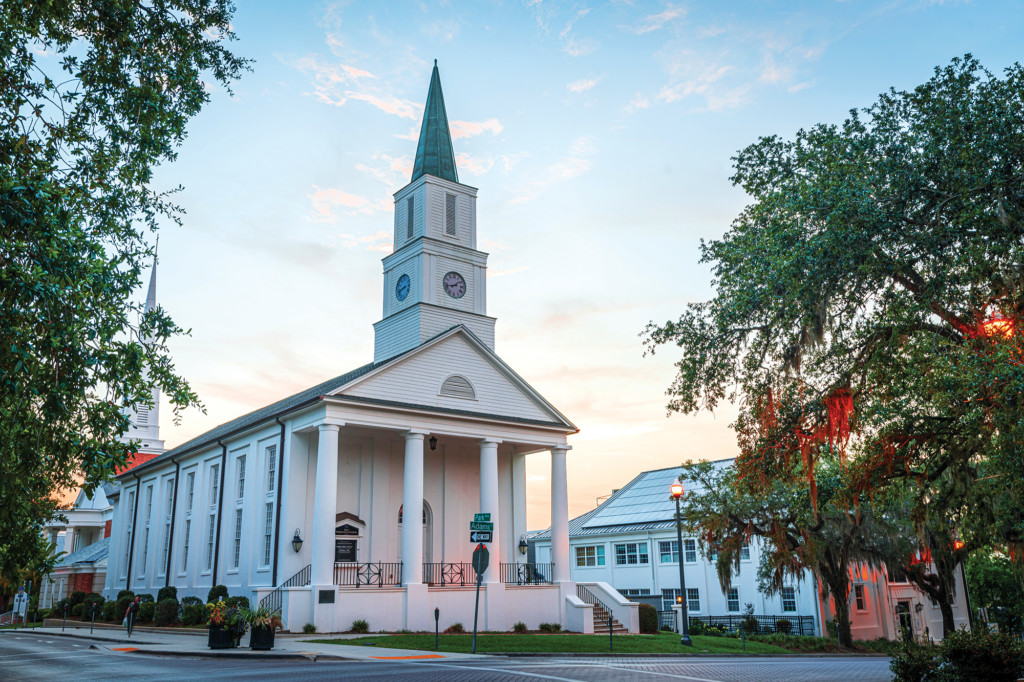 Amid danger and turbulence in a remote land, Presbyterian Church leaders resolved to construct their own house of worship and place of refuge in Tallahassee.
They began building in 1835.
Understandably, it took a few years to complete.
"It was delayed by a few little inconveniences like the Seminole Indian Wars and yellow fever epidemics," says Rev. Brant S. Copeland, who became pastor at First Presbyterian Church in 1985.
Times were different, all right. This was long before paved roads. But Tallahassee had horses, and if you had trouble walking, a carriage could bring you to the church that opened in 1838.
Today, at Park Avenue and Adams Street, First Presbyterian Church stands among tall, modern structures as Tallahassee's oldest public building. A sign a block away tells visitors that the building contains original slave galleries and that it was used to shelter women and children during Indian wars.
The sanctuary has undergone various alternations over two centuries, including a 1985 renovation that restored a choir area and added windows in the style of 1838, the church says on its website. Work in 2010 included energy-efficient lighting and heating, venting and air-conditioning systems, which underscore a stated commitment to environmental responsibility.
"We have tried to be an example to other Presbyterian congregations regarding divestment from fossil fuel companies," Rev. Copeland says.
The church's mission trumpets its downtown location — a close walk from fellow historic churches Trinity United Methodist, St. John's Episcopal and First Baptist — where First Presbyterian calls itself a neighbor of the poor and homeless. The church says it serves neighbors through caring for one another.
"This church for a long time has been interested in making a witness to the community and being partners in the community for the betterment of humanity," Rev. Copeland says.
During the winter, Copeland shared his thoughts on First Presbyterian's history, congregation, social outreach and more. We edited his comments for length and clarity.
On the church's history
"The church was organized in 1832 by the Presbytery in Georgia. We are not the oldest congregation in town in terms of organization — that would be Trinity United Methodist — but it is the oldest building that survived from territorial days. We think it is the oldest public building in continuous use for its original purpose in the state. Certainly there are older churches, but they fall in St. Augustine. Really all the downtown churches, at least Trinity, First Presbyterian and St. John's, were basically built out of the same book of plans. They all look very similar to each other."
On the congregation
"It's a diverse congregation, not as racially diverse as I would like. By and large the level of education is pretty high; we have a lot of folks in education at the universities and the public schools and people in state government, as you would expect. We are very intergenerational in our approach; we try not to break people into silos of age groups. It's a very sort of service-minded congregation. The preschool has been here since right after the bus boycott days; it was the first racially integrated preschool in the city. So it's been around, and that's been a part of our mission all these years since the '60s. (The congregation is) interesting and lively and not adverse to conversation." He adds with a laugh: "They're not shy about engaging."
On the church's ideas, tenants and beliefs, including heaven …
"Presbyterians agree with other denominations on the essentials: the Trinity, the nature of God. A particular emphasis for Presbyterians is the sovereignty of God's love — that, in the end, God's love will win out. The other is a response that includes grace and gratitude. Because of God revealed in Jesus Christ, we respond in gratitude, and we do that with having received grace; we want to convey grace to other people. And another might be a sense of stewardship; the old language is that (a proper stewardship) 'shuns ostentation' and tries to work to the glory of God. And maybe one more, and that would be balancing — the old language was 'total depravity' — the nature of sinfulness versus the fact that the people are created in the image of God and can do good. The exact language: 'the recognition of the human tendency to idolatry and tyranny which cause the people of God to work for the transformation of society by seeking justice and living in obedience to the word of God.' "
On internal events that have proven a challenge …
"I think in more recent times, in the 1970s during the Vietnam era, the church really struggled with questions of social justice, and peace and justice. There was an exodus of folks over that issue, and a lot of them went to other churches. The membership was reduced by about half in that period in the 1970s. Before that, all of Tallahassee was engaged with the civil rights movement. Several elders in the church were part of the struggle to integrate the city. So civil rights, peace and justice, and since that division, the church focused a lot of its emphasis on the preschool, an integrated diverse preschool that includes people of various economic backgrounds. So racial justice, and in more recent times, environmental issues. A little over 10 years ago, we committed ourselves to become a carbon-neutral congregation. That required retrofitting the Education Building and renovating the sanctuary. We installed solar panels as part of our goal to reduce our carbon footprint to zero. And we have tried to be an example to other Presbyterian congregations regarding divestment from fossil fuel companies."
On having to adjust to changes in society …
"I think every congregation, especially the old-line congregations, are having to deal with seismic shifts in the culture. Some of that is generational. People — millennials and younger — don't do church in the same way that the baby boomers and the WWII generation did. That doesn't mean they do it wrong; it means they do it differently. This church for a long time has been interested in making a witness to the community and being partners in the community for the betterment of humanity. In that sense, we try to be responsive to the needs of the community."
On meeting with other churches and denominations in town to discuss the bigger picture …
"Jack Romberg, the Rabbi who's retired at Temple Israel, he and I are the co-coordinators of Tallahassee Interfaith Clergy. When we were fully operating, we were meeting once a month. It was a pretty inclusive group … even folks from the Tallahassee Pagan group."
On the top issues that people are struggling with…
"One of the issues is LGBT rights and protections. That is not a big issue for us, because we have dealt with it and try to be an inclusive congregation. The environmental justice question is absolutely paramount. If we don't change our energy consumption and our use of carbon fuels, we are going to bankrupt the planet. And I guess the third from a religious perspective is how to be the faithful church of Jesus Christ in the current culture because the churches are kind of losing their de facto establishment in the culture. There was a time when church and state, although formally divided, were informally united, but those days are disappearing. So how do you be a faithful witness to the God revealed in the Christian tradition in a time where we no longer enjoy that kind of de facto establishment?"