Napoleon Bonaparte Broward
Gun Runner, Riverboat Captain, People's Champion … and Florida Governor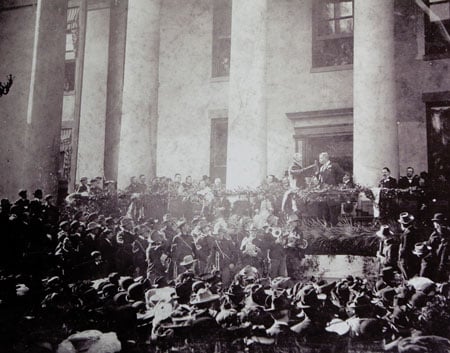 One of his earliest childhood memories was of the chaotic night in 1862 when his family joined hundreds of other Jacksonville residents fleeing the approaching Union army marching south from Fernandina after the soldiers had disembarked from a fleet of Yankee warships.
The 5-year-old bounced and swayed aboard the jolting horse-drawn wagon, staring wide-eyed as the caravan wound through the dark night past flaming homes torched by retreating Confederate troops.
The child was Napoleon Bonaparte Broward, and he was destined to rise in a rough-and-tumble world to become one of Florida's most influential and dynamic governors.
Before the Civil War, the Browards were land-rich, wealthy and educated, proudly descended from a heroic soldier who had fought in the American Revolution in Casimir Pulaski's cavalry. The boy's grandfather had been a member of the first Florida Legislature in 1845.
The Browards embraced the Confederate cause wholeheartedly and paid dearly. One mansion was burned while other properties were lost in the aftermath of the war due to unpaid taxes, their former wealth reduced to a pile of worthless Confederate currency.
Reconstruction brought hard times, especially after the death of Broward's father. The boy lived with various relatives, laboring in the fields from dawn to dusk. At one point, he and a brother had to build a log cabin for shelter and slept inside with Bowie knives handy to greet unwelcome midnight visitors.
Opportunity arrived when the teenage Broward joined up with his uncle, Joe Parsons, who operated a steamboat on the St. Johns River, learning the skills of cook, fireman and pilot. Broward also shipped out for two years on a northern-bound schooner to fish for cod in the Northeast's Grand Banks.
The young man who returned to Florida had a bullish physique, having 200 pounds of muscle on his 6-foot-2 frame.
Broward renewed his beloved life on the St. Johns and captained a steamboat owned by a prominent boat operator and builder, David Kemp. The young man also renewed his earlier acquaintance with Kemp's eldest daughter, Georgiana Caroline, known as Carrie.
Friendship ignited into passion, and they became engaged. Their brief happy marriage was disrupted when Broward's sister died. Not long afterward, his pregnant wife suffered an attack of dengue fever. Carrie Broward rallied, gave birth to a baby boy, then died herself. The boy, named Napoleon after his father, followed the young mother to the grave six weeks later. Napoleon Broward was devastated.
"He knew the fullness of sorrow," wrote biographer Samuel Proctor in "Napoleon Bonaparte Broward: Florida's Fighting Democrat" (1950).
By spring 1884, Broward returned to the river, where his spirit was gradually restored through hard work and the beauty of the passing shoreline. The new captain of the Kate Spence was opinionated, self-confident, a strict teetotaler, and apparently had a preference for strong women.
A frequent passenger was 17-year-old Annie Douglass, a New Yorker and daughter of a sea captain. She had lovely gray eyes and an impudent spirit. Broward sought her out one day on deck after she had criticized the service on a previous voyage.
Broward explained that he had been ashore on that day.
"If you want to take your holidays off the ship, you should choose someone to run the boat who knows how," she replied.
They married on May 5, 1887, and over the coming years his wife gave birth to nine high-spirited daughters.
Broward was becoming an influential force in the Democratic Party as a member of the reform wing, called the "Straightouts." His tenure as Duval County sheriff also won him a sterling reputation for honesty and good judgment.
Sheriff Broward jailed gamblers after spurning their bribes, played a calming role following the murder of a white man by a black man that threatened to devolve into mob violence and arrested the heavyweight boxing champion "Gentleman Jim" Corbett for assault and battery after he knocked out his opponent in a Jacksonville prize ring.
Broward and his brother later designed and built a fast oceangoing tugboat christened The Three Friends. At about the same time, a group of Cuban exiles in Tampa's Ybor City were planning an invasion of their native island with the intent of throwing out the Spanish occupiers. Broward met secretly with the plotters, was introduced to future Cuban martyr Jose Marti, and became a trusted confidant.
One dark night in March 1896, Broward was on the bridge of The Three Friends as it sailed south to Cuba. After dodging federal revenue cutters and Spanish patrol boats, he landed a party of Cuban revolutionaries on the island's coast with an ample supply of "groceries," including Remington rifles, ammunition and dynamite.
As the last whaleboat was returning to The Three Friends, a searchlight stabbed into the darkness. Seconds later, the Spanish unleashed a steady rain of bullets and cannon fire at the American gunrunner.
Broward hauled aboard his shore party and prepared to ram the attacking vessel. But before he could do so, the searchlight beam flickered out, the gunfire ebbed and the gunboat vanished.
Broward returned to Jacksonville a hero, and his bold deeds were reported in Harper's Weekly.
Florida voters sympathized with the Cuban rebels and admired the intrepid gunrunner. His political power grew as he defended the "little man" against the railroads and corporations and their "purchased newspapers."
Broward's campaign for the governor's office in 1905 was an uphill battle against an opponent backed by railroad magnate Henry Flagler's money and prestige.
"I don't intend to go after the cities," Broward said. "Their newspapers are against me, and they don't take me seriously. But I'm going to stump every crossroads village between Fernandina and Pensacola and talk to the farmers and the Crackers and show them their top ends were meant to be used for something better than hat racks."
Broward won the election and promptly went about changing the face of Florida. He vigorously defended small farmers and businessmen against the powerful railroads and corporations, banned child labor, modernized the universities, advocated primary elections, initiated a massive building program and built roads.
However, the "Empire of the Everglades" was his consuming passion. He dismissed the vast sawgrass marsh as a wasteland and argued that Florida should emulate Holland by creating a network of canals and dikes. Drain the swamp, he argued, and open the rich farmland to small farmers.
Broward was at the controls of a giant shovel when the first dredge began work in South Florida's New River. The vast enterprise would gradually and drastically alter one of the world's most distinctive ecosystems. President Theodore Roosevelt, the leader of the Progressive movement, praised Broward for his audacity and vision. Few objected at the time.
After leaving the governor's office, Broward was easily elected to the U.S. Senate. His powerful personality was just emerging onto the national stage when he fell ill with gallstones and died of complications on Oct. 1, 1910. He was 53.
Contemporary environmentalists attack his Everglades drainage plan for its harmful effects on a unique ecosystem. And yet Broward also opened a great expanse of tillable land, cleared the way for the creation of Davie and a dozen other towns, and triggered an agricultural boom.
Today, of course, we are in the midst of an equally vast Everglades restoration project to undo much of what Broward developed, having learned the ecological importance of the great "river of grass."
Perhaps the only fair way to assess Napoleon B. Broward's legacy is to judge him as a man of his time who tried to make Florida a better place while conceding that even the most perceptive human can rarely glimpse beyond tomorrow's horizon.