"My husband is a culinary genius…but that's not always so hot"
The surprising pitfalls of having a chef as a husband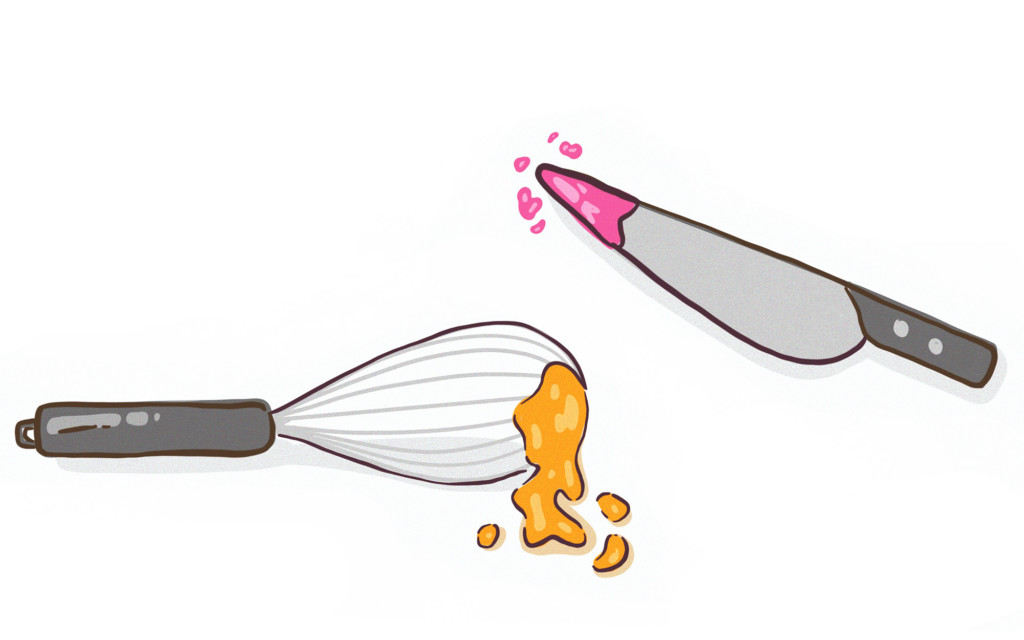 My husband used to be a chef. I know: For most women, it's like a dream. He taught himself to cook, fibbed his way into his first chef job and quietly perfected his craft for over 10 years.
These were the days before the deluge of cooking and competition shows — and before me. When we got married, he stopped the crazy work hours and swapped his chef knife for family life.
Family life that now includes an 8-year-old daughter, making us a table of three.
But he never stopped being a chef. He prefers to do all the cooking in our household. He can barely watch me chop lettuce without worrying that I'll cut a finger off.
He doesn't trust me to buy the right cuts of meat. And he always has something to say about my technique or lack thereof.
I guess when you are a culinary genius, most everyone else looks like an idiot in the kitchen. I can live with that, because I'm lucky and I know it. As he often asks: How many people on our street eat like we do?
As I gaze into the kitchen, a framed opening paints an endearing picture: my husband lovingly breading chicken cutlets for pecan-crusted chicken fingers and his princess, full of curls and sass, stirring her sweet and sour dipping sauce.
Instead of cooking for others, he spends time with our dear daughter. This fills my heart with happiness.
I also know that when her tenders are skillfully plated and she sits to eat, she will state her preference for Chick-fil-A and their pre-packaged Polynesian sauce. In a time like this, a culinary genius has to swallow his pride.
I never really cared much about cooking. When making dinner, my mother always had me do the same job — dump the ground beef in the skillet and brown it up.
I wasn't tasked with adding seasoning or chopping, never had a part in the flavor progression, never had ownership in the final product.
It was never very exciting, but this was the '80s, and the "foodie" craze hadn't quite reached the dinner tables of suburbia.
My mother later would lament that she shoulda coulda woulda taught me how to cook so that when I got married, I could cook for my husband. I'd shrug my shoulders.
All my single years, I made food from boxes, or food that was bland, or food that was overcooked or food that was undercooked. That was when I didn't order a pizza.
The night I met the man I would marry, he told me that cooking was his passion and that he was a chef some nights in an intimate, locally owned eatery.
He also told me about his garden and did a pretty funny imitation of his pets. He seemed interesting enough.
After a couple of beers, he asked if I was hungry. My watch said 12:30 a.m., so I said yeah: Village Inn would still be open and I'd be down for some pancakes.
He gave me a look I've become familiar with — one eyebrow raised, looking incredulous.
He told me he had a roast in his freezer. He could thaw it and cook for me. No, I said, maybe another time. Watching a roast thaw wasn't my idea of fun. So we exchanged numbers.
After a few days, he called and offered to cook me dinner. No guy had ever made me dinner unless you count the time my college boyfriend warmed up some canned chow mein.
I had no idea he had such a gastronomic gift.
We went to the store together and bought a bunch of stuff, and he made me a crab-mango-bell pepper salad served in a martini glass.
I approached the first bite with caution. Fruit and fish? And raw veggies? But wow! I'd had nothing like it before.
The sweetness of the mango and crisp red bell were the perfect assistants to the creamy crab salad, layered between neutral shreds of lettuce.
It was a revelation.
I can't tell you how many delicious meals he has made me over the years.
Sometimes he will hand me a cookbook, tell me to pick something, anything, and he'll make it.
Sweet, right? Not so fast.
It's a trap. The mouse wants the cheese but will get snapped in the attempt.
With a chef in the house, you can't pick anything too common. If you do, you'll get a sigh, an eye roll, an "OK, if that's what you want." It's not easy to keep a culinary genius challenged in the kitchen.
Over the years, our menu has varied according to time and budget.
The gourmet meals of beef wellington and duck with fruit compote have waned, eclipsed by meatloaves and mac and cheese (made with a proper roux, mind you), squash casseroles and pot pies.
Still, you can bet it's the best Betty Crocker food anyone has ever made.
But do you know how awful it is for a culinary genius to resort to simple home cooking night after night?
To provide your basic pork chops with a Worcestershire/shallot/butter sauce, only to have your kid scrunch up her mouth into a yuck face and ask for applesauce on the side instead? It's devastating. My heart goes out to him.
Then consider the less-than-tasty aftermath, which includes the destroyed kitchen with three pans in the sink, the saucepan littered with remaining bits of garlic and oil, the boiling pot, the food processor, the multiple strainers, the piece of carrot on the floor, the cream splotches on the counter, the spilled salt on the stovetop and plates all over the place.
So the next time you are at your favorite restaurant, think of me elbows deep in dishes, longing for the days when I'd just order a pizza.
Laurie Wright is a freelance writer who lives in Tallahassee.