My Housing Crisis
The Great Recession Did a Number on the Real Estate Business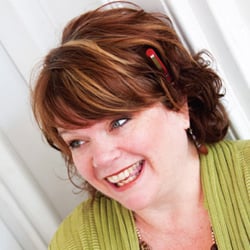 Photo by Scott Holstein
Author Rosanne Dunkelberger at home with her cat.
When we got married 31 years ago, there wasn't even a discussion; Lloyd and I saved the money given as wedding gifts to use as a down payment on a house. And about a year later, that's just what we did, buying a condo in Lakeland, where we lived at the time. (With a 15 percent interest rate, which boggles my mind in these days where the rate hovers in the mid-threes.)
There weren't too many truths I held to be self evident, but one of them was that buying a home was the best investment a person could make. And for many years, that held true: Four decades after my aunt bought her house for $35,000, she sold it for $400,000-plus and has a comfortable retirement. The house we built here for just over $70,000 appreciated over 17 years to a respectable $134,000 when we sold it and moved to Killearn in 2002. And when appraisers said the Killearn house was worth more than double what we paid for it in less than three years, I felt like an absolute genius.
Like so many people in the go-go aughts, we refinanced and pulled money out of our home to pay for cars and trips and the what-all it takes to keep a family afloat. As our salaries increased over the years, so did that house payment.
Fast-forward: Today, my house is pretty much worth what I owe on it. After 30 years of paying a mortgage, I have exactly nothing to show for it. Some of my wiser contemporaries only refinanced only to take advantage of those lower interest rates, rather than using their home as an ATM, and they're now living in fully paid-for homes. I'm not asking for pity; I save that for the poor suckers who bought at the height of the real estate boom and are now tens of thousands of dollars underwater.
The Great Recession really did a number on the real estate business, turning that house-as-a-good-investment lore on its head. While many buyers during the Great Exuberance got over their heads, got behind in their payments and now face foreclosure, there are many more of us faithfully making house payments on time who are basically stuck in our homes for the duration.
These days, the home-owning landscape is completely different, and the conventional thinking is thrown out the window. In this issue, writer Audrey Post has taken a snapshot of Tallahassee's real estate situation and local experts share what they think the future holds.
In other stories, Post takes a look at another part of local scene that's in flux, the shrinking Capital Press Corps, and Donna Meredith introduces us to the always-colorful artist Pattie Maney.
Rosanne Dunkelberger
rdunkelberger@rowlandpublishing.com
If You Love Your Companion Animals …
… And I know you do, you have until April 1 to enter or vote for your favorite furry (or scaly or feathered) friend in the Tally Top Pet contest. This year, in addition to dogs and cats, Be the Solution has added categories for fans of Haute Horses and Lil' Critters. To upload a photo (or a YouTube video!) of your pet or to cast your vote (as many as you like; it's a buck a vote), visit tallytoppet.com.
Proceeds benefit the good work of BTS, which helps prevent pet overpopulation by offering free or low-cost spay and neutering and the group Pets Ad Litem. The photo accompanying this issue's letter is of me and my now-16-year-old cat, Cammie, from last year's contest. Alas, she wasn't named Capital City Kitty, but BTS sure was a winner — contestants raised $47,000, which help to "fix" 1,800 pets in 2012. This year they've set an ambitious goal to raise $60,000 and pay for 2,400 surgeries in 2013. Please go online and vote generously for your favorites.
Spring Forward
The first day of spring — the vernal equinox — is set for March 20, and I think one of the greatest things about Tallahassee is that the feeling of spring truly does arrive near that date. On the second or third Saturday of March, it seems like everybody gets out for the first time to take advantage of the beautiful weather. Tallahassee Nurseries is packed with folks looking to plant something, people are walking the neighborhoods and a visit to the park seems like a perfect plan.