Muslim Cultural Exchange
A Person-to-Person Lesson in International Relations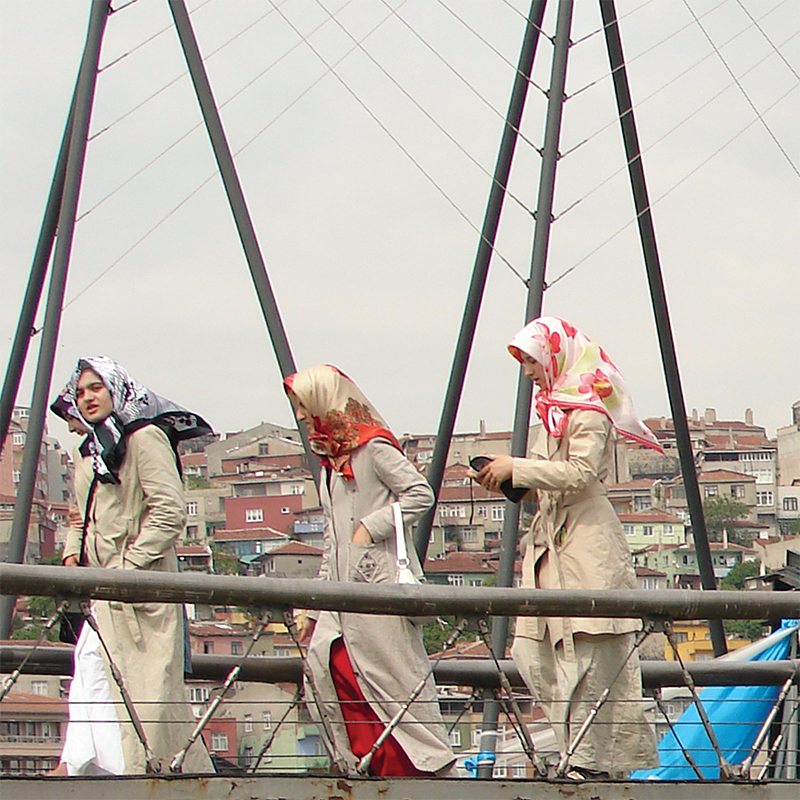 With an eastern border that touches Syria, Iran and Iraq, Turkey is surrounded by nations many Americans see more often on the front page of the newspaper than in travel guides. But western Turkey also touches Greece and Bulgaria, making it a unique location that connects Europe and Asia.
The Tallahassee Tolerance and Dialogue Group from Florida State University wants to show Americans that Turkey easily bridges that divide – remaining true to Islam yet offering a safe and hospitable country to welcome Western visitors.
In a whirlwind 10-day tour, a dozen Tallahasseeans recently had a chance to experience firsthand this ancient world filled with towering minarets and bustling bazaars that have hardly changed through the ages. The visitors crisscrossed the country, taking in the historic and religious sites in Istanbul, the ancient cave dwellings of Cappadocia, and the famous Roman ruins of Ephesus along the western coast.
From the questions most of us were peppered with before we left – "Isn't that in the Middle East?", "Isn't that a Muslim country?" – the trip came none too soon. Even an American soldier returning to Baghdad from the Atlanta airport asked one traveler, "Is it safe there?"
The West's misconceptions of Turkey date back to the 1850s, when Russia's Czar Nicolas I considered the Ottoman Empire "decrepit and the sick old man of Europe." Even more than 150 years later, few know the true Turkey, a country that has not only survived attacks and takeovers since Roman times but has thrived and blended various cultures into a vibrant society filled with both burkas and miniskirts.
Let's set the record straight and answer some of the questions of our curious friends.
First, Turkey's former capital, Istanbul, was the only capital to straddle two continents – Europe and Asia. Although 99 percent of Turks are Sunni Muslim, the country is secular. Islam and democracy have coexisted since the fall of the Ottoman Empire in the early 1920s.
Balancing that freedom of religion and secularism isn't always easy in a country dotted with 70,000 mosques and where women continue wrapping their heads in scarves known as hijabs. Bans on hijabs in government offices and university classrooms recently set off a firestorm of
controversy and opened for public discourse questions regarding the role of religion in society. Headscarves are one of the most visible symbols of religion in Turkish society and a potent sign of the fine line the government must walk.
The Turkey our hosts wanted us to see also is a model of pluralism and prosperity in the Muslim world. It is the only Islamic country participating in NATO – the North Atlantic Treaty Organization – and it is actively seeking membership in the European Union.
Bill Gladwin, an associate general counsel at Florida State University, remains bewildered by what he calls the "bad rap" Turkish people endure. "This is a fabulous country totally unknown to the average American and viewed with suspicion," he said.
Tallahassee attorney Neil Mooney has had a business relationship with Turkey for the past 20 years, but the recent trip was his first visit to the country. Mooney brought his 10-year-old daughter, Caroline, on the trip with him.
"I hope Caroline can learn to judge people for herself and from her own experiences, not from the press or the impressions of others," he said. "The thought that every foreign Muslim wants to kill Westerners is slowly seeping into our national consciousness like other stereotypes."
For Jim Bowman, a professor of public administration at FSU, Turkey's being in a Muslim country actually was a plus.
"I wasn't worried about security," he said. "As a matter of fact, being in a Muslim country was an attraction. I know very little about the Islamic faith but wanted to learn and see firsthand this country."
Bowman's wife, Loretta, added that "The Muslim call to prayer five times a day was beautiful; it was one of the highlights of the trip."
The trip provided more than just the sights and sounds of the country – it was about meeting with community leaders and ordinary citizens. It was the unique opportunity to be more than just a tourist that made the journey so extraordinary for everyone.
Gladwin described the trip this way: "You are not just observing a culture, looking from the outside in, but you are delving in – meeting families, visiting schools."
During a visit to Samanyolu Lisesi High School, some of the visitors were asked to help the students while they took an English test. The class soon convulsed with laughter as many of the supposedly native English speakers were put in their place. It's uncertain how many of the American visitors would have passed the grammar section.
The director of the Askew School of Public Administration and Policy at FSU and a well-traveled tourist, Frances Berry enjoyed the planned and sometimes spontaneous interactions between the FSU group and ordinary Turkish citizens.
"The Turkish people were as friendly a people as I have seen anywhere," she said. "Like the Koreans and Chinese, they are
always giving gifts. A street vendor just gave Neil (Mooney) a cigarette to try out. (His daughter, Caroline, was offered one too.) A very generous society."
Indeed, at every step along the way, Turkish businessmen hosted the group with luncheons, tours and dinners. Families opened doors to their homes to perfect strangers. Harun Dereli and his family, from Istanbul, explained why he hosted five members of the group one evening for a dinner as elaborate as any Thanksgiving feast found in the United States.
"I have never met an American; I wanted to see what they were like," he said. "We only get our view from American movies in the cinema." The odd thing about Dereli's comment was that he said it in perfect English, a language he had studied since elementary school.
At the Ataturk Mausoleum, a multi-building museum and national shrine to the founder of modern Turkey and its first president, Mustafa Kemal Ataturk, the group was surrounded by a swarm of uniformed schoolchildren.
"When Turkish kids heard me speaking English, I was an instant novelty," said 16-year-old Elizabeth Landers. "In a matter of seconds, I had 30 elementary-schoolers asking me the only English phrases they knew: 'What is your name?' and 'What time is it?' It was such a friendly dichotomy when you think about the don't-talk-to-strangers policy that children follow in the United States."
A teacher quickly shooed the schoolchildren away and reorganized their single-file lines. Not deterred, the children smiled, waved and continued shouting, "Bye-bye!" as they were led away on their field trip.
Tallahassee's Tolerance and Dialogue Group, based at FSU, is just one of several affiliates scattered around Florida. Miami, Jacksonville and Orlando groups all fall under the umbrella of the Istanbul Center for Culture and Dialogue based in Atlanta. This is the third year the organization has run the small intercultural experiences.
Mesut Erodogan, a doctoral candidate at FSU and a volunteer organizer, explains the goal of the trip this way: "Education is the main thing to solve the problems we face in this world," he said. "We are human beings first, then we are Muslims or Christians or Jews. Our beliefs should not create differences and conflicts among us."
Though the participants came from varied backgrounds in Tallahassee, including several FSU professors, an attorney and students, the trip's goal was simple and single-minded: to show Westerners the rich culture and religious history of Turkey and give them a chance to meet face to face with Turkish people.
At Fatih University, Ferhat Arslan, the university's director of international programs, reiterated this concept of dialogue and conversation.
"Human beings are enemies of things they don't know or understand, but when they come together and share ideas, we can have our differences but we can talk," Arslan said.
Some say you change the world one person at a time. The Tolerance and Dialogue group hopes to do just that, by reaching a handful of Americans to introduce them to the diverse culture and faiths of Turkey and its people.
In the past, the trip has been exclusively reserved for adults, but this year, several children were included. The Tolerance and Dialogue mission statement includes the phrase "Peace on the planet can be achieved within the foreseeable future." If not in our lifetime, perhaps the next generation will be able to accomplish this goal.