Musical Sculptors
Flat Moon Theory shoots for the stars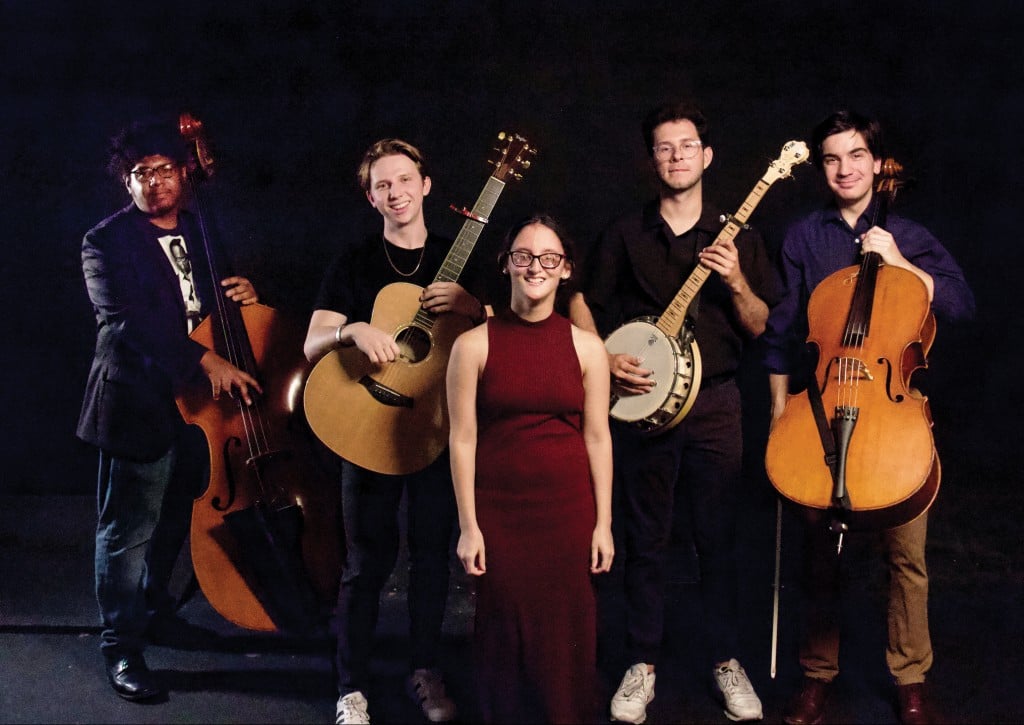 I had heard enough about Flat Moon Theory to cause me to check the band out on YouTube. The music — silky strings, soothing harmonies — so grabbed me that I paid little attention to the video at first. But when I got there, I found the players to be remarkably young.
The oldest member of the band is just 21, but Flat Moon Theory is skilled and confident enough to make recordings live, without mixing.
The band reminds music lovers why they loved music in the first place. Each of their soulful, folky tunes takes you to a happy place and triggers a pleasant memory.
Flat Moon Theory's core trio is made up of lifelong friends and Tallahassee natives Mira Gaitanis on violin and viola, Christian Manuel on guitar and Davis Johnstone on banjo. Classically trained, they combine musical techniques that blend folk and bluegrass and showcase technical precision interspersed with wild bouts of improvisation reflective of the band's play-by-ear style.
While Gaitanis, Manuel and Johnstone have been jamming together since childhood, they often add other local musicians to the band on an ad hoc basis. Will Taylor, Noah Wise, Kendrick Jacobs and Nygel Anderson all have contributed to recordings.
Classmates from Killearn Lakes Elementary to Chiles High School, the band's regulars bonded musically as members of the Tallahassee Youth Orchestra. As 14-year-olds, they stayed after rehearsals writing music, scheduling shows and eventually dubbing themselves Flat Moon Theory in 2014.
Flat Moon Theory released its debut album, Dreamers in the Dark, in 2019. An EP, Universe, Wonder and Time, followed in 2020, and their sophomore album, Growing From Here, arrived last year.
Flat Moon Theory's often experimental approach has garnered the band a growing amount of attention and community support in recent years. It has far exceeded its fundraising goals and is getting recognition from national institutions.
When I Walk into the Room from the band's 2019 debut album, made the finals of the annual Songwriting University competition and the semifinals in the Music City SongStar competition. NPR gave the band a nod after it submitted an entry to the broadcaster's 2021 Tiny Desk Contest.
"During the pandemic, we had nothing else to do so we got together to get our butts into gear," Manuel said. "We were screwing around for years, but once we made a plan and put it into action, we really started seeing results.
"The most rewarding thing to me is when strangers say that they listened to our music and it brought them to tears or that they want to come to our next show because they discovered us and our music spoke to them," Manuel said. "We pour hours and hours into these songs, sculpting each detail, so when someone takes the time to listen and get immersed in the story, that means everything to me."
Next up for Flat Moon Theory is a concept album titled Viceroy. Slated for release in the latter half of 2022, it will center on the life of band member Mira Gaitanis, a musician, singer, poet and advocate for the disabled. Her vision is impaired by a condition that cannot be fully corrected by surgery or medication. Her special "bubble glasses" provide some help, but only in recent years has she been comfortable being photographed wearing them.
"The viceroy is a type of butterfly that mimics that monarch butterfly," Gaitanis explained. "This project is really about the experiences of being seen as an outcast and the concept of othering. I want to talk about my experiences with a disability and feeling like a viceroy in a world of butterflies."