Musical Mecca
The Spirit of the Suwannee Park Attracts Artists and Aficionados to Rural North Florida, 
Again and Again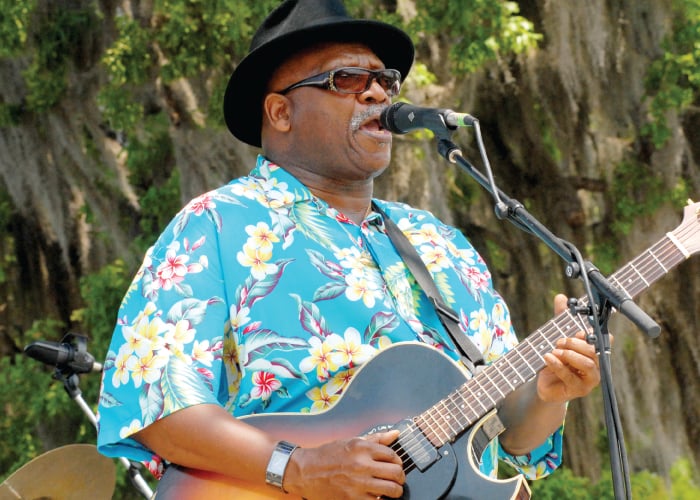 On March 22, a small army of Tallahassee music lovers will pack up their cars, trucks and campers for an annual pilgrimage: The 90-minute drive eastward to musical paradise, also known as the Spirit of the Suwannee Music Park in Live Oak.
This 600-acre camping resort, which features a gorgeous natural wooded amphitheater dripping with Spanish moss, hosts 10 musical festivals every year. The great James Brown played here, and so did Neil Young, B.B. King, the Nevilles, the Allmans and a whole mess of big-name country acts: Tim McGraw, Alan Jackson, Toby Keith, Carrie Underwood, Brad Paisley and Jason Aldean, to name a few.
March's signature event is Suwannee Springfest, which has a lineup steeped in bluegrass but spiced with so much more — newgrass, jazzgrass, even punkgrass. Suwannee Springfest is a Mecca for string players, who come from all over the world to play here in Live Oak. You'd go crazy trying to count all the banjos, fiddles, cellos, guitars and mandolins on the stages and in the picking circles that dot the shady campgrounds. 
Not into bluegrass? Just wait. Spirit of the Suwannee probably has something you'll like. On April 18–21, the Allman Brothers host the rock, roots and blues extravaganza known as Wanee — which has the park's biggest attendance — 15,000 to 20,000 per day, says park CEO James Cornett. The South's largest country music festival, the Suwannee River Jam, happens May 2–5, hosting some 20,000 people over four days. Gospel fans flock to the Suwannee River Jubilee June 14–16.
When the leaves start turning in fall, the park is home to the bluegrass and jam band-tinged Magnolia Fest (Oct. 18–21); and the funky, jazzy Bear Creek Music and Art Festival (Nov. 8–11), which brings a host of musicians from New Orleans and elsewhere. Bear Creek has a hometown connection — it's run by a pair of Tallahassee music promoters, Paul Levine and Lyle Williams. 
Whatever the audience size, the park never really feels too crowded. Vendors selling hand-crafted art and food line the perimeters. And when you need a little breathing room, you can just hop on a bike or golf cart and head to the park's spectacular sugar-sand beach along the limestone-lined Suwannee River. You can rent a canoe, or go watch thousands of bats exit the large bat house at sunset. You can play a round of mini-golf, try your hand on the shady disc golf course, chill in the swimming pool or get a bite in the restaurant.
"It is an amazing place to be," says New Orleans musician Ivan Neville, (son of Aaron Neville) whose band, Dumpstaphunk, regularly plays Wanee and Bear Creek. "The people that show up in the place are usually a cool group of people. The vibe is very nice over there. And the way it is laid out is just perfect."
Stages are set on grassy fields, on a cypress-lined lake, inside the on-site bar/restaurant and in the unique amphitheater, where fans string dozens of hammocks between the trees, put their feet up and literally rock to the music. Kids scamper up and down the amphitheater steps and swing in every empty hammock they can find. There's an informal rule here — you can get in any empty hammock, but you have to get out when the owner returns. 
The camping is excellent. There are primitive sites on a scenic lake lined with cypress trees, RV sites with electric and water close to bathhouses, remote sites near the park's three-mile river frontage, shady sites, open-sky sites and cabins for rent. The park also has stables for people who want to camp with their horses (an amenity not available during festivals), and 50 miles of horseback riding trails extend to nearby public lands.
"I think the thing that makes it unique from other venues is the camping aspect of it," says park CEO Cornett, 50. "Through camping, people make friends. People look forward to the festival year after year. People make reservations for the next year's show, not just because they want the music, but because they want to come back and spend time with their newfound friends. That doesn't happen in other big venues like the Tallahassee Civic Center or the Jacksonville Coliseum."
"For the Suwannee River Jam, we sell 80 percent of the tickets before we announce the lineup," he says. "People truly build a festival family. That's the reason people come here. We have people who get married here. They wind up having their anniversaries here every year."
That was true for one Tallahassee couple, Sharon and Walter Liebrich, who held their wedding at Spirit of the Suwannee in 2011. The ceremony happened on a deck overlooking the tea-colored Suwannee, and the couple held their reception at the park's well-equipped event facility, an indoor hall which has a kitchen and an ample porch surrounded by a butterfly garden. After the wedding dinner, guests headed out to watch thousands of bats flying out of the bat house at sunset — a true natural spectacle.
Some of the guests held a community campout, and some, including the bride and groom, stayed in the park's cabins.
 "We both had been going there to see music for so many years, and it was such a special spot for both of us, that it seemed like the most natural and magical place for us to have our wedding," said Sharon, 33. 
"It's a nice combination of friends and family coupled with nature," added Walter, 32. "And I love the diversity of music there."
The newest Liebrich — baby Fern — went to her first music festival at Spirit of the Suwannee when she was just five months old. The Liebrichs say they plan to hold many family outings at Spirit of the Suwannee in the coming years. 
 "It is one of the best venues to see music in, because the park makes the audience and the musicians feel incredible," Sharon says. "It's a beautiful place with good acoustics and a friendly staff who really want the musicians there." 
To keep musical traditions alive, the park holds a kids' music camp four times a year. Some of the performers, including the great California percussionist Joe Craven, also visit Suwannee County schools to teach and perform while they are in Live Oak. Many festivals hold canned food drives and charity events to benefit the surrounding rural communities.
"The park has enhanced the community with tourism," says James Cornett's mother, Jean, who first visited the park with her husband, Bob, in 1984, fell in love with its beauty and leased it with an option to buy. "They didn't really have any tourism before."
The park was originally developed in the late 1970s by Suwannee County, with a similar intent: to create economic stimulus and recreational opportunity. The county operated it for only two years and closed it down. It laid fallow until the Cornetts revived it.
Today, some 600,000 people visit annually.
"We anticipate surpassing a million before too long," says James Cornett, a former commercial developer who has been involved with the park for 17 years.
Aside from music festivals, the park offers family getaway packages with special deals on cabins, golf cart rentals, meals, mini-golf games and canoe rentals. They have a full slate of holiday events as well, including a giant drive-through display of Christmas lights. Even when there aren't festivals happening, there's music at Spirit of the Suwannee. The promoters book bands and karaoke four nights a week in the park's indoor music hall, a spacious bar with two stages, tables and food.
Cabin rental weekend rates range from $99 to $140 per night and $88 to $130 on weekdays. The park also offers camping memberships, which give people discounts on event tickets and other perks. 
With two universities, Tallahassee has always been a great music town. And many local musicians go to play at Spirit of the Suwannee during the year. There's something to be said for immersing yourself for a weekend — parking your car, grabbing a beverage, kicking back and just … listening. It's a small miracle that musicians come from all over the world to play for us out here in the middle of nowhere, yet so close to home. n