Music to Our Ears
Tallahassee marches to a new beat as music scene expands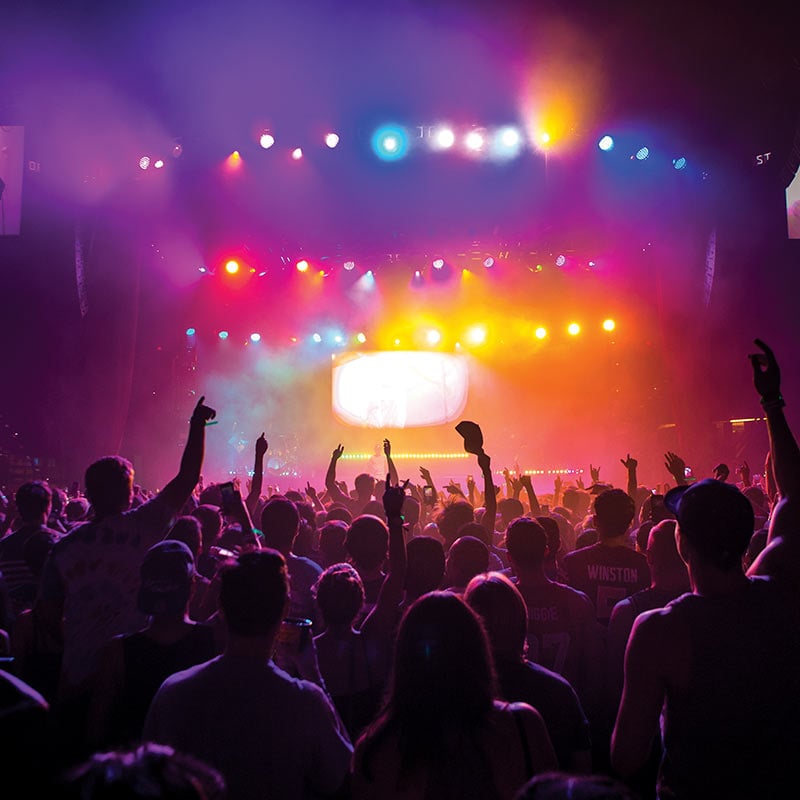 Light streams from Doak S. Campbell stadium, and thousands of voices erupt in song, not cheers and chants. In a converted feed store, honky-tonk tunes reverberate off of exposed-brick walls, and boots stomp hardwood floors. Under a starlit sky in Cascades Park, couples sit close on blankets, their arms wrapped around each other, as they listen to the soulful croon of Alabama Shakes. Beer glasses clink in a bar on Gaines Street as college students sing along to Top 40 covers and Eagles tunes played by an acoustic and percussion duo. The next morning, mimosas and eggs benedict are enjoyed in the presence of a folk-music trio. On any given weekend, music is in the air in Tallahassee.
Tallahassee is known for its hometown-college-town atmosphere, political decision-making and acres upon acres of swaying live oaks. We do not claim to be a Nashville, or New Orleans, but our music scene is ever evolving and is progressing in a notable direction. That is not to say we are a "music town"; but we are being put on the map as a destination not just for local, but also national talent.
Visit Tallahassee's campaigns have done a superb job at promoting the appeal of this city. Their most recent goals have involved marketing Tallahassee in three areas: the food/craft beer scene, the untouched nature scene and the arts scene — with music heavily represented. As the state's capital and as a bustling city that is reachable from Northeast Florida and South Georgia, music making its mark makes sense.
"The music scene here has grown tremendously over the past few years and is an important aspect to the community, as well as to visitors coming to the area," explained Lauren Shoaf Pace, Marketing Communications Director for Visit Tallahassee. "Venues of all sizes continue opening and offering live music, which speaks to the community's interest in and demand for entertainment, as well as expanding the options available for local talent and touring entertainers."
Brian Durham, a musician who has performed for many years in Tallahassee with the local band, The New 76ers, agrees. "With the help and inspiration of others opening appealing venues that cater to a larger crowd, we are witnessing a growth in the music scene of Tallahassee."
Within the past couple of years, an amphitheater has risen in a centralized park, a mall has transformed into a music scene and Florida State University venues have welcomed national acts.
Notes are now bumping from all quadrants of Tallahassee.
Cascading Scales
College students throw Frisbees on the green space, a couple picnics by the pond and on sunny days, children splash in the fountains at Cascades Park. In March of 2014, with the addition of the Capital City Amphitheater, the park became a destination for house music.
"We want the public to have a good time, enjoy the music, the outdoors and the beauty of the setting," said Pace. "The performance might be the entrée, but the ambiance makes it a memorable meal. There's something special about a great concert accented with a sunset or a clear, star-filled night."
The public has definitely enjoyed many great concerts, with acts such as Alabama Shakes, The Avett Brothers, Jason Isbell, The Beach Boys, Boz Scaggs and Peter Frampton taking center stage.
Cascades Park also embraces local and national acts for weekend events, such as the music-centric Word of South Festival and Southern Shakespeare Festival. The Tribe, The Marching 100 and high school bands have also joined the ranks, proving that all genres, skill-levels and ages are welcome to perform in the park.
While a rainy, summer afternoon is always possible in Florida, weather hasn't deterred ticket sales at Cascades Park. In fact, Mother Nature appears to be on this venue's side. The air is fresh, the sound is pristine and music can be heard up, out and all around.
Music Alley
Across town from Cascades Park, music drifts from Tallahassee's most recent music complex. If you didn't know what you were looking for, you likely wouldn't expect The Pavilion, one of our largest music venues, to be nestled within the confines of a shopping mall. But don't be mistaken — the former Tallahassee Mall is now known as the Centre of Tallahassee. With The Pavilion at its core, music acts as the Centre's heartbeat.
The Pavilion is a spacious covered area that can fit 10,000 seats, has the same sound system that Madonna uses and is cooled with 15 gigantic fans. In its first year of entertaining, The Pavilion hosted performers such as Rascal Flatts, Sublime with Rome, Taking Back Sunday, The Steve Miller Band, Blackberry Smoke and Alice Cooper.
"Tallahassee is fitting for this type of venue, and it was time," said Molly Lord, a representative from The Pavilion at the Centre of Tallahassee. "We are the capital, and we are a growing, modernizing town with a lot to offer. I recently read an article that concert-goers are said to live longer, happier lives. We want people here to do that."
FSU
In early September, Doak S. Campbell Stadium unveiled its much-anticipated renovations, which included the addition of the Champions Club, which brought 5,500 more seats and one of the best scoreboards in the country to the stadium.
With high-quality improvements, more seats to hold bodies and more confidence than ever, the stadium decided to expand beyond football to another experience that would draw large crowds. For the first time since the '80s, the stadium held a concert.
On Nov. 12, 2016, Old Dominion, Tyler Farr and Bobby Bones and the Raging Idiots played a sold-out show. The success led to no hesitation in booking the next concert on April, 29, which featured Blake Shelton, Jake Owen and Big and Rich.
"We have thought about doing this for quite some time," explained Jason Dennard, marketing and new revenue director at Doak Campbell Stadium. "We wanted the audience to experience the nostalgia of watching top-notch entertainment in their favorite football stadium."
On down the road is FSU's enclosed option for musicians: The Donald L. Tucker Civic Center.
While FSU's men's and women's basketball teams claim the center as home, the center has also welcomed the likes of Elton John, Drake, Eric Church, Carrie Underwood, Jimmy Buffett, Garth Brooks, Bruce Springsteen, Prince, Usher, George Straight, Corey Smith, Alabama, Bon Jovi and Def Leppard.
"Tallahassee's music scene has exploded in the past few years," said Kim Morton, director of marketing at the Donald L. Tucker Civic Center. "Tallahassee, itself, has grown immensely over the past five years, which has brought a new generation to this city. We're in a location that is a desirable stop for touring artists."
National and international celebrities and stars of the music realm will always attract a crowd and create revenue, but those idols started somewhere — in hometown bars, at county fairs, in writers' rounds or opening for touring acts. And while Tallahassee is certainly establishing premier venues with packed seats whose occupants anticipate experiencing the tunes they hear on the radio, the city is also embracing local musicians — those whose names aren't yet in lights, but who may be well on their way to fame.
A Junction in Time
It's easy to mistake The Junction at Munroe for a feed store, because that's exactly what it is — or what it was.
"We have taken an 80-year-old feed store and converted it," explained Russ Pangratz, owner of The Junction at Munroe. "It was originally a rehearsal space for me and my band and other bands, but the acoustics were too good to not do something more with the place."
Pangratz has a been a musician all of his life, and he explained that he has always "had a heart for musicians." He began the Tallahassee Area Musicians Guild with fellow board members Barrence Dupree, Russ Hamby and Margie Bertram. The Guild works as a hub for resources and music advocacy, providing a community to encourage, teach, learn and share with one another. A major purpose of the Guild is to provide scholarships, education, mentorships and lessons to those who may not have the means to afford them or to otherwise pursue music.
When Pangratz and his wife, Josie, decided to convert The Junction into a music destination, it was because they wanted The Junction to be "a place where musicians could rehearse and converge but also perform and listen to live music. We charge a cover for a reason. We are a music venue first, but just happen to have a bar inside."
Performers from throughout the country, including Atlanta, Nashville and New York City, now contact Pangratz just to play in his venue. He kept the building as original as possible, with exposed brick and concrete floors adorned with worn oriental rugs. Fridges with sodas, beer and wine line the back wall, stickers from bands have become ingrained in the bar and an impressive collection of CDs and hot sauces are for sale in the lobby. The Junction is quirky and welcoming: a landing place for locals who come for the music and for bands, such as Tobacco Rd Band, who come to play.
Tobacco Rd's Rockin' Roots
Eric Durrance has signed multiple record contracts, has toured with some of the biggest names in his genre and has recorded in almost every notable studio in the U.S. His latest accomplishment includes working with Jake Owen and Universal Publishing as a songwriter. You may ask what he's doing in Tallahassee. It's simple: He knows his audience, and he knows his roots.
"Tallahassee has a real down-home vibe to it," Durrance said. "It's a tight-knit community surrounded by water and trees. I've been able to draw from that, and you can hear it in my songs. It runs deep in my blood."
Currently, Durrance is the front man, lead singer and songwriter for Tobacco Rd Band. His music is gritty and raw — traditionally Southern with rock influences. The subjects of his songs include the joys and trials of his children, the heavy comfort of a shotgun on your shoulder, the smell of freshly tilled earth and appreciation and respect for the U.S. military.
Memorable Tallahassee moments for Eric Durrance include opening a sold-out show for Cole Swindell at The Moon, performing in front of a crowd of 10,000 at the New Year's Eve Festival and headlining the fireworks show on July 4 at Tom Brown Park. For Durrance, his career is only gaining momentum, as it's apparent his deal with Jake Owen will be a groundbreaking step in music making. He's excited, without a doubt, but still humble. It's all about his roots.
"I'm forever grateful for the love Tallahassee has shown me," Durrance said. "I hope I've proven Tallahassee is a place that can launch you into your wildest dreams and catch you gracefully if you come crashing down."
Young Dreams
It's no secret that Tallahassee welcomes a new crop of young adults with each incoming wave of college students. A lot of these individuals have flourishing musical talent, some study the progression of music history, many create rhythms in dorm rooms and a few brave, talented and proactive souls take to the local bars and venues in pursuit of sharing their songs.
Kurt Stevens attended Florida State University and was in a fraternity. Looking at him, you would think he was your average college guy. Hearing him sing, you would understand how he ended up in Nashville. Stevens writes his own music and has performed at the infamous Bluebird Café. He credits his success to Tallahassee.
"When I talk about my career, I never forget to mention how blessed I was to be able to go to school and live in Tallahassee," Stevens said. "Now I am focusing on my songwriting craft, and I have the performing part down because I was lucky to start my career in a place that harbored live music."
When Stevens arrived in 2012, he was surprised to find that live music wasn't as popular with his peers as he thought it deserved to be. He wanted them to take a break from electronic music in dance clubs and tune into live music. He set out to make this happen by approaching a place he and his friends frequented: Potbelly's. For four years, Stevens brought crowds to venues such as Clydes, Bullwinkles, The Strip, The Moon, Pockets Pool Hall, College Town and more.
One of those listeners was Zan Frett, who plays bass for several local bands and performs solo acoustic acts. Frett asked Stevens for an audition and was soon playing all over Tallahassee and the rest of the state.
"Because of Tallahassee, I've met mentors and am performing alongside artists who will one day be the face and future of music," said Frett. "The venues and opportunities they provide are growing and becoming more of a professional atmosphere."
Tyler Denning, seen strumming and singing in Tallahassee's bars on any given weekend, had a similar start, walking into bars and asking to play. He also struck a sweet note of success.
"Tallahassee has been the foundation of my entire musical journey," explained Denning. "I played my first acoustic shows here, formed my band here and we've recorded both of our albums here. I've received opportunities here that would be extremely hard to come by in larger cities."
Those opportunities have included weekly gigs at the likes of Fifth & Thomas, The Moon, Side Bar, Fire Betty's and opening for the Steve Miller Band. "Our music scene is the best I've seen in my nine years here, and it's poised to get exponentially better."
Ryan Raines is a talented drummer who studied jazz drums at FSU and plays for a handful of regional acts.
"The audience here is super receptive, which is validating and encouraging," said Raines. "I think the Midtown music scene is best, with great-sounding venues and distinctive atmospheres. They are automatic draws."
Nestled in the heart of Midtown is the haven musicians and those who love music and food have been craving: Fifth & Thomas. Their concept is exceptionally composed: Don't make the food, the cocktails and the music compete; instead, have them merge together, forming a beautiful symphony. A true masterpiece doesn't go unnoticed and, more often than not, begs to be copied.
Competition cuts both ways, of course, and Fifth & Thomas is part of an explosion of new restaurants and other music venues that have popped up in Midtown and beyond. "The live music scene is taking the city by storm, which is awesome," a Fifth and Thomas employee observed.
Music Makes The World (and Tallahassee) Go 'Round
Bill Wharton, affectionately titled, The Sauce Boss, has been making music in Tallahassee since the late '60s. His on-stage gumbo making would come later. Throughout the years, he has witnessed Tallahassee change and evolve. Through it all, he always returns.
"Tallahassee has always been a retreat for me," said Wharton. "The kind of place where you can write and explore a creative performance. A great town for an artist. I've seen a lot of creative spirit here. It feels good jamming with the young 'uns as well as old friends, and welcoming new faces and new venues make for a hoppin' scene. We keep growing and creating."
Music grows within us, and because it does, it creates emotions. It transports us to a time with someone you love, a loss or even just a fall day when the sun shone a little brighter than usual. Music enhances our intelligence, as seen in the test scores and creative abilities of those who study it. It soothes those in need of a smile, and it heals. Take, for instance, stroke victims whose voices have been taken, but who suddenly and unexplainably find their words, thanks to music.
Music is meant to be heard, yes, but also to be felt. When the stage lights have dimmed, the equipment has been cleared and the musicians are on their way home or to the next show, they hope that they've struck a chord that will resonate long after the last note is played.