Book Recounts Grisly Death
Murder victim was unaware of the evil that surrounded him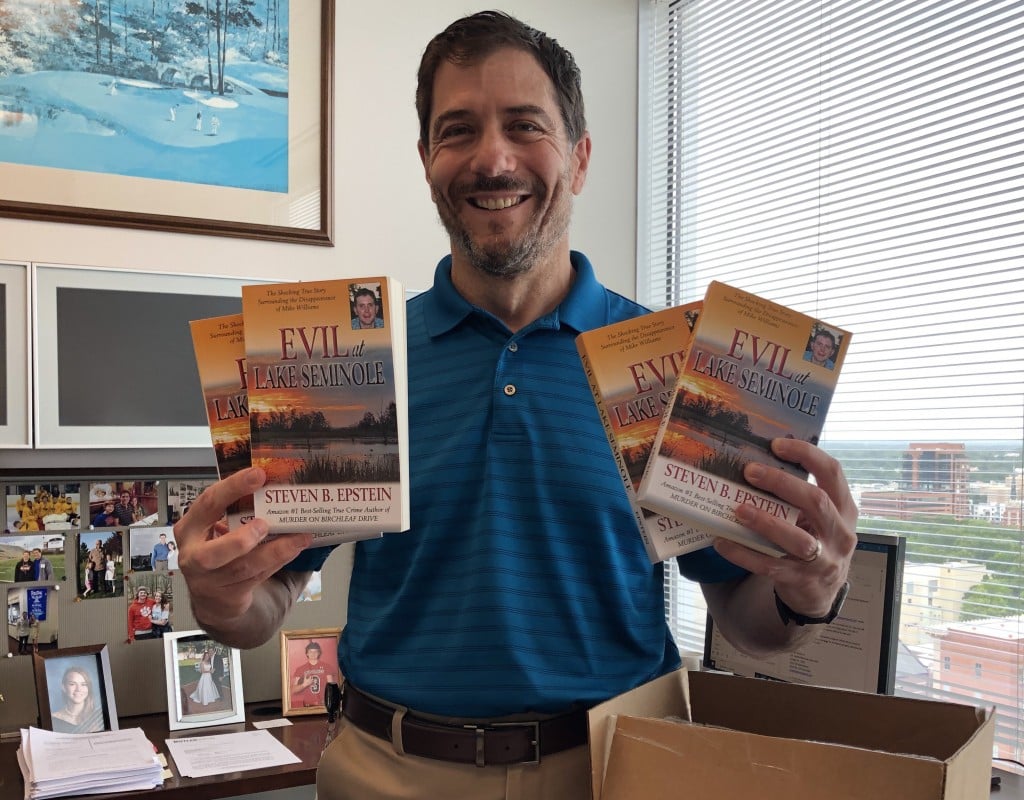 Denise Williams had an uncanny ability to cause others to do whatever she wanted, even if that meant killing a best friend.
That's the assessment of trial lawyer and author Steve Epstein, whose second book, Evil at Lake Seminole, was released on June 15. The non-fiction work details events leading up to the disappearance of Mike Williams, examines subsequent investigations, and concludes with the first-degree murder conviction and sentencing of Denise Williams, Mike's wife at the time of his death.
Investigators concluded that Mike Williams, an FSU graduate and property appraiser, drowned on Dec. 16, 2000, at Lake Seminole while duck hunting and, when no body was found, theorized that alligators had eaten it.
Mike's mom, Cheryl Williams, never bought that theory. For years, she doggedly petitioned for a criminal investigation into the matter, writing countless letters to the Governor's Office, taking to sidewalks with placards, ignoring ostracism and running ads in the Tallahassee Democrat. At last, circumstances lined up for her.
Triggerman Brian Winchester, Denise Williams's lover and later her husband, was charged with kidnapping Denise as their marriage was failing. As part of a deal, he told prosecutors that he had buried Mike Williams's body at a boat landing at Carr Lake in North Tallahassee. For her role in the killing, Denise Williams was convicted almost 18 years to the day after her one-time husband died. She was sentenced to life in prison. An appeal of her conviction is pending. 
In August 2019, Epstein, who lives in Raleigh, North Carolina, listened to a podcast about the case and knew immediately that he had to write about it.
"It is a story unlike anything I had ever heard," he said. "The number of years that went by before the case was closed, Cheryl Williams and her resilience. The alligator aspect makes it that much more intriguing.
"It's like a Shakespearean tragedy. You have this truly angelic, salt-of-the-earth human being in Mike Williams who unwittingly surrounded himself with evil. He tried to please everyone and that may have been his downfall."
To be sure, his marriage to Denise and Winchester's obedience to her proved fateful.
"Mike was Brian's best friend at the time he killed him," Epstein said. "By all accounts, those two were inseparable as buddies. But Mike was in the way and Denise wouldn't do the other thing that would have made it possible for her and Brian to be together, which was to get divorced. Brian wanted to be with her more than he wanted to continue his friendship with Mike."
And, so, when Winchester bungled an attempt to drown Williams, he shot him. 
"Cheryl is a woman unlike any I will ever meet again," Epstein said. "The scent of a trail and the trial and conviction would not have been possible without her. I believe and Cheryl believes that I was meant to hear that podcast, that it was destiny and did not happen by accident."
Epstein said law enforcement officials made "colossal mistakes" when the case was fresh.
"Probably, sheriff's offices all across Florida and the FDLE have learned the lesson from this case that you have to include the possibility of foul play in any disappearance because as this case proves, when you least expect it, foul play is involved," Epstein said. "Had they been able to talk to people and secure things like Brian's truck, they would have instantly learned that Mike's blood was in the vehicle."
Epstein is planning to make appearances in Tallahassee on Dec. 16, which will be the 20th anniversary of Mike Williams's death. His book is available through area booksellers and at amazon.com.