Movin' and Shakin' in the Capital City
Movin' and shakin' in the Capital City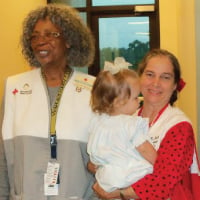 Courtesy Red Cross
Red Cross Lead Health Services Nurse Alberta Duffee and honoree Pat Kitchen holding her granddaughter.
Drink up!
▪ The City of Tallahassee has released its 2012 Water Quality Annual Report and, as expected, results show that the quality of the city's drinking water far exceeds all regulations set by state and federal agencies. That speaks volumes, considering the Florida Department of Environmental Protection and the U.S. Environmental Protection Agency set the bar pretty high for drinking water safety. "We're blessed to be able to access the Floridan Aquifer, one of the largest and most pristine sources of water in the world, for good, clean drinking water," said City Commissioner Nancy Miller, lead commissioner on the Environmental and Energy Resources Target Issue Committee.
Heard on the Street
▪ Capital City Bank Executive Vice President and Chief Financial Officer J. Kimbrough Davis has been named 2012 "Banker of the Year" by the Florida Bankers Association (FBA). The annual award, which recognizes an individual who demonstrates the highest level of commitment to the banking industry and service to his or her community, was presented in June at the FBA's 124th annual meeting in Boca Raton.
▪ Barbara Ray, former deputy secretary at the Department of Management Services and general counsel to the Department of Business and Professional Regulation, is now the vice president and new local office leader for the Tallahassee office of North Highland, a global consulting company.
▪ Althemese Barnes, founding director of the John Riley Center/Museum, recently received the 12th Annual APEX Distinguished Service Award from Black Meetings and Tourism Magazine for her numerous years of service to the travel industry and outstanding contributions to the community. During the 2012 Travel Professionals of Color (TPOC) 10th Annual Conference, held in Denver, Colo., Barnes accepted her glass trophy honoring her positive impact on heritage tourism.
▪ Randy Esponda has been named the Head Bar Manager of Level 8 Lounge at Hotel Duval. Esponda will be responsible for overall operations with an emphasis on customer service and creative promotions and execution. Since joining the Hotel Duval team, he has been instrumental in designing many successful promotions, including the popular Level 8 Lounge Sky High Cigar Club and the return of Little Black Dress Night.
▪ Longtime Red Cross volunteer Pat Kitchen was recently honored by having a training room named after her at the Red Cross Headquarters on Easterwood Drive. The special gift was made by Pat's husband, Deeno Kitchen, who called her "an ultimate caregiver." Pat is an experienced disaster scene responder and the lead volunteer nurse at the Capital Area Chapter.
▪ The Florida League of Cities has honored City of Tallahassee Economic & Community Development Director Michael Parker with the Home Rule Hero Award. Legislative Advocate Amber Hughes presented the award to Parker. This prestigious award was presented for his efforts during the 2012 legislative session to advance the League's legislative agenda and help protect the home rule powers of Florida's cities.
▪ The McDonald Fleming Moorhead law firm announced recently that Jan Gaston has joined the firm as a real estate closing assistant. Jan has 20 years of experience in the real estate title business and six years in lending. The firm was established in 1988 and has provided legal counsel and representation throughout Northwest Florida for more than two decades.
▪ Cynthia Wright, MAI, was recognized recently as the Appraisal Institute's June "Volunteer of Distinction" for Region X. The Appraisal Institute is the nation's largest professional association of real estate appraisers; Region X consists of Florida, Puerto Rico and the U.S. Virgin Islands. She served as Government Relations Committee chair of the Northwest Florida Chapter in 2002, became a member of the Appraisal Institute in 1990 and received her MAI designation in 1993.
▪ In a bid to open up regional territories, Florida Commerce Credit Union has changed its name to First Commerce Credit Union. The name change was approved by the State of Florida Office of Financial Regulation in May. In its first step towards regional expansion, the credit union plans to open a financial center in Thomasville. The credit union employs around 120 professionals and currently serves 39,000 members, overseeing more than $360 million in assets with seven full-service financial centers, six in Tallahassee.
▪ Capital Regional Medical Center recently earned an "A" Hospital Safety Score from The Leapfrog Group, an independent national nonprofit run by employers and other large purchasers of health benefits. The Hospital Safety Score was calculated by the group's Blue Ribbon Expert Panel, which used publicly available data on patient injuries, medical and medication errors, and infections.
▪ TALCOR Commercial Real Estate Services, Inc., has become an official member of the NAI Global network and has changed its name to NAI TALCOR. NAI Global manages a network of 5,000 professionals and 350 offices in 55 countries around the world.