Motorcycle Cop Tells All: VIP Escorts, Ticket Quotas and The Truth About Doughnuts
First Person: Motorcycle Cop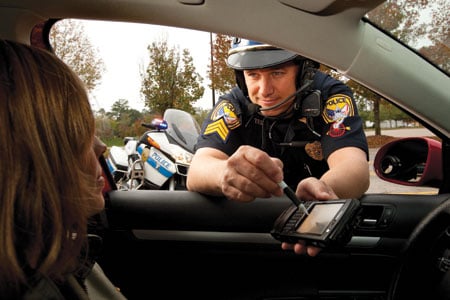 Tallahassee Police Sgt. John Newland, 44, started as a police officer in 1989 and has been head of the department's motorcycle division since 2007. Newland leads 13 officers in the motorcycle division, and is a husband and father of two. Tallahassee Magazine writer Daniel Mutter recently sat down with Newland to get a firsthand account of what it's like to be a motorcycle police officer in Tallahassee.
One of my older brothers was a police officer in Fulton County (Ga.), and ever since I was in grade school my mom kept my report cards … that say "What do you want to be when you grow up?" And I wrote fireman or policeman on almost every one of them. It's a good career.
In the motorcycle unit, you have to have two years of experience before you can even put in. I tried three times to get into the motorcycle unit. Once you get selected, you go through a two-week motorcycle school.
We really don't get injured much. Now, when we have crashes, you always remember it, that's for sure. Nov. 13, 1999, FSU vs. Maryland, I was an escort for the football team. I was trying to catch up to them and passing a lady on the left on a side road, and she didn't hear the siren or see the lights. As I'm passing her she turned left in front of me, and I hit her rear quarter panel and flew over the car, landing on my head and my shoulder. I actually had a concussion and a rotator cuff tear. Of course, I jumped up and picked up the bike real quick. It's more pride than anything.
I remember my first-ever motor escort was with Vice President Al Gore, when he came in to town in 1998. As we're going across, I believe it was West Tennessee Street on Capital Circle, an old lady started pulling out in front of the motorcade. (Officer) John Pretti had to go one way and Mike Walker had to go the other way, so now all of a sudden you have a brand new motor officer leading the motorcade, and I was probably more petrified than I think I have ever been before. I was shaking in my shoes. I was holding on to that motorcycle for dear life with both hands, just hoping that nothing would happen.
Typically during those two or three months when students are gone, everything kind of dies down a little bit. The challenge is when it comes to August and September and all the students come back. The hit-and-runs go up, the traffic crashes go up, the DUIs go up, and speeding complaints go up. So that's really challenging, because we need to educate drivers since new people come in every single year. TPD is notorious for writing citations, and freshmen, sophomores and transfers come in here and they figure it out real quick.
We get involved with a lot of different charities, but a special cause throughout law enforcement is the Special Olympics. It started with the Law Enforcement Torch Run in Kansas City in 1981 and grew across the U.S. Florida has been involved for over 25 years and the Tallahassee Police Department has been involved in Special Olympics for over 18 years. Ten years ago I had a daughter who was born with some difficulties and passed away, and more than likely she would've been one of these Special Olympics athletes.
I hear a lot of stereotypes. One of them is that cops like doughnuts. To be honest, I do like my doughnuts. I love Krispy Kreme, I'm not going to lie to you.
The biggest stereotype out there is probably the quota. We have no quota. We don't say how many people we have to stop, we don't say how many tickets need to be written. The only thing I say to my motorcycle officers is, "Your job is to enforce traffic laws." That is their job, that's why they're getting paid. So I do expect tickets from them, but we don't put down a quota.