Mother of Invention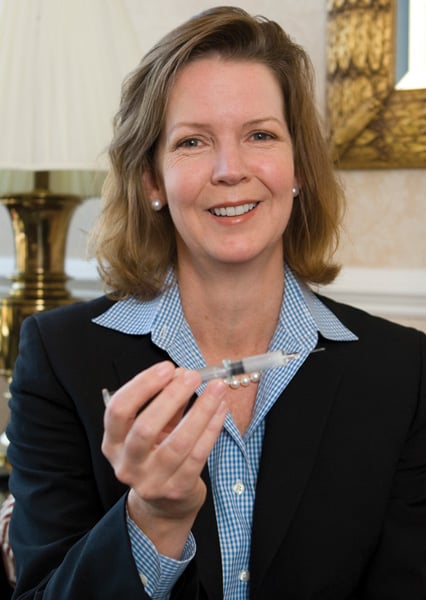 Invented in Tallahassee, the SimpleShot will improve lives around the world
Mother of InventionTallahassee Mom Kim Bertron Invents a Syringe That Could Save Lives Around The World
By Ashley Kahn
Click for larger image with description.
When Kim Bertron took her two young daughters on a beach vacation in 2001, she never anticipated the event would alter the course of their lives – and potentially benefit the lives of millions of others.
The family's idyllic escape soon became a mother's worst nightmare. Her elder daughter, Cameron, then 10 years old, suffered a severe hypoglycemic episode that resulted in a massive seizure. Twice in the past, Bertron had administered an emergency shot of glucagon, a protein involved in carbohydrate metabolism, to Cameron; this time, however, Bertron was so nervous she broke the syringe needle trying to mix the medication that would bring Cameron out of her seizure. Fortunately, a second emergency kit was on hand, and Bertron was able to perform the steps necessary to reconstitute the drug.
In that moment, Bertron decided to invent a tool that would prevent such an incident from happening again. And she did: SimpleShot, an innovative syringe, is designed to improve not only Cameron's life, but also the lives of millions of others who rely on reconstituted medications.
A Life Less Ordinary
Cameron was diagnosed with Type 1 diabetes two weeks before her third birthday. Usually diagnosed in children and young adults, Type 1 diabetes results in the body not being able to produce insulin. (Type 2 diabetes is the more common form of the disease.)
From a very young age, Cameron's daily routine consisted of a series of five glucose tests and as many as six insulin shots, depending on her activity level and food consumption.
Bertron refused to allow their lives to revolve around Cameron's disease, but she had to prepare herself for the challenges it presented.
"You have to brush your teeth in the morning and go to school, and you also have to have a shot before you go," Bertron said. "I just tried to minimize the impact on her childhood as much as I could."
Cameron's dramatic episode at the beach shocked her mother into action.
"Thinking I may not have brought her home with me had a powerful impact," Bertron said.
Bertron's first response was to meet with the doctors who had been with the family since Cameron's diagnosis. She was surprised to be told "it happens all the time."
The concerned mother was not appeased.
"All of these parents are dealing with the same thing that I'm dealing with, and I just had this belief that I had a responsibility to go out there and solve the problem," Bertron said.
Three Brilliant Minds and a Little Lady
Working as a consultant in and out of Florida's Capital for the past 25 years, Bertron was no stranger to solving problems. She made an appointment with a good friend, patent attorney Wiley Horton of Pennington, Moore, Wilkinson, Bell & Dunbar P.A., who has a degree in mechanical engineering and a background in aerospace engineering.
"Kim came in with a defined need and something she felt very passionately about, which was very obvious to me from the first time we talked about it," Horton said. "This was more than just a typical design project."
After recruiting a third member – mechanical engineer Brian Boothe of Raleigh, N.C. – the new team collaborated to create a design.
"Cameron was only 10, but she also has been involved," Bertron said. "She hopes that something happens to give people in her situation one more tool to make it easier. Diabetes is a really tough thing to deal with every day … The population deserves an easier way to do all the things they have to do."
From Concept to Congratulations
With current insulin delivery systems, non-medical professionals are required to perform a complicated reconstituting process that mixes a powdered drug with a diluting solution before it can be injected into the patient. Developing a quicker, less cumbersome method became the new team's goal.
The creation of a better method wouldn't happen overnight. Bertron, Horton and Boothe worked for two full years to create a working model that ultimately became the prototype of the SimpleShot. Now, six years after its conception, they are on the verge of acquiring a patent.
"While the idea of a mixing syringe sounds straightforward, creating one that works consistently is not," Horton said. "There have been attempts going back to the 1960s, none of which have succeeded commercially because of complexity and unreliability."
It was this complexity that the team hoped to overcome. Because of her experience with the established procedure, Horton asked Bertron to produce 10 concepts of how she would like the new device to function.
"I remember Wiley telling me, 'Go home, draw some stuff, show me how it's going to work" Bertron said. "I only actually came up with nine ideas. The 10th one, I think I just wrote 'Help!'"
Nevertheless, the self-professed "amateur artist" had hit upon something exceptional. Amid 10 pages of colored pencil designs was the idea that there should be only one motion needed to mix the products and inject the medication.
"We had a number of other concepts, but none had that elegant simplicity of one motion doing everything," Horton said. "That became the design objective, and it proved to be a very difficult objective to achieve."
For those who aren't familiar with the tenacious individual, it may seem unbelievable that Bertron – who already is a consultant, a chairwoman of the Diabetes Advisory Council, a baker, an artist, a wife and a mother – could add successful inventor to her résumé.
"I have a very strange energy level," Bertron said. "And I really haven't done anything different than mothers do every day. Mothers every day manage transportation systems, a food program, an office … I just felt that all of this showed up on my doorstep, and I'm certainly not going to sit here. I need to go make a difference."
Bertron credits her family with the strength that kept her going.
"The invention would have never made it this far without the support of the most amazing man on the planet, my husband, Andy," she said. "I want my daughters to know there is absolutely zero they cannot do, and I think this experience has shown them just that.
"Really good things can come from really bad experiences," Bertron said. "You must keep the faith, and sometimes you are fortunate enough to see a bunch of good come out of some really serious bad."
Bertron's positive, go-getter attitude helped bring the SimpleShot into the public eye. At the urging of her friend Linda Figg, Bertron entered the device into the 2007 Modern Marvels Invent Now Challenge, sponsored by The History Channel and the National Inventors Hall of Fame. This past March in New York City, the SimpleShot was awarded first place by a panel of judges that included Steve Wozniak, the co-founder of Apple, and David Pogue, technology editor for The New York Times.
"The History Channel has given independent inventors such a forum to showcase their ideas," Bertron said.
Adds Horton: "I've dealt with a lot of inventors over the years, and while Kim tends to be humble, how far she's gone with this is not a normal thing – it's a very rare thing."
Waiting for the Right Door to Open
Even with the award and national spotlight, the inventors estimate the device will not be available for use in human patients for at least a couple of years. According to Horton, even though the drugs that would be administered have long been approved by the FDA, "we're really talking about a different delivery system, and it does have to be tested."
The implications of this new delivery system reach far beyond Bertron's initial intent. Doctors and nursing personnel have informed the team that their device could be used for administering human growth hormone, cancer medications, fertility drugs and vaccines. And because the new syringe would eliminate the need for refrigeration, it may be ideal for use in defense applications or in developing countries.
"Basically, all kinds of medicine is headed toward this powder form of drugs," Horton said. "The only thing tricky about administration is reconstituting them." With the SimpleShot, reconstitution would be as easy as pressing a single plunger.
The powdered medication is stored in the lower chamber of the syringe, and the upper chamber contains the diluting solution. One swift motion causes the pointed post to break a membrane seal between the two chambers, and reconstitution occurs when the diluting solution and the powder medication interact. The drug then is ready for injection, and the plunger moves the reconstituted liquid through the needle and into the patient.
In the world of drug companies, Type 1 diabetes is a very small market, but the team remains steadfast in one goal.
"We would not be willing to give an exclusive license and lose control of the device if we didn't have the assurance that they were going to make the diabetes drugs available," Horton said.
Bertron seconded his comment: "It will not be produced if a diabetes patient isn't the first one in line to benefit from the invention."
Bertron hopes the syringe will be developed before her daughter leaves for college in two years. Now 16, Cameron loves writing and listening to music – but don't expect any inventions from the teen.
"My mom is the inventor," she said. "I could write about inventing, but that's probably it."
To learn about the SimpleShot, visit inventionshowcase.com/simpleshot.htm or corsair-eda.com.
For more information about diabetes, visit diabetes.org.