Moore and More Books
Founder of The Moore Agency amasses a world-class collection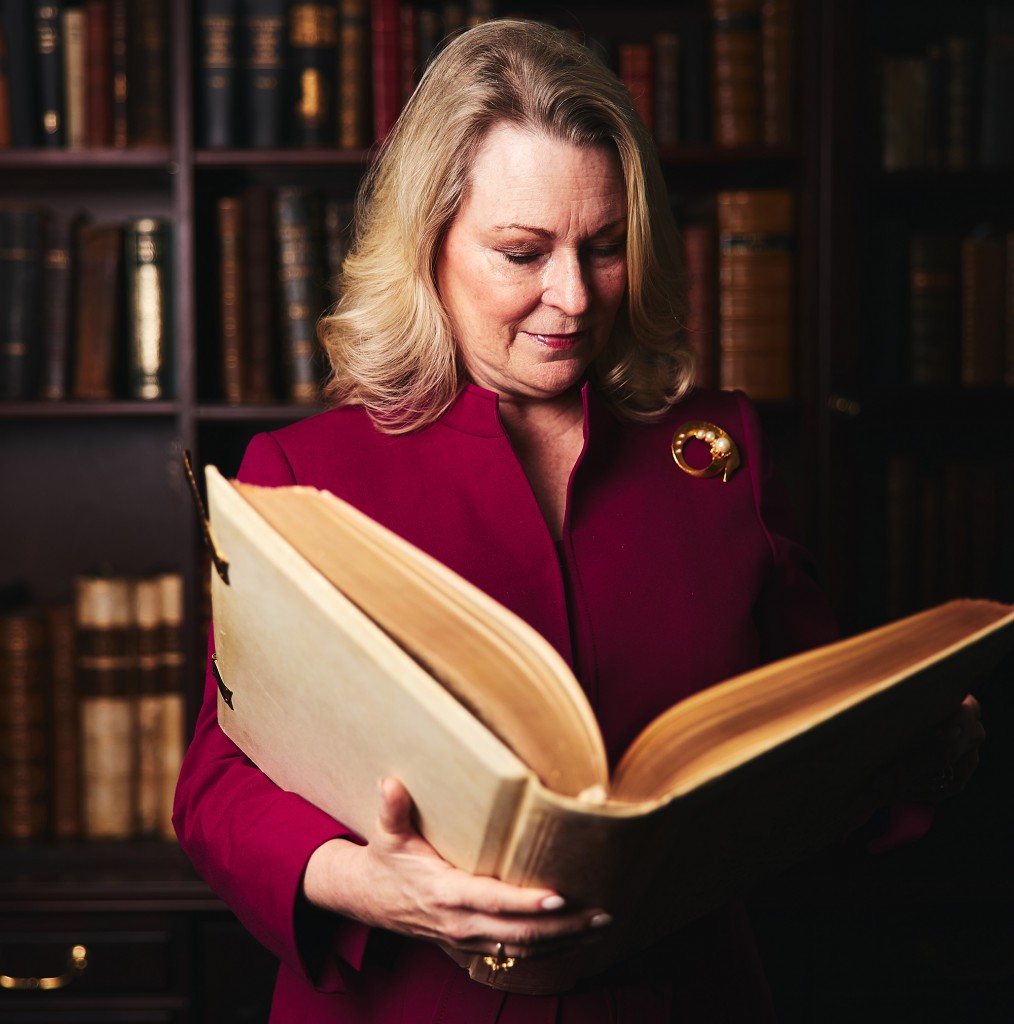 She adoringly calls them her children.
In her office they stand tightly together, their spines bound and their stories boundless.
They're Karen Moore's antique collection of the Book of Common Prayer, plus the Holy Bible and many that combine those books.
Some also include hymnals or texts such as the Apocrypha.
They're more than 600 strong, with more than five centuries of prayer and song. Some you'll need two sure hands to handle. Others you can close in one palm.
Moore says she thinks they represent among the most extensive such private collections in the world.
"I call them my children, because I think each one is unique and precious," Moore said. "Each one has a story. Each one, I think on its own, is valuable."
The Book of Common Prayer dates to the mid-16th century and remains a cornerstone of churches that trace their lineage to Henry VIII's Church of England, including the Episcopal Church and the Anglican Church in North America.
The Episcopal Church, for example, says the book contains "our liturgies, our prayers, our theological documents" and calls it "a treasure chest full of devotional and teaching resources for individuals and congregations."
Moore and her husband, Richard, belong to St. Peter's Anglican Cathedral on North Thomasville Road.
She said she keeps some of her books at home, some in a safe deposit box and some at her office at The Moore Agency, a branding, marketing and public relations firm where she's founder and CEO and her husband is CFO and general counsel. She's also an author, public speaker and avid traveler who aims to book a trip to the South Pole.
She shares her books with clients who ask about them, and she gives talks on them to church groups and others. One day, she said, she'll give them all away, perhaps to a church, a museum or an academic institution.
She noted that her son, Jarrod, is "like every other millennial — he doesn't want stuff, so he's not going to want to inherit this collection."
Her books come in about 40 languages, including Japanese, Mohawk and an Eskimo-Aleut tongue. One in an Indonesian language includes a section of "Konfesion."
"When the missionaries went in," Moore said, "they probably had to teach them that word."
She tracks her book's stories. When she gives them away as gifts, she might let the recipient know something about the book's birth, its previous owners and perhaps even its improbable survival — owing to a humanistic rather than religious motivation for her collection.
"Sometimes when I have friends that are sick or friends that I think need a little special sense of how much they're valued, I take one of the books and I research who had it before me," Moore said.
"You know, 'This was a book that was given in 1782 by Aunt so-and-so to her niece for whatever the special occasion.' Then I write a little note about how much this book probably meant to that person."
A person who signed "Dumbe" had owned her 1634 book. With a chuckle, Moore showed a visitor where "Dumbe" had done a calculation in the margin, apparently to determine the book's age when that person or family owned it.
She said one of her books made it through the Great London Fire of 1666.
Another survived the Hiroshima bomb, she said. "Some people are afraid to touch it. They think it might be radioactive or something, but it's not."
Yet another served with a World War II
soldier. She found that one on eBay, for about $2 including postage, she said.
"I did the research, and this book was at the Battle of the Bulge," Moore said. "A member of our greatest generation had this book."
She said her oldest, a prayer book, dates to 1492. "The year that Columbus sailed the ocean blue — that's the only way I can remember that," she said.
Her books come in various covers, colors and costs, including at least one that she said you might have wanted to put in a garage sale.
"But when I opened it up, it said, 'I landed in America today' and then it said 'Ellis Island,'" Moore said. "So, to me, this was probably a person that had all their belongings maybe in one bag. And this book was one of the treasures that they decided was so important to bring with them."
Moore's office includes a glass-covered table in which she keeps her "little ones" — a few dozen mini books. They date to the 19th and early 20th centuries and range in size from about 1 by 5 inches to about 1 ½ inches by 2 ½ inches.
Remarkably, some contain what many of her larger books contain — the Book of Common Prayer, plus the Old Testament and New Testament.
Some you might manage to read. Others, good luck. Back in the day, you think,
people either carried super magnifying glasses or consumed a lot of carrots.
Moore picked one up.
"This book would have been given as a Baptism gift," she said. "Or, during the Boer Wars in South Africa, the officers had a little pocket over their heart, and that book would fit in there."
She said she started her collection less than a decade ago. In an antique store, she spotted a box that included tiny books, including the Book of Common Prayer. She found them unique and, later, worth collecting.
As her appreciation grew, so did her books' dimensions. Booksellers continue to contact her about books that might interest her, and she remains active on eBay — always with an eye on the story behind the book.
"I think that as long as I'm preserving these books, then I'm preserving a little bit of that family, too," Moore said.
"I'm preserving the Aunt Millie who gave the book to her niece for her fifth birthday. I don't know who Millie is. I don't know who the daughter is, but it was an important moment in time, and it should be treasured."
Like children.
"I think that when you think of a family, you think the sum is greater than the individuals," Moore said. "So, for me, this is my book family."