Monkey, See?
A rhesus macaque has been spotted in Franklin and Wakulla counties. Citizens are being urged not to go bananas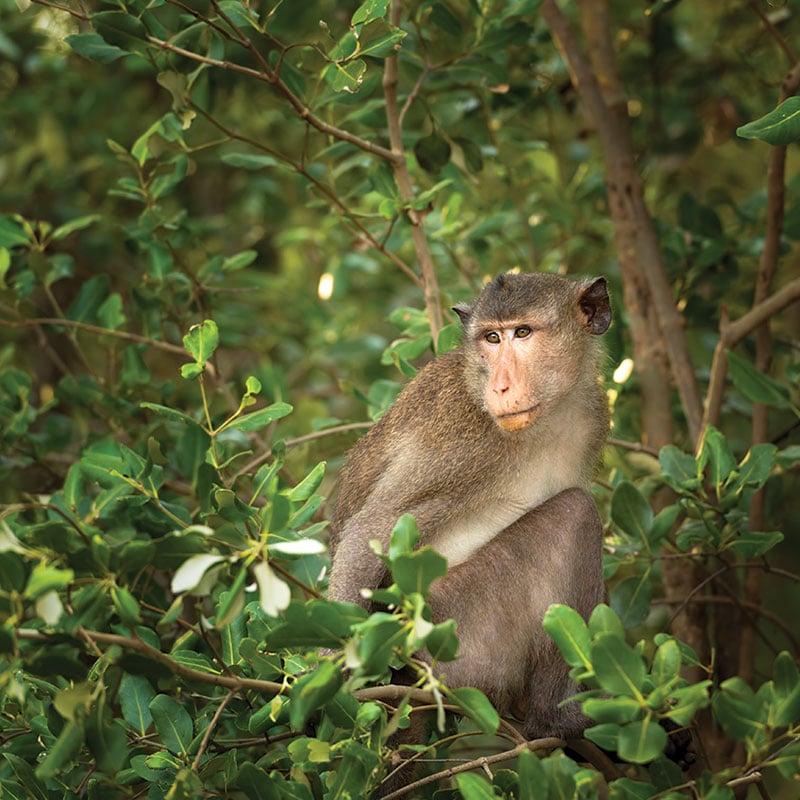 There's a striking simian stranger flitting boldly through the emerald shadows and backyards of the Forgotten Coast. Nobody knows where it came from, where it goes or what it's doing here.
But one thing's for sure: Don't touch the monkey. Don't feed it, don't talk to it, don't encourage it. Maybe it will just go away.
According to Robert Klepper of the Florida Fish and Wildlife Conservation Commission, the monkey type in question is native to Asia and ranges from Afghanistan into Northeast India and Nepal to Southern China and Southeast Asia. In other words, it ain't local. But, a population of these same monkeys has thrived for decades down around Silver Springs in Ocala. Recent news reports coming from out of Central Florida suggest that those monkeys are moving into the Ocala National Forest and even into neighboring Lake County.
Whether the Forgotten Coast's own rhesus monkey is a part of that troop — or is an independent operator — is unknown, and Klepper said the FWC won't engage in speculation.
"That's one thing we don't do … about where it came from; or if there's just one, we don't know that either," he said. "Because this monkey is very far from an established, known population (Silver Springs), FWC is currently working to establish movement patterns for this animal."
The FWC has received sighting reports since early December, and officers continue to follow the situation. Residents are urged to call the FWC's Wildlife Alert Hotline at 1-888-404-3922 with any information. Since December, the FWC has logged 22 "credible" sightings; two are listed as "possible" and two others — one in Panacea and one in Alligator Point — were logged as "verified."
If it's just a singular simian, he does get around. Sightings have been logged in Sopchoppy, Eastpoint, Crawfordville, Carrabelle, Lanark Village, Alligator Point, St. Teresa and Panacea.
Rhesus macaques are medium-sized monkeys, with males typically larger than females. Adults range from 1.5 to 1.7 feet in height, and weigh between 12 and 17 pounds. Klepper said that rhesus macaques are primarily herbivores, but will feed opportunistically on eggs, honeycombs, and small vertebrate and invertebrate organisms. They can be found on land and in trees.
Klepper said it's very important not to interfere with the monkey if it comes your way.
"Do not approach or feed rhesus macaques. As is always the case, adults should supervise children and pets when outside," he said.
Klepper said there are no individuals in the area permitted to possess a rhesus macaque, and there are no reported rhesus macaques missing in Florida at this time.
---
Right At Home
The rhesus monkey prowling around the beaches and neighborhoods of the Forgotten Coast may actually be in good company if it wanders north into Jackson County. That's where a larger and more legendary primate-like critter is said to have been a resident for generations, and sightings continue to this very day. In Two Egg and environs, folks call it the Two Egg Stump Jumper. A smallish Bigfoot-type creature, the Stump Jumper has been glimpsed lurking around rural homes at night and skittering through the swamps.
According to historian Dale Cox, one of the most notable stories comes from the wilds of Ocheesee Pond, where a hairy "wild man" was known to live a solitary existence back in the 1880s. In 1884, a group of men captured the "wild man" and described him as being "destitute of clothing, emaciated and covered with a phenomenal growth of hair." At first they thought he was an escaped mental patient from Chattahoochee and took him to the state hospital only to learn all the patients there were accounted for. They then took him to Tallahassee but his identity was never uncovered. What subsequently happened to the "Wild Man of Ocheesee Pond" is a mystery to this day.