Money, Power and the Decennial Census
The Power of the U.S. Census to Influence Politics and the Forces that Shape our Lives is Greatly Underestimated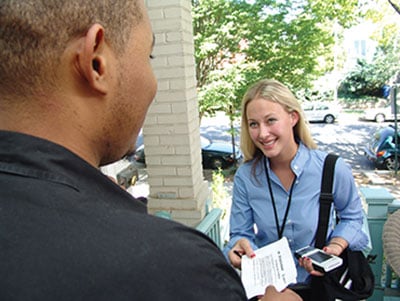 On April 1, the federal government asks that you take 10 minutes to answer 10 questions that will be used for the next 10 years.
It's National Census Day, and a proper counting of all the noses in Leon County and Florida has a weighty effect on politics and the government programs that people rely upon.
Based on Florida's population growth over the past 10 years, results of the 2010 census are expected to provide the state with at least one additional seat in Congress. Just as importantly, the numbers will also determine how much federal funding Florida, its cities and its counties receive for public safety, education, infrastructure, business, housing and social programs.
The Census, Then and Now
The first census was conducted in 1790 by U.S. marshals and their assistants traveling many weary miles on horseback, going door to door asking six questions at each household. The answers to those questions were important, as they would determine how many congressional representatives each state would have. In that original census, each free man counted as one, while each slave counted as three-fifths of a person.
This year, forms (they're printing 425 million of 'em) containing 10 questions will be sent to every household in the nation in mid-March and should be answered based on who will be living in the household on April 1.
"Every question on the census reflects a public program that the Census Bureau has been mandated to collect data for," said sociology professor Ike Eberstein, who is director of the Center for Demography and Population Health at Florida State University. "They don't put questions in that are just of interest to people like me. It costs so much money to have a question on the census, and it's such a burden on the population, that they really limit questions to things that are immediate public-policy interests."
If a household doesn't return the form by mid-May, census takers are required to visit the home in an effort to gather the data. The 2010 census takers are scheduled to be equipped with handheld computers, which will cut paper costs and assist in the counting process, although the budget for the census still comes in at a hefty $14 billion. Census takers ask questions based on name, gender, age, date of birth, race, ethnicity, relationship to other members of the household and how long they have lived there.
In previous counts, one in six households received a more detailed (and oftentimes dreaded) long-form census questionnaire. This year, no one will receive it. The longer form has been replaced by an ongoing American Community Survey, which the U.S. Census Bureau now sends out annually to about 3 million addresses.
The American Community Survey "is now the source for all the data that many folks would think would be the most interesting," Eberstein said. "All of what we used to call the long-form data that people would get upset about, the relationships between people and all that stuff."
The Census Bureau isn't idle between once-a-decade census counts. In addition to the American Community Survey, the agency is responsible for hundreds of other tallies involving societal and economic subjects such as employment, housing and manufacturing.
"The reason why the bureau decided to implement the (American Community Survey) was to provide current, detailed socioeconomic and housing data every year rather than once a decade, as well as to streamline decennial census operations," said Genora Barber, a Census Bureau information services specialist.
For the better part of two years, the bureau has been performing a Local Update of Census Addresses to develop a complete, correct mailing list that includes every residence in Leon County and throughout the United States.
Although some think it would be easier to complete the census online, the Census Bureau has avoided electronic census taking because of security concerns and because not all households have access to computers.
Reaching Out
Recruiting workers for early-2010 census operations began in the fall of 2008. Census employees went door to door in the spring of this year to update the address list nationwide.
Tallahassee/Leon County has gone a step further by committing planning staff and grant money to help the federal government create the most accurate list, said Ed Young, liaison to the Leon County Complete Count Committee representing city and county government.
The committee of local volunteers was created to develop strategies to create awareness of the census and encourage residents to fill out the forms, while also addressing our area's particular concerns. One notable local quirk is the large population of students, who may be confused about how they should be counted.
"It's not like your taxes, where your parents fill it out and claim you," Young said. "You're counted here. In the 2000 census we had 239,000 people in Leon County, (and) a little over 20 percent of them were college students. That's a big number. That's why our push is very strong working with our colleges and universities."
The results of the census are due to the president by December 31, 2010. And by March 2011, the Census Bureau must deliver data to states for redistricting purposes.
The Census Bureau estimates as many as 200,000 Floridians may not have been counted in the 2000 census. According to the Tallahassee-based organization Florida TaxWatch, if Florida had been able to reduce the 2000 undercount by half, it would have meant an additional $80 million for the state in federal money that could have gone to Florida's schools and paid for road construction and other projects.
Census Results and Redistricting
The year after the decennial census is completed, every state is constitutionally required to go through the process of redistricting. Each state is divided into voting districts, and each district elects its own U.S. representative. A separate set of districts is drawn up for the purpose of electing state representatives and state senators. Census results determine how many, if any, new districts will be created. If a state's population has grown significantly since the last census, it will likely create one or more new districts.
In Florida, redistricting is drawn up and approved by the Legislature and reviewed by the state Supreme Court. The governor has the power to veto the congressional districts but not the legislative ones.
"In the 2001 redistricting, Florida did pick up two congressional seats," said Carol Weissert, a professor of political science at FSU. "It is likely that we will get at least one more, even though our growth has slowed considerably."
The main controversy that tends to surround redistricting is the practice of drawing district lines so that they favor a certain party and incumbents. Known as gerrymandering, it's a bone of contention between the two parties.
"The process is incredibly important and drawing the lines key," Weissert said. "It is likely that the party in power (Republicans) will draw the lines to benefit themselves. If the Democrats were in charge, they would make similar choices."
Reaching Out to the Undercounted
Getting an accurate count of poor, rural and minority populations has been an issue with the census, according to Harvey Choldin, who wrote a book called "Looking for the Last Percent: The Controversy Over Census Undercounts." Getting the most accurate count possible of those groups is particularly important because they can benefit from federal money allotted by the census numbers.
Workers and volunteers are being sent into areas that tend to be undercounted to connect with leaders of churches, social welfare organizations — even schoolchildren — to inform people of the importance of filling out and returning census forms.
The undercounting of these groups is due to several factors, said U.S. Census Bureau historian David Pemberton.
"It could be that they don't understand the purpose of the census, or they just don't want to deal with the government," he said. "If they are undocumented aliens, they might have a well-founded fear of being sent back to where they came from." Even foreigners here illegally are supposed to be counted. Strict privacy rules that go all the way down to the door-to-door census taker are in place to ensure that any information gathered in the process cannot be shared with other government agencies or used against individuals.
"Residents, take it seriously," said sociology professor Eberstein. "It really is important that everyone both reply and take (the census) seriously. Not just the costs of having those follow-backs, but the accuracy of the data is so important because this tells us the basic structure — the basic skeleton, if you will — of our society."
At the end of the day, Pemberton said, "If you're not counted, you're not getting your due of resources."
---
Want to Know More?
The U.S. Census Bureau maintains a comprehensive Web site chock-full of facts, statistics and Q&As, all written in plain English (as well as a slew of other languages, from Albanian to Yiddish). Visit 2010.census.gov.